Reporting New Telemedicine Impediments in Indian Print Media: Will Solutions Journalism Improve Tele-Medical Discourse?
Abstract
The media being the primary source of information for the public has an important role in reporting and framing health promoting news updates. The news frames suggested by the media should explore solutions for existing impediments in medical and health practices to improve healthcare delivery at the time of the pandemic. This study aims to show how the challenges in telemedicine were reflected in mainstream Indian print media through Framing Analysis. The results revealed that news highlighting telemedicine challenges and real-time barriers was barely reported, restricting the frames to slue toward a high adoption rate in telemedicine rather than focusing on its long-standing challenges. Obstacles faced by physicians and patients who used telemedicine during this period were largely ignored. By reporting them in the prime mainstream media could have enlightened the necessity for facilitating clinical and structural reformation and in edifying workable telemedicine guidelines at this time of its increasing acceptance. Through this analysis, the study proposes that embracing 'Solution Journalism' in health and medical news may promote a favourable environment to create a sustainable telemedicine ecosystem in India.
Keywords:
Health and Medical Reporting Print Media, Telemedicine Challenges and Solutions Journalism
References
Agarwal, N., Jain, P., Pathak, R. & Gupta, R. (2020). Telemedicine in India: A tool for transforming health care in the era of COVID-19 pandemic. Journal of Education and Health Promotion, 9, 190. https://doi.org/10.4103/jehp.jehp_472_20
Cassels, A.K.E. (2007). The media-medicine mix: quality concerns in medical reporting. Open Med.1(1), 52-54.
Chandwani, R.K. and Dwivedi, Y.K. (2015), Telemedicine in India: current state, challenges and opportunities, Transforming Government: People. Process and Policy, 9(4),393-400. https://doi.org/10.1108/TG-07-2015-0029
Chaurasia, R.N., Joshi, D., Pathak, A. & Sharma, D.C. (2020). Science and Health Journalism in Context of Covid-19 Pandemic. Science and Culture, 86(7-8), 253-257.
Das, N., Narnoli, S., Kaur, A., Sarkar, S. & Balhara, Y.P.S. (2020). Attitude to telemedicine in the times of COVID‐19 pandemic: Opinion of medical practitioners from India. Psychiatry and Clinical Neurosciences. https://onlinelibrary.wiley.com/doi/10.1111/pcn.13109
Fagherazzi, G., Goetzinger, C., Rashid, M.A., Aguayo, G.A. & Huiart, L. (2020). Digital Health Strategies to Fight COVID-19 Worldwide: Challenges, Recommendations, and a Call for Papers. J Med Internet Res, 22(6). https://www.jmir.org/2020/6/e19284/
Goffman, Erving (1974) Frame Analysis. An Essay on the Organization of Experience. Harmondsworth: Penguin Books.
Hinnant, H., Jenkins, J. & Subramanian. R. (2016): Health Journalist Role Conceptions. Journalism Practice, 10(6):1-19, 763-781.
Jhunjhunwala, A. (2019, December 19). Telemedicine in India - overpromising and underdelivering. Healthworld.com. https://health.economictimes.indiatimes.com/news/industry/telemedicine-in- india-overpromising-and-underdelivering-ayesha-jhunjhunwala/72878097
Keshvari, M., Yamani, N., Adibi, P. & Shahnazi, H. (2018). Health Journalism: Health Reporting Status and Challenges. Iranian Journal of Nursing and Midwifery Research, 23(1), 14-17. https://doi.org/10.4103/ijnmr.IJNMR_158_16i
Kruse, C.S., Karem, P., Shifflett, K., Vegi, L., Ravi., K. & Brooks, M. (2018). Evaluating barriers to adopting telemedicine worldwide: A systematic review. Journal of Telemedicine and Telecare, 24(1), 4-12.
Leask, J., Hooker, C. & King, C. (2010). Media coverage of health issues and how to work more effectively with journalists: a qualitative study. BMC Public Health, 10:535. http://www.biomedcentral.com/1471-2458/10/535
Milano, L. (2020). An updated peer review framework for predictive analytics. OCHA Services. https://reliefweb.int/report/world/updated-peer-review-framework-predictive-analytics
Newman, N., Fletcher, R., Schulz, A. & Simge. A, Nielsen, R.K. (2020). Reuters Institute Digital News Report 2020. https://reutersinstitute.politics.ox.ac.uk/sites/default/files/2020- 06/DNR_2020_FINAL.pdf
Smith, A.C., Thomas, E., Snoswell, C.L., Haydon, H., Mehrotra, A., Clemensen, J. & Caffery, L.J. (2020). Telehealth for global emergencies: Implications for coronavirus disease 2019 (COVID-19). Journal of Telemedicine and Telecare, 26(5), 309-313. https://doi.org/10.1177/1357633X20916567
Statista. (2020). Internet usage in India - Statistics & Facts. https://www.statista.com/topics/2157/internet-usage-in-india/
Telemedicine Practice Guidelines. (2020). https://www.mohfw.gov.in/pdf/Telemedicine.pdf.
Tankard, J.W., Hendrickson, L., Silberman, J., Bliss, K. & Ghanem, S. (1991). Media frames: Approaches to Conceptualization and Measurement. Paper presented to the annual meeting of the Association for Education in Journalism and Mass Communication, Boston, MA. In Hansen, Anders. (2008). Mass Communication Research Methods. Los Angeles: Sage.
Tewari P. (2016). Is Print Readers Declining? A Survey of Indian Online Newspaper Readers. Journal of Socialomics, 5 (177). https://www.ojcmt.net/article/online-newspapers-providing- credible-information-a-survey-of-indian-online-news-readers
Wallington, S.F., Blake, K.D., Taylor-Clark, K. & Viswanath, K. (2010). Challenges in covering health disparities in local news media: an exploratory analysis assessing views of journalists. Journal of Community Health, 35(5), 487-494. https://doi.org/10.1007/s10900-009-9217-x
Weaver, D.H., Beam,R.A., Brownlee, B.J., Voakes, P.S. & Wilhoit, G.C. (2007). The American Journalism is the 21st Century: U.S. News People at the Dawn of a New Millennium. Mahwah, NJ: Lawrence Erlbaum Associates, Inc.
The Indian Express. (2020). 502% spike in online consultations from people above the age of 50 in India: Report (published on December 22).https://indianexpress.com/article/lifestyle/health/covid19 pandemic-telemedicine- onlineconsultation-india-report-7114607.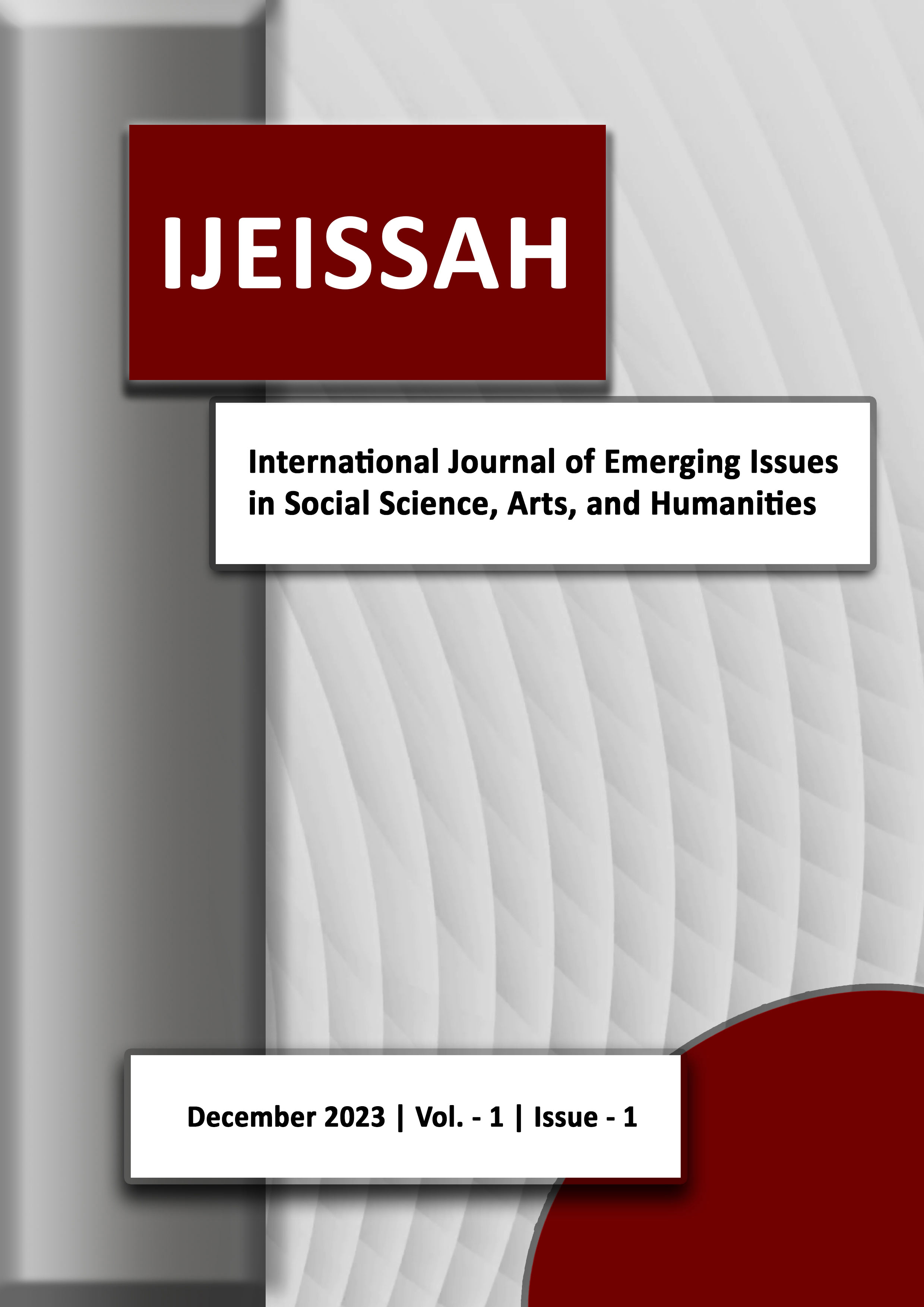 How to Cite
Selvaraj, B. (2023). Reporting New Telemedicine Impediments in Indian Print Media: Will Solutions Journalism Improve Tele-Medical Discourse?. International Journal of Emerging Issues in Social Science, Arts and Humanities ( IJEISSAH), 1(1), 34-44. https://doi.org/10.60072/ijeissah.2022.v1i01.003