Gender and Styles of Leadership in Higher Education
Abstract
The presence and absence of differences in leadership styles of men and women were investigated and reviewed in many types of research. The expectations regarding leadership styles of gender stereotyping are that women are inter-oriented, whereas men are task oriented. In contrast to this stereotype, leadership styles are different for genders according to research studies. The current paper attempts to identify the prevalent styles of leadership between both genders, as well as identifies the predominant style of leadership in women in higher educational institutes. The results indicated that the transformational leadership is the most dominant leadership style across the higher educational institutes. It could be useful for academic leaders and be intended at increasing the efficiency of universities. That is by enhancing the capabilities of academic leaders and helping them achieve a profitable performance and productivity.
Keywords:
Women and leadership,, leadership styles,, effective styles of leadership,, Higher education leadership, feminine style of leadership
References
Appelbaum, S. H., Audet, L., & Miller, J. C. (2003). Gender and leadership? Leadership and gender? A journey through the landscape of theories. Leadership & Organization Development Journal, 24(1), 43–51. https://doi.org/10.1108/01437730310457320
Bass, B. M., Avolio, B. J., & Atwater, L. (1996). The transformational and transactional leadership of men and women. Applied Psychology, 45(1), 5–34. https://doi.org/10.1111/j.1464-0597.1996.tb00847.x
Bond, C. (2015). Leadership styles. Leadership in Sport, 34–47. https://doi.org/10.7748/ns.32.22.64.s37
Chaudhuri, M. R., Kettunen, J., & Naskar, P. (2015). Reflections on Leadership Styles from Higher Education in India. Universal Journal of Management, 3(10), 395–401. https://doi.org/10.13189/ujm.2015.031003
Chen, C., & Lee, Y. (2008). Leadership and management in China: Philosophies, theories, and practices. http://library1.nida.ac.th/termpaper6/sd/2554/19755.pdf
Chukwuemeka, D. (2021). Gender and Effective Leadership Differences Alvan Ikoku Federal College of Education ,. June 2020.
Corporate, G., & Practice, P. A. (2014). Ketchum Leadership Communication Monitor The Ketchum Leadership Communication Monitor : Background. May.
D'Souza, A., & Kang, M. A. . (2021). (n.d.). article-no. http://journal.uob.edu.pk/journal/index.php/jehr/article/view/254
Dear, R. W. (2016). Digital Commons@Georgia Southern Surviving at the Top: A Critical Case Study of Female Administrators in Higher Education. https://digitalcommons.georgiasouthern.edu/etd
Diehl, A. B. (2014). Making Meaning of Barriers and Adversity: Experiences of Women Leaders in Higher Education. Advancing Women in Leadership, 34, 54–63. http://search.ebscohost.com/login.aspx?direct=true&db=ehh&AN=101774549&site=ehost-live%5Cnhttp://content.ebscohost.com.ezproxy.waikato.ac.nz/ContentServer.asp?T=P&P=AN&K=101774549&S=R&D=ehh&EbscoContent=dGJyMNLe80SeprA4yOvqOLCmr02eqK5Srqi4S7OWxWXS&Content
Dunn, D., Gerlach, J., & Hyle, A. (2014). Gender and Leadership: Reflections of Women in Higher Education Administration. International Journal of Leadership and Change, 2(1), 2.
George, L., & Sabhapathy, T. (2010). Work motivation of teachers: Relationship with transformational and transactional leadership behavior of college principals. Academic Leadership, 8(2), 1–8.
Ion, G., & Folch, M. T. (2009). Leadership, gender and organisational culture at catalonian universities: Case studies. In International Journal of Learning (Vol. 16, Issue 9). https://doi.org/10.18848/1447-9494/cgp/v16i09/46589
Kim, P., & Horowitz, J. M. (2015). Women and Leadership: Public Says Women are Equally Qualified, but Barriers Persist.
Lau Chin, J. (2011). Women and leadership: Transforming visions and current contexts. Forum on Public Policy Online, 2, 1–12.
Mahdinezhad, M., Suandi, T. Bin, Silong, A. D., & Omar, Z. B. (2013). Transformational, transactional leadership styles and job performance of academic leaders. International Education Studies, 6(11), 29–34. https://doi.org/10.5539/ies.v6n11p29
Minelgaite, I., & Edvardsson, I. R. (2012). Gender, Nationality and Leadership Style: A Literature Review. International Journal of Business and Management, 8(1). https://doi.org/10.5539/ijbm.v8n1p89
Nawaz, M. M., & Bodla, M. A. (2010). Comparative Study of Full Range Leadership Model among Faculty Members in Public and Private Sector Higher Education Institutes and Universities. International Journal of Business and Management, 5(4), 208–214. https://doi.org/10.5539/ijbm.v5n4p208
Paustian-Underdahl, S. C., Walker, L. S., & Woehr, D. J. (2014). Gender and perceptions of leadership effectiveness: A meta-analysis of contextual moderators. Journal of Applied Psychology, 99(6), 1129–1145. https://doi.org/10.1037/a0036751
Pihie, Z. A. L., Sadeghi, A., & Elias, H. (2011). Analysis of head of departments leadership styles: Implication for improving research university management practices. Procedia - Social and Behavioral Sciences, 29, 1081–1090. https://doi.org/10.1016/j.sbspro.2011.11.341
Pooja, & Kumar, P. (2015). The effect of gender on leadership and its sub variables in the Indian service sector. Purushartha, 8(2), 30–35.
Rhee, K. S., & Sigler, T. H. (2015). Gender in Management : An International Journal Untangling the relationship between gender and leadership Article information : Gender in Management: An International Journal, 30(2), 109–134. http://dx.doi.org/10.1108/GM-09-2013-0114%0Awww.emeraldinsight.com/1754-2413.htm
Schaubroeck, J. M., Lam, S. S. K., & Peng, A. C. (2016). Can peers' ethical and transformational leadership improve coworkers' service quality? A latent growth analysis. Organizational Behavior and Human Decision Processes, 133, 45–58. https://doi.org/10.1016/j.obhdp.2016.02.002
Smith, G., Minor, M., Brashen, H., Communications, E., & Remaly, K. (2017). SUCCESSFUL INSTRUCTIONAL LEADERSHIP STYLES. 6, 46–52.
Taleb, H. M. (2010). Gender and leadership styles in single-sex academic institutions. International Journal of Educational Management, 24(4), 287–302. https://doi.org/10.1108/09513541011045236
Tessens, L., White, K., & Web, C. (2011). Senior women in higher education institutions: Perceived development needs and support. Journal of Higher Education Policy and Management, 33(6), 653–665. https://doi.org/10.1080/1360080X.2011.621191
Toegel, G. (2011). Disappointing Statistics, Positive Outlook. Forbes. http://www.forbes.com/2011/02/18/women-business-management-forbes-woman-leadership-corporate-boards.html
Walker, R. C., & Aritz, J. (2015). Women doing leadership: Leadership styles and organizational culture. International Journal of Business Communication, 52(4), 452–478. https://doi.org/10.1177/2329488415598429
Welch, J., Jobs, S., Gates, B., Clinton, B., & Whitman, M. (2012). The Effect of Gender on Leadership and Culture. February, 37–48. https://doi.org/10.1002/joe
White, K., & Özkanli, Ö. (2011). A comparative study of perceptions of gender and leadership in Australian and Turkish universities. Journal of Higher Education Policy and Management, 33(1), 3–16. https://doi.org/10.1080/1360080X.2011.536976
Wohlin, C. (2014). Guidelines for snowballing in systematic literature studies and a replication in software engineering. ACM International Conference Proceeding Series. https://doi.org/10.1145/2601248.2601268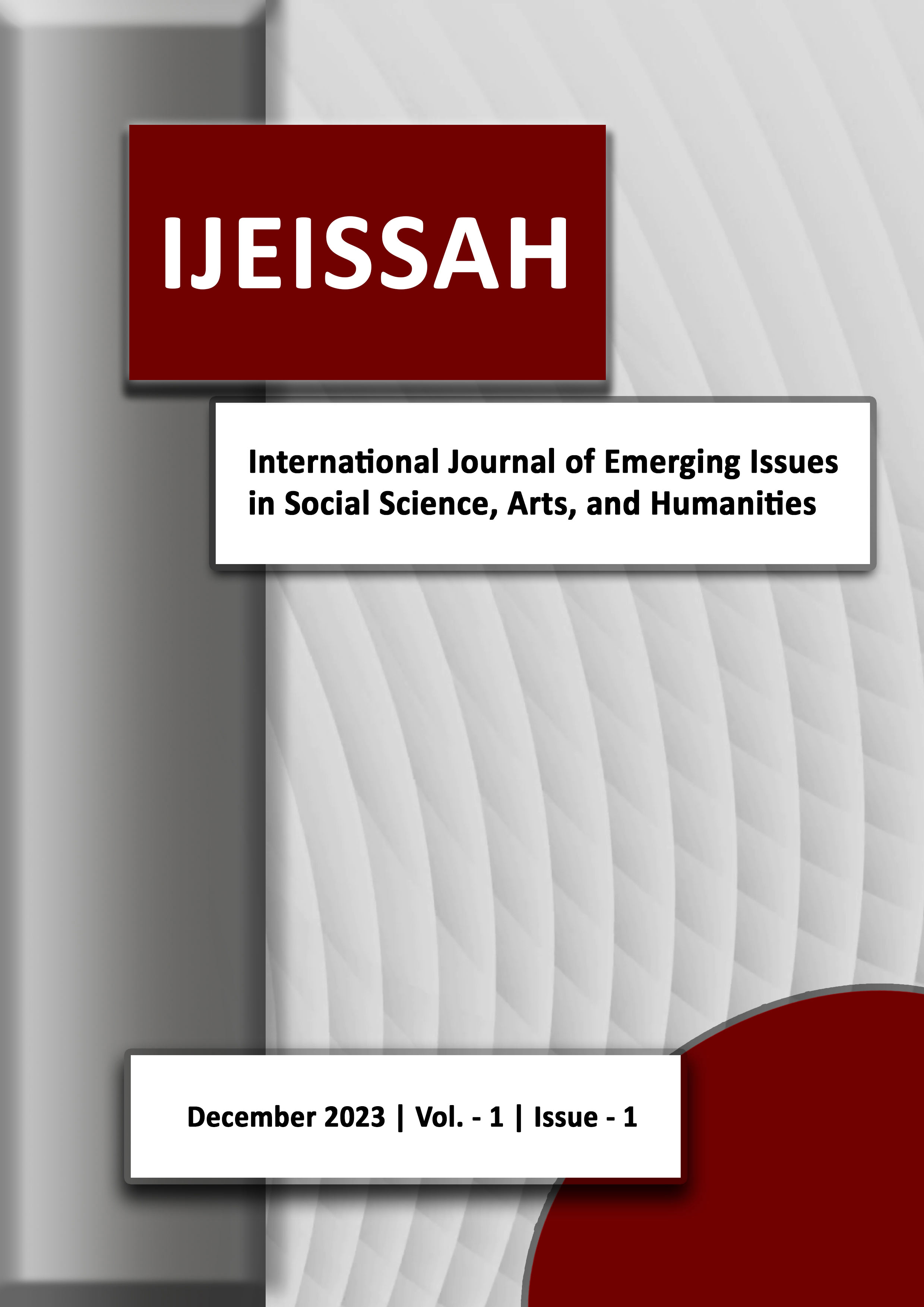 How to Cite
Renigunta, S., Ali Mohammed, L., & Amidi, A. (2022). Gender and Styles of Leadership in Higher Education. International Journal of Emerging Issues in Social Science, Arts and Humanities ( IJEISSAH), 1(1), 45-51. Retrieved from https://ejournal.lucp.net/index.php/ijeissah/article/view/1766