Optic Neuritis: Evaluation of Visual Acuity and Contrast Sensitivity. A Hospital Based Cross Sectional Study
Abstract
Objective: To assess visual acuity and contrast sensitivity in various form of Optic neuritis patients. Study Design and Settings: It was a hospital based cross sectional study conducted in eye department of Teaching hospital, University of Lahore Pakistan. Total duration of the study was 4 months from January 2022-April 2022. Methods: A total of 32 patients were included in the study. Purposive sampling technique was adopted for sampling. Patients age 15-45 were included in the study. A detailed eye examination was done in patients presented to eye department with pain and evaluated for optic neuritis, and demographics along with clinical signs and symptoms were documented using a proforma. Results: Total 32 patients were included in the study having Optic Neuritis. Mean age of the patients was 29 ±8.3SD (Range 15-45). The optic neuritis was divided into further sub-divisions, i.e. Pappilits 11 patients, Retrobulbar Neuritis 14 patients and neuroretinitis 7 patients. A paired t test comparing contrast sensitivity before and after treatment showed a significance of .03 improvement after treatment. In spite of the fact that the results demonstrated that contrast sensitivity did not return to normal, they did show that with prompt treatment, a substantial improvement in contrast sensitivity was possible. Same significance of .02 was found for improvement in VA post-operatively when a paired t test was applied. Conclusion:  Vision and contrast sensitivity both are affected in ON, however VA can be improved to normal vision after treatment, but contrast seldom improve to its normal value.
Keywords:
Contrast Sensitivity, Optic Neuritis, Vision
Downloads
Download data is not yet available.
References
Ambika, S., Padmalakshmi, K., Venkatraman, V., & Noronha, O. V. (2018). Visual outcomes and clinical manifestations of pediatric optic neuritis in Indian population: an institutional study. Journal of Neuro-Ophthalmology, 38(4), 462-465. https://doi.org/10.1097/WNO.0000000000000646
Asseyer, S., Asgari, N., Bennett, J., Bialer, O., Blanco, Y., Bosello, F., ... & Stiebel-Kalish, H. (2023). The Acute Optic Neuritis Network (ACON): Study protocol of a non-interventional prospective multicenter study on diagnosis and treatment of acute optic neuritis. Frontiers in Neurology, 14. https://doi.org/10.3389/fneur.2023.1102353
Backner, Y., Petrou, P., Glick-Shames, H., Raz, N., Zimmermann, H., Jost, R. & Levin, N. (2019). Vision and vision-related measures in progressive multiple sclerosis. Frontiers in Neurology, 10, 455. https://doi.org/10.3389/fneur.2019.00455
Bennett, J. L. (2019). Optic neuritis. Continuum (Minneapolis, Minn.), 25(5), 1236. https://doi.org/10.1212/CON.0000000000000768
Collorone, S., Prados, F., Kanber, B., Cawley, N. M., Tur, C., Grussu, F., ... & Toosy, A. T. (2021). Brain microstructural and metabolic alterations detected in vivo at onset of the first demyelinating event. Brain, 144(5), 1409-1421. https://doi.org/10.1093/brain/awab043
Huang, Y., Zhou, L., ZhangBao, J., Cai, T., Wang, B., Li, X., ... & Wang, M. (2019). Peripapillary and parafoveal vascular network assessment by optical coherence tomography angiography in aquaporin-4 antibody-positive neuromyelitis optica spectrum disorders. British Journal of Ophthalmology, 103(6), 789-796. http://dx.doi.org/10.1136/bjophthalmol-2018-312231
Kowsalya, A., Ramalingam, U., Chaudhary, S., & Kumar, M. (2023). Clinical features and visual outcomes of pediatric optic neuritis in the Indian population: A prospective study. Indian Journal of Ophthalmology, 71(2), 637-642. https://doi.org/10.4103/ijo.IJO_1407_22
Liberski, S., Kaluzny, B. J., & Kocięcki, J. (2022). Methanol-induced optic neuropathy: A still-present problem. Archives of Toxicology, 1-21. https://doi.org/10.1007/s00204-021-03202-0
Mahayana, I. T., Sakti, D. H., & Gani, T. T. (2022). Automated grating contrast-sensitivity: The easy test for hidden visual loss in recovered optic neuritis patient. Taiwan Journal of Ophthalmology, 12(3), 301. https://doi.org/10.4103/tjo.tjo_21_21
Morrow, S. A., Fraser, J. A., Day, C., Bowman, D., Rosehart, H., Kremenchutzky, M., & Nicolle, M. (2018). Effect of treating acute optic neuritis with bioequivalent oral vs intravenous corticosteroids: a randomized clinical trial. JAMA neurology, 75(6), 690-696. https://doi.org/10.1001/jamaneurol.2018.0024
Naumovska, M., Sheikh, R., Bengtsson, B., Malmsjö, M., & Hammar, B. (2018). Visual outcome is similar in optic neuritis patients treated with oral and iv high-dose methylprednisolone: a retrospective study on 56 patients. BMC neurology, 18(1), 1-7. https://doi.org/10.1186/s12883-018-1165-6
Oreja-Guevara, C., Quezada-Sánchez, J., Díaz-Díaz, J., Gómez-Estévez, I., & Suárez, E. A. (2022). Analysis of Visual Acuity, Contrast Sensitivity and Color Perception in Multiple Sclerosis Patients. Multiple Sclerosis and Related Disorders, 59. https://doi.org/10.1016/j.msard.2022.103597
Osborne, B., & Balcer, L. J. (2023). Optic neuropathies. Section Ed: Brazis PW. Up to date.
Palmer, B. A., Gur, D., Weiner, S., Addadi, L., & Oron, D. (2018). The organic crystalline materials of vision: structure–function considerations from the nanometer to the millimeter scale. Advanced Materials, 30(41), 1800006. https://doi.org/10.1002/adma.201800006
Park, S. H., Park, C. Y., Shin, Y. J., Jeong, K. S., & Kim, N. H. (2020). Low contrast visual acuity might help to detect previous optic neuritis. Frontiers in Neurology, 11, 602193.
Rajkarnikar, S., Gurung, A., & Pant, S. N. (2021). The Clinical Profile of Idiopathic Optic Neuritis at the Ophthalmology OPD of Tertiary Centre of Army Hospital, Nepal. Medical Journal of Shree Birendra Hospital, 20(1), 70-76. https://doi.org/10.3126/mjsbh.v20i1.28789
Salmon, J. (2019). Kanski's Clinical Ophthalmology E-Book: A Systematic Approach. Elsevier Health Sciences.
Sánchez, M. I. S., Uribe, P. A. F., Moncada, J. P. G., Rodríguez, G. G. C., Acuña, D. A., Vega, R. C., ... & Barrios, N. P. (2023). Demyelinating and Autoimmune Optic Neuritis: Approach and Management. https://dx.doi.org/10.38125/OAJBS.000534
Sun, P., Li, Q., Li, H., Di, L., Su, X., Chen, J., & Chai, X. (2019). Depth-Resolved physiological response of retina to transcorneal electrical stimulation measured with optical coherence tomography. IEEE Transactions on Neural Systems and Rehabilitation Engineering, 27(5), 905-915. https://doi.org/10.1109/TNSRE.2019.2912168
Wang, X., Zhu, Q., Yan, Z., Shi, Z., Xu, Y., Liu, Y., & Li, Y. (2023). Enlarged choroid plexus related to iron rim lesions and deep gray matter atrophy in relapsing-remitting multiple sclerosis. Multiple Sclerosis and Related Disorders, 104740. https://doi.org/10.1016/j.msard.2023.104740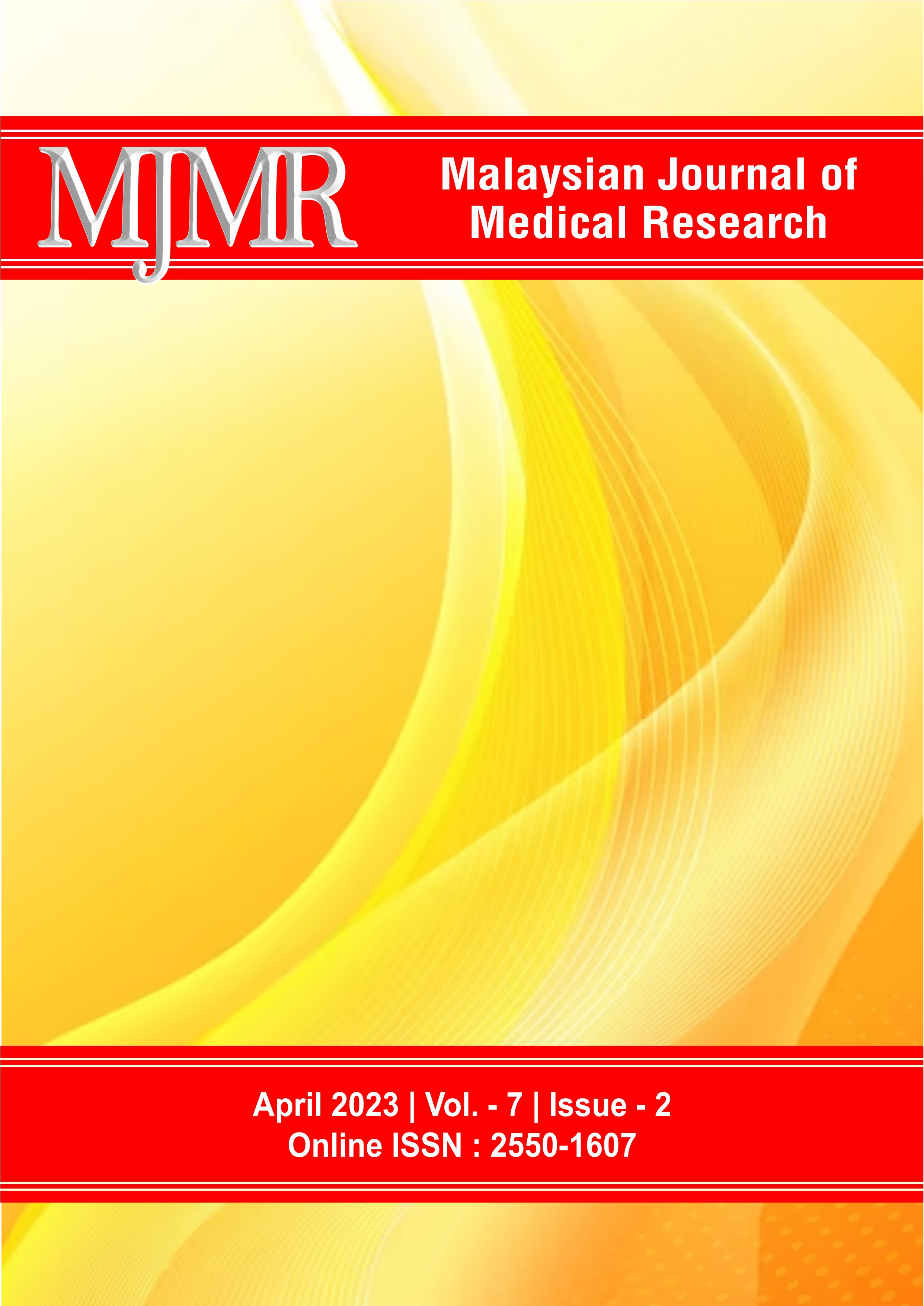 How to Cite
Islam, S. B. ., Shah, M., Abbas, . S. ., Ullah, S., Khan, S. A., & Ullah, M. . (2023). Optic Neuritis: Evaluation of Visual Acuity and Contrast Sensitivity. A Hospital Based Cross Sectional Study. Malaysian Journal of Medical Research (MJMR), 7(2), 34-39. https://doi.org/10.31674/mjmr.2023.v07i02.005
Section
Original Articles
License
Copyright (c) 2023 Malaysian Journal of Medical Research (MJMR)
This work is licensed under a Creative Commons Attribution-NonCommercial-NoDerivatives 4.0 International License.