THE STUDY TO INVESTIGATE THE NEED OF LUNCH BOX FOR THE YOUNG AND ACTIVE EMPLOYEES IN MYANMAR
Abstract
As the living standard and culture of the people are changing, the way of people having lunch in the office is also changing. Some people are bringing lunch-box from their home or order from delivery services. The study aims to investigate the meaning and significance of lunch boxes for Myanmar users and designers in the face of changing habits in food culture. Itis trying to determine the major reasons for using lunch boxes today, and define the users' needs to know more precisely the relation between the salary and amount spent for lunch and the way they have the lunch about how office workers solve their hunger in everyday life. As the number of office worker is growing up day by day, the market of food supply for them is also growing up. Every employee including young and elder employees must eat their lunch in their working hours to be able to carry out the task the whole day. The type of lunch is differing between them. Types of foods eat by employees varies and it is formally related with the type of religions and type of peoples. Some are vegans and some does not eat specific meat some does not eat seafood. Having a lunch is important for humans and they should eat precisely for their lunch to make them healthier and to increase work done. So that their working life will be easier for everyday as they do not have to take time for preparing lunch box and they can enjoy their extra time from cooking.
Keywords:
Lunch Box, Food Culture, Healthy Eating, Young and Active Employees
Downloads
Download data is not yet available.
References
Biltekoff, C. (2010). Consumer Response: The Paradoxes of Food and Health, Annals of the New York Academy of Sciences, 1190(1), pp 174-178.
Helsinki. (1998). National Nutrition Council. Public Health Nutrition, 7(1), pp 53-66.
Karrebaek, M.S. (2012). What's in Your Lunch Box Today? Health Respectability and Ethnicity in the Primary Classroom. Journal of Linguistic Anthropology, 22(1), pp 1-22.
Mechlem, K. (2004). Food Security and the Right to Food in the Discourse of the United Nations. European Law Journal, 10(5), pp 631-48.
Oxford Burma Alliance. Retrieved From: http://www.oxfordburmaalliance.org/ethnic- groups.html
Pontes, T.E., Costa, T.F., Marum, A.B., Brasil, A.L. & Taddei, J.A. (2009). Nutritional Guidance for Children and Adolescents and the New Consumption Patterns: Advertising, Packaging and Labeling. Revista Paulista de Pediatria, 27(1), pp 99-105.
David, B. & Resnik, J.D. (2015). What is Ethics in Research & Why it Important? Retrieved From: https://www.niehs.nih.gov/research/resources/bioethics/whatis/index.cfm
Roos, E., Lähteenkorava, S.S., & Lallukka, T. (2013). Having lunch at a staff canteen is associated with recommended food habits. Public Health Nutrition, 7(1), pp 53-61.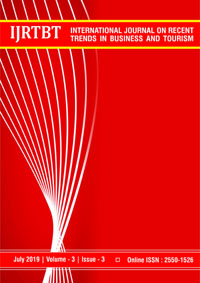 How to Cite
Jue Jue Myint Toe, Ali Abdulbaqi Ameen, Sui Reng Liana, & Amiya Bhaumik. (2019). THE STUDY TO INVESTIGATE THE NEED OF LUNCH BOX FOR THE YOUNG AND ACTIVE EMPLOYEES IN MYANMAR. International Journal on Recent Trends in Business and Tourism (IJRTBT), 3(3), 8-11. Retrieved from https://ejournal.lucp.net/index.php/ijrtbt/article/view/763
License
Copyright (c) 2019 International Journal on Recent Trends in Business and Tourism (IJRTBT)
This work is licensed under a Creative Commons Attribution-NonCommercial-NoDerivatives 4.0 International License.