EFFECT OF MOTIVATION ON EMPLOYEE RETENTION IN MALAYSIAN HOTELS
Abstract
The principal challenge in the majority of hotels today is to retain competent employee from leaving the hotel. This has heightened the need for right motivational tools in order to accomplish employee retention in hotels. While extensive literature exists on motivation but mostly on other industries and the focus has largely been on its influence on performance and productivity, leaving out the role of employee retention. The study thus set out to determine the relationship between motivation and employee retention in Malaysia luxury hotels. The population of this study was a total of 304 employees from various luxury hotels in Selangor and Kuala Lumpur. A self-administered questionnaire was used for purposes of data collection and data was analyzed using regression analysis. The result indicates that there is a significant relation between motivation and employee retention and work satisfaction and employee retention. The study found that among all motivational factors training and development and salary and fringe benefits have the highest statistical significance with employee retention. Leadership has a negative relationship with retention and work satisfaction. The study also found that there is a significant difference for training & development, communication and employee involvement between male and female employees. Female employees consider these factors to be more important than their male colleagues. Training and leadership factors have a significant difference for the positions. The study recommends hotel managers to help and guide subordinates to grow and achieve their organizational goals, the study further suggests that managers should develop moral and team spirit among their subordinates. This study contributes to hotel managers in planning strategies for employee satisfaction and retention. It will also contribute to research and practice, as it will serve as a point of reference on the area of study, and other related topics to scholars and researcher. The study can also be used for further research. 
Keywords:
Motivation, Employee Retention, Hotels, Malaysia
Downloads
Download data is not yet available.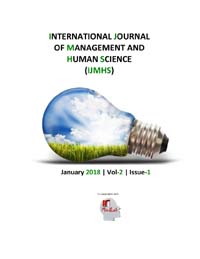 Downloads
How to Cite
Sivakumar Kaliyamoorthy, Ahmed Hamoud Al- Shibami, Mohammed Nusari, & Abhijit Ghosh. (2018). EFFECT OF MOTIVATION ON EMPLOYEE RETENTION IN MALAYSIAN HOTELS . International Journal of Management and Human Science (IJMHS), 2(1), 37-42. Retrieved from https://ejournal.lucp.net/index.php/ijmhs/article/view/829