ANALYSING THE IMPACT OF MORAL BEHAVIOUR ON CONSUMER TRUST: AN INDIAN E-RETAILING PERSPECTIVE
Abstract
The rapid growth in technology encourages companies to do online business. Although e-retailing has witnessed vast advancement, consumers' worries concerning ethical issues continue to increase because of the lack of physical interaction in online environment. The aim of this paper is to analyze the consumer trust towards the e- retailers' websites based on perceived moral behavior using CPEOR model. This study examines the perceived moral issues related to reliability, privacy, security and non-deception and its effect on website trust. A survey instrument is administered to a sample of 220 online consumers living in Delhi, India. The measuring variables and their relationships are estimated using SPSS-21. The findings show that reliability, privacy, security, and non-deception are major forecasters of website trust. The current research observes the relationship between perceived moral behavior and website trust in the Indian context. By offering verifications to the formerly differing outcomes in the literature, a relationship between consumers perceived moral e-retailing and trust towards website was confirmed. The study attempts to help e-retailers to understand the expectations of the customers better and to develop business ethics frameworks in order to gain consumer trust.
Keywords:
E-Retailing, Ethics, Moral Behavior, Online Consumers, Trust
Downloads
Download data is not yet available.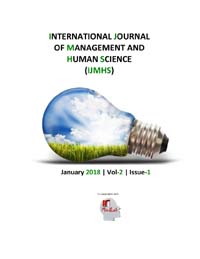 Downloads
How to Cite
Shahnawaz Alam, Mohammed Saleh Saad Nusari, Raja Nazim, & Ibrahim Alrajawy. (2018). ANALYSING THE IMPACT OF MORAL BEHAVIOUR ON CONSUMER TRUST: AN INDIAN E-RETAILING PERSPECTIVE . International Journal of Management and Human Science (IJMHS), 2(1), 24-36. Retrieved from https://ejournal.lucp.net/index.php/ijmhs/article/view/828