THE EFFECT OF TRANSFORMATIONAL LEADERSHIP ON ORGANIZATIONAL INNOVATION IN HIGHER EDUCATION: THE CASE OF DEVELOPING COUNTRIES
Abstract
The purpose of this study is to investigate the effect of transformational leadership on organizational innovation in higher education in Yemen. Evaluation of the proposed model was done through a questionnaire survey with data collected from 279 valid responses among managerial employees within the Sana'a University departments. The analysis examined the relationship between the variables of the proposed model, and includes confirmatory factor analysis (CFA), and structural equation modelling (SEM) via AMOS. The results of the analysis show that the data fit the proposed model well, including two second-order constructs; transformational leadership and organizational innovation. The model proposed by the research, as evidenced by the goodness of fit of the model to the data, and the findings of the multivariate analysis demonstrated main results that transformational leadership has a positive impact on organizational innovation. The theoretical and practical implications are discussed.    
Keywords:
Transformational leadership, Organizational innovation, Higher education, Yemen
Downloads
Download data is not yet available.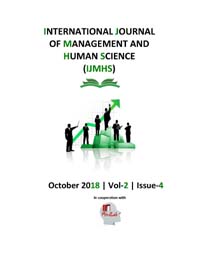 Downloads
How to Cite
Ammar Y. Al-Amri, Roshidi Hassan, Osama Isaac, & Yassien Masoud. (2018). THE EFFECT OF TRANSFORMATIONAL LEADERSHIP ON ORGANIZATIONAL INNOVATION IN HIGHER EDUCATION: THE CASE OF DEVELOPING COUNTRIES. International Journal of Management and Human Science (IJMHS), 2(4), 25-37. Retrieved from https://ejournal.lucp.net/index.php/ijmhs/article/view/801
License
Copyright (c) 2018 International Journal of Management and Human Science (IJMHS)
This work is licensed under a Creative Commons Attribution-NonCommercial-NoDerivatives 4.0 International License.