INVESTIGATE THE INFLUENCE OF UNDERLYING HAPPINESS FACTORS ON THE JOB PERFORMANCE ON THE OIL AND GAS INDUSTRY IN UAE
Abstract
Optimistic Moods, Social Relationship, Passive Mood are not emotional feeling only, but those factors can play an important role in the employee happiness factor. Most researchers indicated that job happiness is the significant controller in the employee performance. The intensive literature review indicates the lack of research that has been conducted in this area. This research aims to investigate the impact of Optimistic Moods, Social Relationship, and Passive Mood as parts of job happiness factor on the job performances. To achieve this objective the qualitative methodology has been utilized.  Structural Equational Modelling (SEM) has been used by harnessing AMOS software to analyse data that collected from 390 respondents from the Oil and Gas sector in UAE. The finding showing the significant impact of employee happiness on the employee performance. The contribution of this research is represented by the findings that showed the positive relationship between job happiness and job performance. The finding the findings have revealed the most need for more in deep research in this area.
Keywords:
Optimistic moods, Social relationship, Passive mood, Job happiness, Job performance, UAE
Downloads
Download data is not yet available.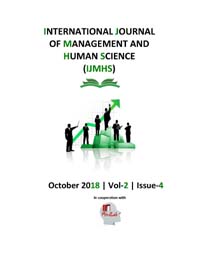 Downloads
How to Cite
Waleed Al-Ali, Ali Ameen, Osama Issac, Nasser Habtoor, Mohammed Nusari, & Ibrhim Alrajawi. (2018). INVESTIGATE THE INFLUENCE OF UNDERLYING HAPPINESS FACTORS ON THE JOB PERFORMANCE ON THE OIL AND GAS INDUSTRY IN UAE. International Journal of Management and Human Science (IJMHS), 2(4), 1-12. Retrieved from https://ejournal.lucp.net/index.php/ijmhs/article/view/798
License
Copyright (c) 2018 International Journal of Management and Human Science (IJMHS)
This work is licensed under a Creative Commons Attribution-NonCommercial-NoDerivatives 4.0 International License.