Theoretical and Methodological Challenges Associated with Element Analysis of Organizational Culture
Abstract
This paper aims to conduct a comprehensive investigation into the various characteristics of corporate culture that exhibit commonalities across different cultural paradigms. The objective is to shed light on how these cultural elements can be managed or influenced through research and development, making it a crucial consideration for the effective control of organizations.
By examining the hypothesis and method of controlling organizations, we explore the possibility of managing or shaping organizational culture to achieve specific goals. The central focus of this article is to categorize the many aspects of organizational culture through empirical research, facilitating a deeper understanding of how these elements contribute to the overall dynamics of an organization.
The research reveals a total of thirteen distinct cultural components, encompassing a wide range of attributes from ethical principles to various organizational subcultures. By delving into each component, we identify the interplay between different cultural elements and their implications for an organization's success.
Through empirical investigation, this essay endeavours to offer valuable insights into the identification and understanding of these cultural components. Armed with this knowledge, organizations can effectively leverage and align their corporate culture to foster a positive work environment, enhance productivity, and drive sustainable growth.
Overall, this study aims to contribute to the existing body of knowledge on organizational culture and its influence on various cultural paradigms. It underscores the significance of culture in shaping organizational behavior and decision-making processes, thereby guiding practitioners and policymakers in making informed choices to cultivate a strong and cohesive corporate culture across diverse cultural contexts.
Keywords:
Corporate Culture, Cultural Paradigms, Organizational Culture, Cultural Elements
Downloads
Download data is not yet available.
References
Ababneh, O. M. A. (2021). The impact of organizational culture archetypes on quality performance and total quality management: the role of employee engagement and individual values. International Journal of Quality & Reliability Management, 38(6), 1387-1408. https://doi.org/10.1108/IJQRM-05-2020-0178
Akpa, V. O., Asikhia, O. U., & Nneji, N. E. (2021). Organizational culture and organizational performance: A review of literature. International Journal of Advances in Engineering and Management, 3(1), 361-372. https://doi.org/10.35629/5252-0301361372
Allison, J. (2019). Values statements: The missing link between organizational culture, strategic management and strategic communication. International Journal of Organizational Analysis, 27(3), 666-689. https://doi.org/10.1108/IJOA-08-2018-1501
Azeem, M., Ahmed, M., Haider, S., & Sajjad, M. (2021). Expanding competitive advantage through organizational culture, knowledge sharing and organizational innovation. Technology in Society, 66, 101635. https://doi.org/10.1016/j.techsoc.2021.101635
Chen, Y. S., Lin, S. H., Lin, C. Y., Hung, S. T., Chang, C. W., & Huang, C. W. (2020). Improving green product development performance from green vision and organizational culture perspectives. Corporate Social Responsibility and Environmental Management, 27(1), 222-231. https://doi.org/10.1002/csr.1794
Da Veiga, A., Astakhova, L. V., Botha, A., & Herselman, M. (2020). Defining organisational information security culture—Perspectives from academia and industry. Computers & Security, 92, 101713. https://doi.org/10.1016/j.cose.2020.101713
Dasgupta, S., & Gupta, B. (2019). Espoused organizational culture values as antecedents of internet technology adoption in an emerging economy. Information & Management, 56(6), 103142. https://doi.org/10.1016/j.im.2019.01.004
Dolamore, S. (2021). Detecting empathy in public organizations: Creating a more relational public administration. Administrative Theory & Praxis, 43(1), 58-81. https://doi.org/10.1080/10841806.2019.1700458
Gehrisch, M. G., & Süß, S. (2022). Organizational behavior in international strategic alliances and the relation to performance–a literature review and avenues for future research. Management Review Quarterly, 1-63. https://doi.org/10.1007/s11301-022-00268-7
Gölgeci, I., Arslan, A., Dikova, D., & Gligor, D. M. (2020). Resilient agility in volatile economies: institutional and organizational antecedents. Journal of Organizational Change Management, 33(1), 100-113. https://doi.org/10.1108/JOCM-02-2019-0033
González-Rodríguez, M. R., Martín-Samper, R. C., Köseoglu, M. A., & Okumus, F. (2019). Hotels' corporate social responsibility practices, organizational culture, firm reputation, and performance. Journal of Sustainable Tourism, 27(3), 398-419. https://doi.org/10.1080/09669582.2019.1585441
Ilham, M. (2021). Principal Strategies for Developing an Organizational Culture in Education Management. ITQAN: Jurnal Ilmu-Ilmu Kependidikan, 12(2), 173-182. https://doi.org/10.47766/itqan.v12i2.194
Isensee, C., Teuteberg, F., Griese, K. M., & Topi, C. (2020). The relationship between organizational culture, sustainability, and digitalization in SMEs: A systematic review. Journal of Cleaner Production, 275, 122944. https://doi.org/10.1016/j.jclepro.2020.122944
Joseph, O. O., & Kibera, F. (2019). Organizational culture and performance: Evidence from microfinance institutions in Kenya. SAGE Open, 9(1), 2158244019835934. https://doi.org/10.1177/2158244019835934
Mansaray, H. E., & Jnr, H. E. M. (2020). The Connection between national culture and organizational culture: A literature review. Britain International of Humanities and Social Sciences (BIoHS) Journal, 2(1), 179-189. https://doi.org/10.33258/biohs.v2i1.168
Martínez-Caro, E., Cegarra-Navarro, J. G., & Alfonso-Ruiz, F. J. (2020). Digital technologies and firm performance: The role of digital organisational culture. Technological Forecasting and Social Change, 154, 119962. https://doi.org/10.1016/j.techfore.2020.119962
Mishra, A. K. (2021). Shall the Twain Ever Meet? The Cultural Politics of Psychoanalysis in India. Psychology in Modern India: Historical, Methodological, and Future Perspectives, 93-118. https://doi.org/10.1007/978-981-16-4705-5_6
Oreg, S., & Berson, Y. (2019). Leaders' impact on organizational change: Bridging theoretical and methodological chasms. Academy of Management Annals, 13(1), 272-307. https://doi.org/10.5465/annals.2016.0138
Raiden, A., & King, A. (2021). Social value, organisational learning, and the sustainable development goals in the built environment. Resources, Conservation and Recycling, 172, 105663. https://doi.org/10.1016/j.resconrec.2021.105663
Sato, M., Sayanagi, N., & Yanagihara, T. (2022). Beyond Aloof Cynicism: A Critical Overview of Anthropological Perspectives on Agency and Its Development. Empowerment Through Agency Enhancement: An Interdisciplinary Exploration, 11-26. https://doi.org/10.1007/978-981-19-1227-6_2
Scaliza, J. A. A., Jugend, D., Jabbour, C. J. C., Latan, H., Armellini, F., Twigg, D., & Andrade, D. F. (2022). Relationships among organizational culture, open innovation, innovative ecosystems, and performance of firms: Evidence from an emerging economy context. Journal of Business Research, 140, 264-279. https://doi.org/10.1016/j.jbusres.2021.10.065
Schnackenberg, A. K., Bundy, J., Coen, C. A., & Westphal, J. D. (2019). Capitalizing on categories of social construction: A review and integration of organizational research on symbolic management strategies. Academy of Management Annals, 13(2), 375-413. https://doi.org/10.5465/annals.2017.0096
Soomro, B. A., & Shah, N. (2019). Determining the impact of entrepreneurial orientation and organizational culture on job satisfaction, organizational commitment, and employee's performance. South Asian Journal of Business Studies, 8(3), 266-282. https://doi.org/10.1108/SAJBS-12-2018-0142
Srisathan, W. A., Ketkaew, C., & Naruetharadhol, P. (2020). The intervention of organizational sustainability in the effect of organizational culture on open innovation performance: A case of thai and chinese SMEs. Cogent Business & Management, 7(1), 1717408. https://doi.org/10.1080/23311975.2020.1717408
Szydło, J., & Grześ-Bukłaho, J. (2020). Relations between national and organisational culture—Case study. Sustainability, 12(4), 1522. https://doi.org/10.3390/su12041522
Tan, B. S. (2019). In search of the link between organizational culture and performance: A review from the conclusion validity perspective. Leadership & Organization Development Journal, 40(3), 356-368. https://doi.org/10.1108/LODJ-06-2018-0238
Torres, L. L. (2022). School organizational culture and leadership: theoretical trends and new analytical proposals. Education Sciences, 12(4), 254. https://doi.org/10.3390/educsci12040254
Tropman, J. E. (2022). Meeting Management and Decision-Making. In Encyclopedia of Social Work. https://doi.org/10.1093/acrefore/9780199975839.013.1510
Wang, C. H. (2019). How organizational green culture influences green performance and competitive advantage: The mediating role of green innovation. Journal of Manufacturing Technology Management, 30(4), 666-683. https://doi.org/10.1108/JMTM-09-2018-0314
Yumuk, Y., & Kurgun, H. (2020). The role of organizational culture types on person-organization fit and organizational alienation levels of hotel workers. In Sustainable Hospitality Management (Vol. 24, pp. 83-104). Emerald Publishing Limited. https://doi.org/10.1108/S1877-636120200000024007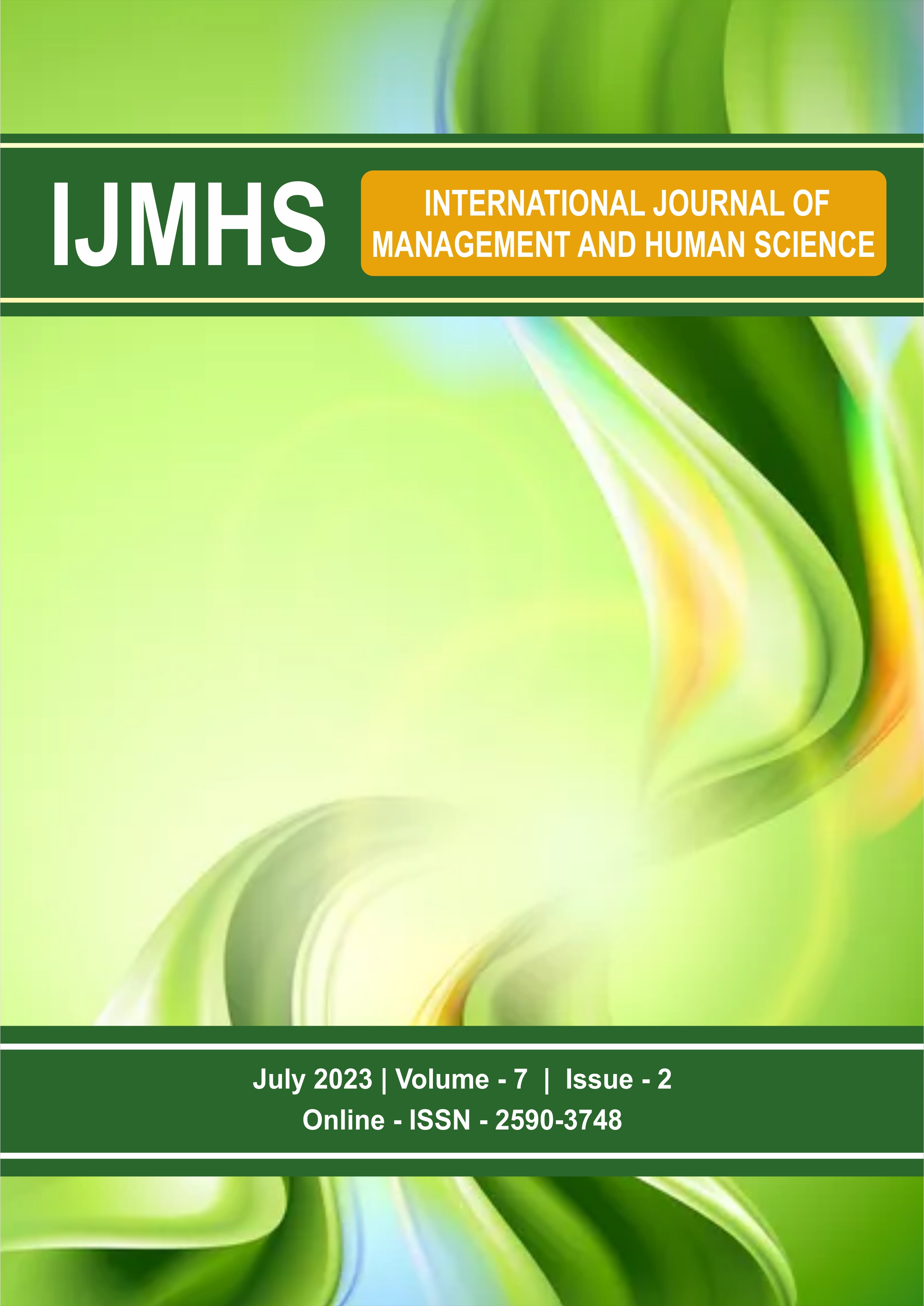 How to Cite
Can, W., Jian, D., Jialin, X., & Ghosh, A. (2023). Theoretical and Methodological Challenges Associated with Element Analysis of Organizational Culture. International Journal of Management and Human Science (IJMHS), 7(2), 58-65. https://doi.org/10.31674/ijmhs.2023.v07i02.007
License
Copyright (c) 2023 International Journal of Management and Human Science (IJMHS)
This work is licensed under a Creative Commons Attribution-NonCommercial-NoDerivatives 4.0 International License.