Impact of Employee Well-Being on Organizational Performance in Workplace
Abstract
The purpose of this study is to assess the impact of worker happiness on business results in the manufacturing industry. This research provides valuable insight into how workers feel about and anticipate receiving the benefits offered by their employer. The empirical technique of research is being applied in this investigation. The primary data for this research was collected using questionnaires. One hundred manufacturing workers make up the sample. This study provides useful information on the importance of employee well-being in inspiring productivity at work and the extent to which it contributes to the success of an organisation. The research establishes a causal relationship between workers' happiness and their productivity and attitude toward their workplace setting. Improve your job performance using the knowledge gained from this article by learning what your employees need from the company.
Keywords:
Well-Being Measures, Employee Well-Being, Well-Being on Performance, Workplace Well-Being
Downloads
Download data is not yet available.
References
Ali, A., Wang, H., & Johnson, R. E. (2020). Empirical analysis of shared leadership promotion and team creativity: An adaptive leadership perspective. Journal of Organizational Behavior, 41(5), 405-423. https://doi.org/10.1002/job.2437
Altomonte, S., Allen, J., Bluyssen, P. M., Brager, G., Heschong, L., Loder, A., ... & Wargocki, P. (2020). Ten questions concerning well-being in the built environment. Building and Environment, 180, 106949. https://doi.org/10.1016/j.buildenv.2020.106949
Avgoustaki, A., & Frankort, H. T. (2019). Implications of work effort and discretion for employee well-being and career-related outcomes: An integrative assessment. ILR Review, 72(3), 636-661. https://doi.org/10.1177/0019793918804540
Bellet, C. S., De Neve, J. E., & Ward, G. (2023). Does employee happiness have an impact on productivity?. Management science. https://dx.doi.org/10.2139/ssrn.3470734
Dappa, K., Bhatti, F., & Aljarah, A. (2019). A study on the effect of transformational leadership on job satisfaction: The role of gender, perceived organizational politics and perceived organizational commitment. Management Science Letters, 9(6), 823-834. http://dx.doi.org/10.5267/j.msl.2019.3.006
Fürstenberg, N., Alfes, K., & Shantz, A. (2021). Meaningfulness of work and supervisory‐rated job performance: A moderated‐mediation model. Human Resource Management, 60(6), 903-919. https://doi.org/10.1002/hrm.22041
Gray, P., Senabe, S., Naicker, N., Kgalamono, S., Yassi, A., & Spiegel, J. M. (2019). Workplace-based organizational interventions promoting mental health and happiness among healthcare workers: A realist review. International Journal of Environmental Research and Public Health, 16(22), 4396. https://doi.org/10.3390/ijerph16224396
Houssein, A. A., Singh, J. S. K., & Arumugam, T. (2020). Retention of employees through career development, employee engagement and work-life balance: An empirical study among employees in the financial sector in Djibouti, East Africa. Global Business and Management Research, 12(3), 17-32.
Oral, E. A., Gorden, P., Cochran, E., Araújo-Vilar, D., Savage, D. B., Long, A., ... & Brown, R. J. (2019). Long-term effectiveness and safety of metreleptin in the treatment of patients with partial lipodystrophy. Endocrine, 64, 500-511. https://doi.org/10.1007/s12020-019-01862-8
Pawar, A., Sudan, K., Satini, S., & Sunarsi, D. (2020). Organizational servant leadership. International Journal of Educational Administration, Management, and Leadership, 63-76. https://doi.org/10.51629/ijeamal.v1i2.8
Rasool, S. F., Wang, M., Tang, M., Saeed, A., & Iqbal, J. (2021). How toxic workplace environment effects the employee engagement: The mediating role of organizational support and employee wellbeing. International Journal of Environmental Research and Public Health, 18(5), 2294. https://doi.org/10.3390/ijerph18052294
Rego, F., Gonçalves, F., Moutinho, S., Castro, L., & Nunes, R. (2020). The influence of spirituality on decision-making in palliative care outpatients: a cross-sectional study. BMC palliative care, 19(1), 1-14. https://doi.org/10.1186/s12904-020-0525-3
Ryan, C., Bergin, M., & Wells, J. S. (2021). Work-related stress and well-being of direct care workers in intellectual disability services: A scoping review of the literature. International Journal of Developmental Disabilities, 67(1), 1-22. https://doi.org/10.1080/20473869.2019.1582907
Shih, W. C. (2020). Global supply chains in a post-pandemic world. Harvard Business Review, 98(5), 82-89.
Tambellini, E. (2023). Exploring the relationship between working history, retirement transition and women's life satisfaction. Ageing & Society, 43(8), 1754-1783. https://doi.org/10.1017/S0144686X2100132X
Won, D., Bae, J. S., Byun, H., & Seo, K. B. (2020). Enhancing subjective well-being through physical activity for the elderly in Korea: A meta-analysis approach. International Journal of Environmental Research and Public Health, 17(1), 262. https://doi.org/10.3390/ijerph17010262
Zhuang, M., & Gadiraju, U. (2019, June). In what mood are you today? An analysis of crowd workers' mood, performance and engagement. In Proceedings of the 10th ACM Conference on Web Science (pp. 373-382). https://doi.org/10.1145/3292522.3326010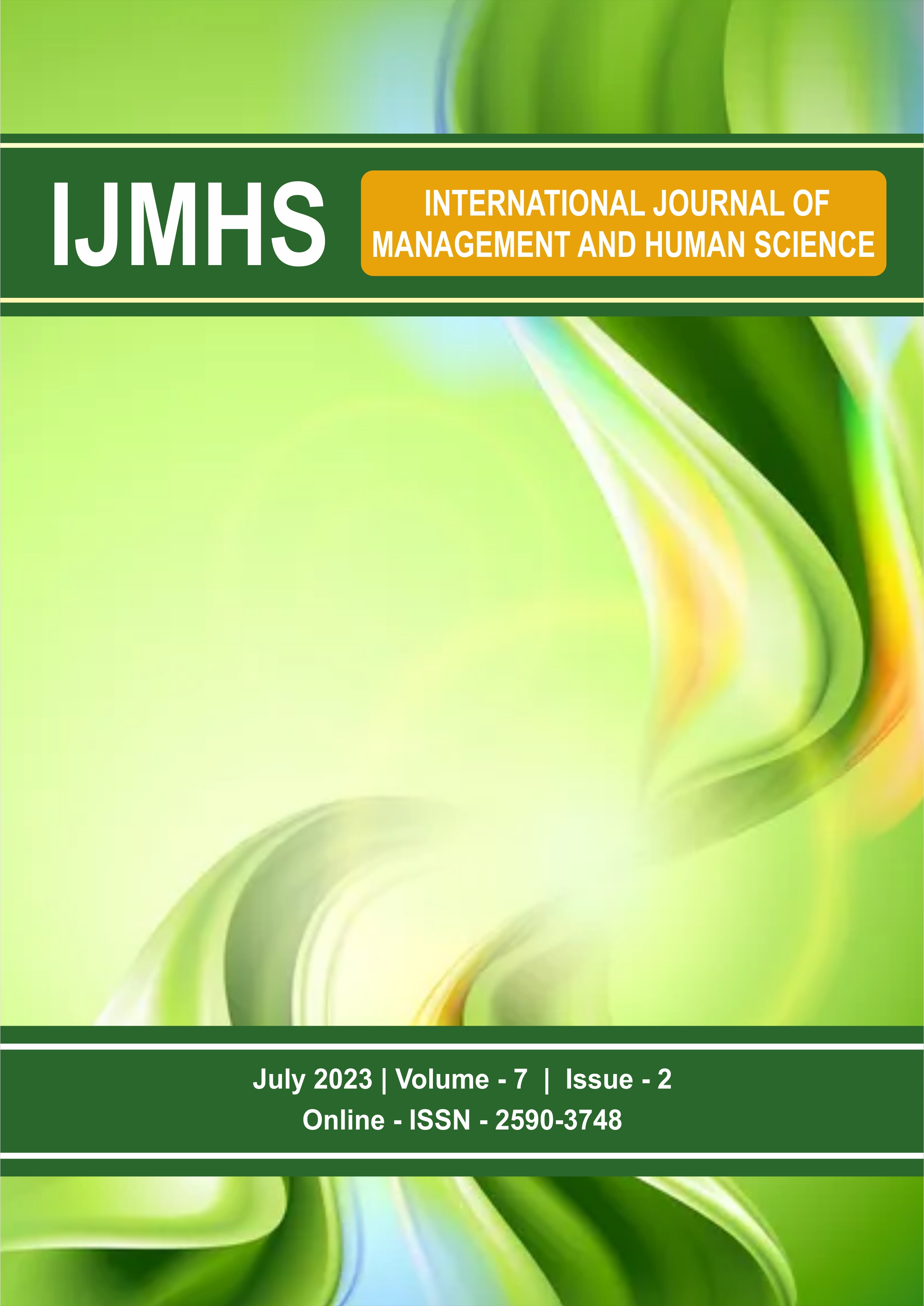 Downloads
How to Cite
Rufeng, L., Nan, Z., & Jianqiang, Z. (2023). Impact of Employee Well-Being on Organizational Performance in Workplace. International Journal of Management and Human Science (IJMHS), 7(2), 87-95. https://doi.org/10.31674/ijmhs.2023.v07i02.010
License
Copyright (c) 2023 International Journal of Management and Human Science (IJMHS)
This work is licensed under a Creative Commons Attribution-NonCommercial-NoDerivatives 4.0 International License.