IMRPS and Advancing International Marketing Education and Management
Abstract
International Marketing Research Projects (IMRPs) are growing in importance, and it's crucial that academics and students grasp the concerns and challenges involved in conducting them. Companies can learn the most about their current and potential clients through marketing research. When considering international expansion, businesses must take into account the ways in which international market research differs from domestic or regional studies. Many academic researchers and students utilise IMRPs in an effort to aid CEOs in making international business decisions. With this paper, hope to contribute to the field of International Marketing (IM) education by laying out a map for scholars embarking on International Marketing Research Projects (IMRPs) and drawing attention to the unique difficulties of such projects. These factors must be carefully studied in order to generate high-quality international market research that can effectively back up managerial judgements.
Keywords:
IMRP, IM, International Expansion, Managerial Judgements
Downloads
Download data is not yet available.
References
Akter, S., Motamarri, S., Hani, U., Shams, R., Fernando, M., Babu, M. M., & Shen, K. N. (2020). Building dynamic service analytics capabilities for the digital marketplace. Journal of Business Research, 118, 177-188. https://doi.org/10.1016/j.jbusres.2020.06.016
Ataboyev, I. M., & Turgunova, F. R. (2022). The concept of semantic field in linguistics. ACADEMICIA: An International Multidisciplinary Research Journal, 12(3), 319-324. http://dx.doi.org/10.5958/2249-7137.2022.00223.3
Azam, M., Liu, L., & Ahmad, N. (2021). Impact of institutional quality on environment and energy consumption: evidence from developing world. Environment, Development and Sustainability, 23, 1646-1667. https://doi.org/10.1007/s10668-020-00644-x
Chen, X., Xie, H., Zou, D., & Hwang, G. J. (2020). Application and theory gaps during the rise of artificial intelligence in education. Computers and Education: Artificial Intelligence, 1, 100002. https://doi.org/10.1016/j.caeai.2020.100002
dos Santos, P. M., & Cirillo, M. Â. (2021). Construction of the average variance extracted index for construct validation in structural equation models with adaptive regressions. Communications in Statistics-Simulation and Computation, 1-13. Web: https://doi.org/10.1080/03610918.2021.1888122
Dromgold-Sermen, M. S. (2022). Forced migrants and secure belonging: a case study of Syrian refugees resettled in the United States. Journal of Ethnic and Migration Studies, 48(3), 635-654. https://doi.org/10.1080/1369183X.2020.1854087
Fearon, D., Hughes, S., & Brearley, S. G. (2021). Constructivist stakian multicase study: Methodological issues encountered in cross-cultural palliative care research. International Journal of Qualitative Methods, 20, 16094069211015075.
Hao, A. W., Paul, J., Trott, S., Guo, C., & Wu, H. H. (2021). Two decades of research on nation branding: A review and future research agenda. International Marketing Review, 38(1), 46-69. https://doi.org/10.1108/IMR-01-2019-0028
Haug, K., Cochrane, K., Nainala, V. C., Williams, M., Chang, J., Jayaseelan, K. V., & O'Donovan, C. (2020). MetaboLights: a resource evolving in response to the needs of its scientific community. Nucleic Acids Research, 48(D1), D440-D444. https://doi.org/10.1093/nar/gkz1019
Katsikeas, C., Leonidou, L., & Zeriti, A. (2020). Revisiting international marketing strategy in a digital era: Opportunities, challenges, and research directions. International Marketing Review, 37(3), 405-424. https://doi.org/10.1108/IMR-02-2019-0080
Li, F., Larimo, J., & Leonidou, L. C. (2021). Social media marketing strategy: definition, conceptualization, taxonomy, validation, and future agenda. Journal of the Academy of Marketing Science, 49, 51-70. Web: https://doi.org/10.1007/s11747-020-00733-3
Mahapatra, S., & Bhaduri, S. N. (2019). Dynamics of the impact of currency fluctuations on stock markets in India: Assessing the pricing of exchange rate risks. Borsa Istanbul Review, 19(1), 15-23. https://doi.org/10.1016/j.bir.2018.04.004
Mercade Mele, P., Molina Gomez, J., & Garay, L. (2019). To green or not to green: The influence of green marketing on consumer behaviour in the hotel industry. Sustainability, 11(17), 4623. https://doi.org/10.3390/su11174623
Nuriadi, N. (2021). The Effectiveness Of Application Of Marketing Strategies In Private Higher Education. AKADEMIK: Jurnal Mahasiswa Humanis, 1(3), 104-113. Web: https://doi.org/10.37481/jmh.v1i3.460
Rose, H., McKinley, J., & Galloway, N. (2021). Global Englishes and language teaching: A review of pedagogical research. Language Teaching, 54(2), 157-189. https://doi.org/10.1017/S0261444820000518
Santhosh, R., Bankoti, N., Gurudarshan, M., Jeyakanthan, J., & Sekar, K. (2020). IMRPS: Inserted and Modified Residues in Protein Structures. A database. Journal of Applied Crystallography, 53(2), 569-573. Web: https://doi.org/10.1107/S1600576720001880
Sergeeva, M. G., Shafazhinskaya, N. E., Smirnova, M. A., Poliakova, I. V., Polozhentseva, I. V., Goltseva, O. S., & Kolosova, G. M. (2019). Development of teachers' cross-cultural literacy in the system of further vocational education. Religación. Revista de Ciencias Sociales y Humanidades, 4(13), 249-254.
Setti, S., & Wanto, A. (2019). Analysis of backpropagation algorithm in predicting the most number of internet users in the world. Jurnal Online Informatika, 3(2), 110-115. http://orcid.org/0000-0003-4891-084X
Shams, R., Vrontis, D., Belyaeva, Z., Ferraris, A., & Czinkota, M. R. (2021). Strategic agility in international business: A conceptual framework for "agile" multinationals. Journal of International Management, 27(1), 100737. https://doi.org/10.1016/j.intman.2020.100737
Strassburg, B. B., Beyer, H. L., Crouzeilles, R., Iribarrem, A., Barros, F., de Siqueira, M. F., ... & Uriarte, M. (2019). Strategic approaches to restoring ecosystems can triple conservation gains and halve costs. Nature Ecology & Evolution, 3(1), 62-70. Web: https://doi.org/10.1038/s41559-018-0743-8
Wan, S., Cheng, X., & Dong, J. (2023). Group decision-making with interval multiplicative preference relations. Knowledge and Information Systems, 65(5), 2305-2346. https://doi.org/10.1007/s10115-022-01816-z
Zhu, R., Srivastava, A., & Sutanto, J. (2020). Privacy-deprived e-commerce: the efficacy of consumer privacy policies on China's e-commerce websites from a legal perspective. Information Technology & People, 33(6), 1601-1626. https://doi.org/10.1108/ITP-03-2019-0117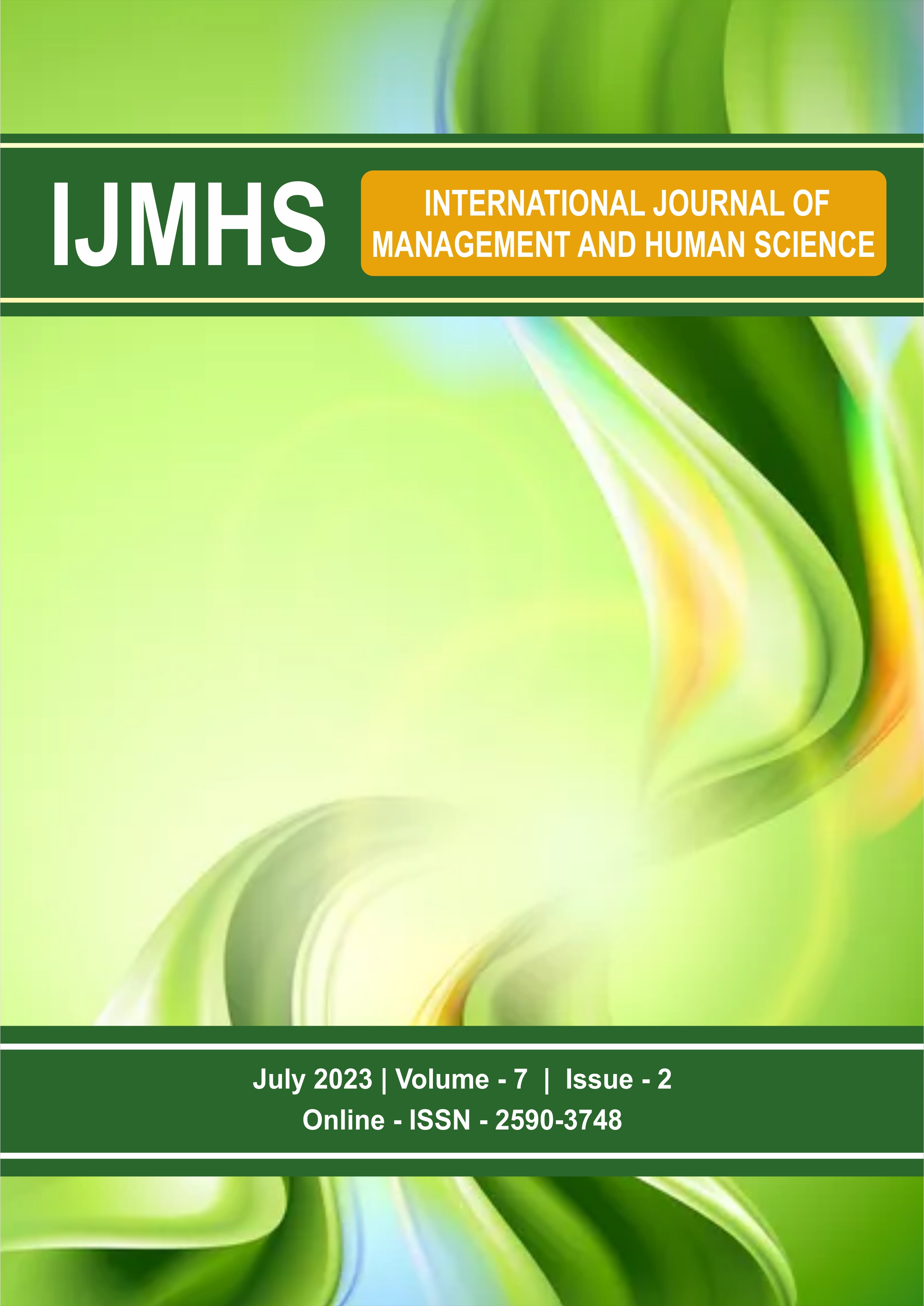 How to Cite
Menglin, L., Ying, W., Jian, D., & Xinhong, Z. (2023). IMRPS and Advancing International Marketing Education and Management. International Journal of Management and Human Science (IJMHS), 7(2), 73-86. https://doi.org/10.31674/ijmhs.2023.v07i02.009
License
Copyright (c) 2023 International Journal of Management and Human Science (IJMHS)
This work is licensed under a Creative Commons Attribution-NonCommercial-NoDerivatives 4.0 International License.