Big Data Analytics for Publishing Development: Prospects and Challenges in the Nigerian Book Industry
Abstract
Studies on the growth of the Nigerian book publishing industry in the multimedia landscape reiterate the need for the deployment of innovative marketing practices, given the observed decline in book publishing performance over the years. By adopting big data analytics, publishers are able to leverage on user-generated data (UGD) for product development and online marketing. However, the adoption of big data in the Nigerian book publishing industry remains an uncharted pathway to development. This study explores big data adoption in the Nigerian book publishing industry through a literature review of studies on technology innovation adoption in the context of book publishing, with a focus on big data. A literature search was conducted in Google Scholar, and relevant studies selected for review and analysis. Findings reveal the use of big data for publishing development in a number of developed nations, including the use of big data analytics in publishing houses' book development processes. Big data analytics also give book publishers the boost they need for distribution, sales, and advertising as well as price optimization. However, there is no clear proof that Nigeria's publishing sector has adopted big data for book publishing processes, although results show that big data analytics can help publishers increase the effectiveness of their book publishing operations. Given the potential to improve productivity and profitability, implementing big data analytics in the Nigerian book publishing sector as a new avenue to development that has to be explored further.
Keywords:
Book Publishing, Big Data, Digital Marketing, Marketing Strategy, Nigeria
Downloads
Download data is not yet available.
References
Aalabaf-Sabaghi, M. (2020). An Introduction to Data, Everything You Need to Know About AI: Big Data and Data Science. https://doi.org/10.1111/rssa.12604
Abate, M. A. (2016). The big smallness: Niche marketing, the American culture wars, and the new children's literature. Routledge. https://doi.org/10.4324/9781315668871
Adegbite-Badmus, T. A., & Folayan, B. J. (2020). Prospects of electronic publishing in Nigeria. International Journal of Library and Information Science, 12(2), 46-55. https://doi.org/10.5897/IJLIS2020.0967
Akpan, I. J., Udoh, E. A. P., & Adebisi, B. (2022). Small business awareness and adoption of state-of-the-art technologies in emerging and developing markets, and lessons from the COVID-19 pandemic. Journal of Small Business & Entrepreneurship, 34(2), 123-140.
Altbach, P. G. (1983). Key Issues of Textbook Provision in the Third World. Prospects: Quarterly review of education, 13(3), 315-25. https://doi.org/10.1007/bf02220426
Ashok, V. G., Feng, S., & Choi, Y. (2013, October). Success with style: Using writing style to predict the success of novels. In Proceedings of the 2013 conference on empirical methods in natural language processing (pp. 1753-1764).
Chakava, H. (1997). Selling books in Africa: A publisher's reflections. Logos, 8(3), 159-164. https://doi.org/10.2959/logo.1997.8.3.159
Choi, G., Bolan, P., Hutchinson, K., & Mitchell, R. (2014). Social media implementation by SMEs: overcoming the challenges of measurement. British Academy of Management (BAM), London.
Christensen, L. P., Ljungman, C. M., Ikoja-Odongo, J. R., Sow, M., & Fredericksen, B. F. (1999). Strengthening publishing in Africa: an evaluation of APNET. Sida evaluation, 99(2).
Christopher, N. M. (2004). Book Publishing in Nigeria: The Journey so far and the way forward. Publisher, 11(1), 25.
Christopher, N. M. (2010). Applying Marketing Concepts to Book Publishing in Nigeria. Journal of International Social Research, 3(11).
Christopher, N. M., & Ifeduba, E. C. (2014). Engendering Sustainable Development through the Adoption of Digital Publishing Innovations. In Green Technology Applications for Enterprise and Academic Innovation (pp. 118-132). IGI Global. http://dx.doi.org/10.4018/978-1-4666-5166-1.ch008
Davies, G., & Balkwill, R. (2011). The professionals' guide to publishing: A practical introduction to working in the publishing industry. Kogan Page Publishers.
Dong, J. Q., & Yang, C. H. (2020). Business value of big data analytics: A systems-theoretic approach and empirical test. Information & Management, 57(1), 103124. https://doi.org/10.1016/j.im.2018.11.001
Finch, G., & Buchmesse, F. (2019). The Future Impact of Artificial Intelligence on the Publishing Industry. Livre blanc.
Greco, A. N., & Aiss, C. G. (2015). University presses in the twenty-first century: The potential impact of big data and predictive analytics on scholarly book marketing. Journal of Scholarly Publishing, 46(2), 105-140. https://doi.org/10.3138/jsp.46.2.01
Igudia Dr, O. E., & Ogunsina Mr, S. T. (2021). Effort Expectancy and Use of social media for Marketing by Staff of Selected Publishing Firms in South-West, Nigeria.
Irele, A. (1972). The African Publisher. Publishing in Nigeria, 5-12. https://doi.org/10.1177/001132557500800403
Khalifa, M., & Islam, A. (2020). Will your forthcoming book be successful? Predicting book success with CNN and readability scores.
KPMG. (2019). Assessing the Maturity of Data & Analytics Capabilities in Nigeria. KPMG Data and Analytics. Available from: https://assets.kpmg.com/content/dam/kpmg/ng/pdf/advisory/Assessing-the-Maturity-of-D&A-Capabilities-in-Nigeria.pdf
Maharjan, S., Arevalo, J., Montes, M., González, F. A., & Solorio, T. (2017, April). A multi-task approach to predict likability of books. In Proceedings of the 15th Conference of the European Chapter of the Association for Computational Linguistics: Volume 1, Long Papers (pp. 1217-1227).
Maharjan, S., Kar, S., Montes-y-Gómez, M., González, F. A., & Solorio, T. (2018). Letting emotions flow: Success prediction by modeling the flow of emotions in books.
Maity, S. K., Panigrahi, A., & Mukherjee, A. (2017, July). Book reading behavior on goodreads can predict the amazon best sellers. In Proceedings of the 2017 IEEE/ACM International Conference on Advances in Social Networks Analysis and Mining 2017 (pp. 451-454). https://doi.org/10.1145/3110025.3110138
Maity, S. K., Panigrahi, A., & Mukherjee, A. (2019). Analyzing social book reading behavior on goodreads and how it predicts amazon best sellers. Influence and Behavior Analysis in Social Networks and Social Media, 211-235. https://doi.org/10.48550/arXiv.1809.07354
Maroufkhani, P., Wan Ismail, W. K., & Ghobakhloo, M. (2020). Big data analytics adoption model for small and medium enterprises. Journal of Science and Technology Policy Management, 11(4), 483-513. http://dx.doi.org/10.1108/JSTPM-02-2020-0018
Ogbuokiri, B. O., Udanor, C. N., & Agu, M. N. (2015). Implementing bigdata analytics for small and medium enterprise (SME) regional growth. IOSR Journal of Computer Engineering, 17(6), 35-43. https://doi.org/10.9790/0661-17643543
Oluwunmi, A. O., Role, B. A., & Umeh, O. L. (2022). Estate Surveyors and Valuers' Perception of the Role of Big Data in Property Marketing in Lagos, Nigeria. International Journal of Real Estate Studies, 16(1), 79-86. https://doi.org/10.11113/intrest.v16n1.123
Omoyemi, O. M., & Olatunji, A. I. (2021). Effects of Provenances, Storage Temperature and Duration on Seed Germination of Bombax costatum Pellegr & Vuillet. Journal of Forest and Environmental Science, 37(3), 235-242. https://doi.org/10.7747/JFES.2021.37.3.235
Peukert, C., & Reimers, I. (2022). Digitization, Prediction, and Market Efficiency: Evidence from Book Publishing Deals. Management Science, 68(9), 6907-6924. https://doi.org/10.1287/mnsc.2021.4237
Rogers, E. M. (2010). Diffusion of innovations. Simon and Schuster.
Saniuta, A., Zbuchea, A., & Hrib, B. (2022). Innovation in the Book Market Retail. Preferences Among Romanian Readers. Management Dynamics in the Knowledge Economy, 10(2), 179-209. https://doi.org/10.2478/mdke-2022-0013
Shah, S., Soriano, C. B., & Coutroubis, A. D. (2017, December). Is big data for everyone? The challenges of big data adoption in SMEs. In 2017 IEEE International Conference on Industrial Engineering and Engineering Management (IEEM) (pp. 803-807). IEEE.
Shercliff, E. (2015). Publishing in Nigeria: Context, challenges, and change. Logos, 26(3), 51-60. https://doi.org/10.1163/1878-4712-11112083
Singaraju, S., & Niininen, O. (2021). Understanding Big Data and its application in the digital marketing landscape. Contemporary Issues in Digital Marketing, 9.
Smith Jr, D. C. (1975). The bright promise of publishing in developing countries. The ANNALS of the American Academy of Political and Social Science, 421(1), 130-136. https://doi.org/10.1177/000271627542100113
Upshall, M. (2019). Using AI to solve business problems in scholarly publishing. Insights, 32(1). http://doi.org/10.1629/uksg.460
Uwalaka, N. M. E. (2000). Book publishing performance in the Nigerian economic environment. Unpublished PhD Thesis, University of Ibadan.
Wang, X., Yucesoy, B., Varol, O., Eliassi-Rad, T., & Barabási, A. L. (2019). Success in books: predicting book sales before publication. EPJ Data Science, 8(1), 1-20. https://doi.org/10.1140/epjds/s13688-019-0208-6
Zell, H. (2001). Book marketing and promotion: A handbook of good practice. Oxford: International Network for the Availability of Scientific Publications.
Zhang, L., Qu, J., Jie, J., & Liang, N. (2022). The Impact of Big Data on Traditional Publishing. In China's Publishing Industry in the Era of Big Data (pp. 55-76). Singapore: Springer Singapore.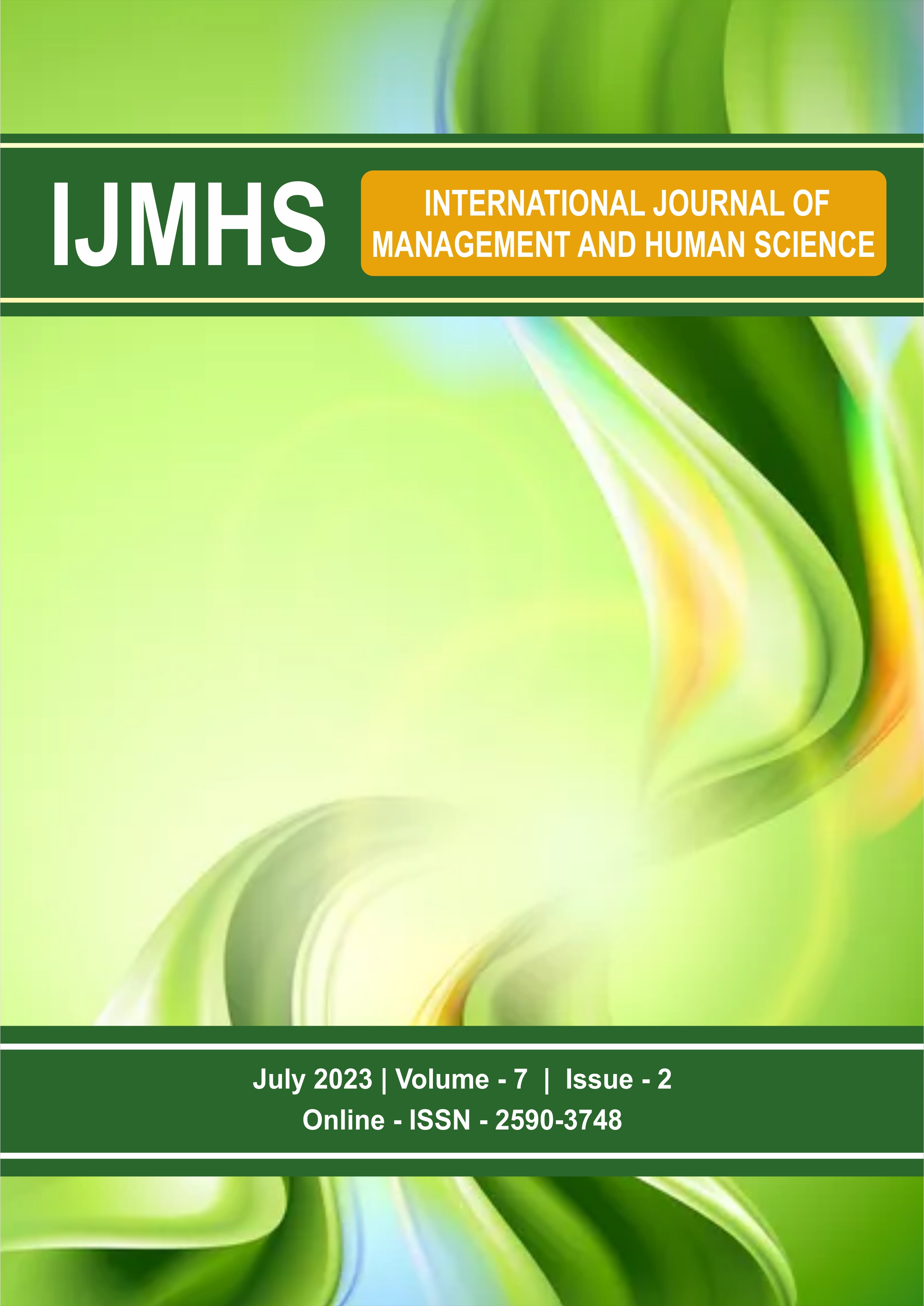 How to Cite
Afolabi, A. A., & Zolkepli, I. A. . (2023). Big Data Analytics for Publishing Development: Prospects and Challenges in the Nigerian Book Industry. International Journal of Management and Human Science (IJMHS), 7(2), 20-27. https://doi.org/10.31674/ijmhs.2023.v07i02.003
License
Copyright (c) 2023 International Journal of Management and Human Science (IJMHS)
This work is licensed under a Creative Commons Attribution-NonCommercial-NoDerivatives 4.0 International License.