The Effects of an Epidemic of Disease on the Global Market: A Coronavirus Disease Case Study
Abstract
The study's subjects are the novel coronavirus illness, also known as COVID-19 universal, and its effects on the bread and liquid refreshment sectors. It examines the pandemic's short-, medium-, and long-term consequences and makes recommendations for reducing any potential drawbacks. To do this, we employ a qualitative, multi-case study approach to collect facts from fourteen respondents spread among eight sample bread and liquid refreshment businesses within Bangladesh. The results indicate that this pandemic will have major limited consequences, for instance, outcome termination, a shortage of working money, and constraints, whereas the medium- to long-term focus on dealer functioning consequences are anticipated to be compound and unexpected. Indicators show that over time, factors like staff count, return on investment, and share of GDP will decrease. A company might also need to update its supply network and find new distributors and trading partners. The research makes a number of recommendations for managers in this sector to improve their capacity to adjust to shifting circumstances both during and after the COVID-19 timeframe. In spite of the fact that this research is creative and improves both theory and practice, it does not take into account the smaller and larger firms in the bread and liquid refreshment industry. As a result, smaller organisations might not be affected by the consequences and actions we find.
Keywords:
GDP, COVID 19, Drawbacks
Downloads
Download data is not yet available.
References
Andam, K., Edeh, H., Oboh, V., Pauw, K., & Thurlow, J. (2020). Impacts of COVID-19 on food systems and poverty in Nigeria. In Advances in Food Security and Sustainability (Vol. 5, pp. 145-173). Elsevier. https://doi.org/10.1016/bs.af2s.2020.09.002
CEPAL, N. (2020). The effects of the coronavirus disease (COVID-19) pandemic on international trade and logistics.
Duchêne, S., Ho, S. Y., Carmichael, A. G., Holmes, E. C., & Poinar, H. (2020). The recovery, interpretation and use of ancient pathogen genomes. Current Biology, 30(19), R1215-R1231. https://doi.org/10.1016/j.cub.2020.08.081
Jewell, N. P., Lewnard, J. A., & Jewell, B. L. (2020). Predictive mathematical models of the COVID-19 pandemic: underlying principles and value of projections. Jama, 323(19), 1893-1894. https://doi.org/10.1001/jama.2020.6585
Lelieveld, J., Pozzer, A., Pöschl, U., Fnais, M., Haines, A., & Münzel, T. (2020). Loss of life expectancy from air pollution compared to other risk factors: a worldwide perspective. Cardiovascular Research, 116(11), 1910-1917. https://doi.org/10.1093/cvr/cvaa025
Meotto, M. (2021). Implications of COVID-19 on fast-moving consumer goods and electronics supply chains: a systematic review of secondary materials.
Nie, J., Li, Q., Zhang, L., Cao, Y., Zhang, Y., Li, T., ... & Wang, Y. (2021). Functional comparison of SARS-CoV-2 with closely related pangolin and bat coronaviruses. Cell Discovery, 7(1), 21. https://doi.org/10.1038/s41421-021-00256-3
Olimat, S. N. (2020). COVID-19 pandemic: euphemism and dysphemism in Jordanian Arabic. GEMA Online J Lang Stud, 20(3), 268-90. http://doi.org/10.17576/gema-2020-2003-16
Park, C. Y., Villafuerte, J., & Abiad, A. (2020). An updated assessment of the economic impact of COVID-19 (No. 133). Asian Development Bank. http://dx.doi.org/10.22617/BRF200144-2
Pekar, J., Worobey, M., Moshiri, N., Scheffler, K., & Wertheim, J. O. (2021). Timing the SARS-CoV-2 index case in Hubei province. Science, 372(6540), 412-417. Web: https://doi.org/10.1126/science.abf8003
Piret, J., & Boivin, G. (2021). Pandemics throughout history. Frontiers in Microbiology, 11, 631736. https://doi.org/10.3389/fmicb.2020.631736
Shang, Y., Li, H., & Zhang, R. (2021). Effects of pandemic outbreak on economies: evidence from business history context. Frontiers in Public Health, 9, 632043. https://doi.org/10.3389/fpubh.2021.632043
Thompson, S. A. (2020). How long will a vaccine really take. The New York Times, 30.
Worobey, M., Levy, J. I., Malpica Serrano, L., Crits-Christoph, A., Pekar, J. E., Goldstein, S. A., ... & Andersen, K. G. (2022). The Huanan Seafood Wholesale Market in Wuhan was the early epicenter of the COVID-19 pandemic. Science, 377(6609), 951-959. https://doi.org/10.1126/science.abp8715
Yang, J., Skaro, M., Chen, J., Zhan, D., Lyu, L., Gay, S., ... & Arnold, J. (2023). The species coalescent indicates possible bat and pangolin origins of the COVID-19 pandemic. Scientific Reports, 13(1), 5571. https://doi.org/10.1038/s41598-023-32622-4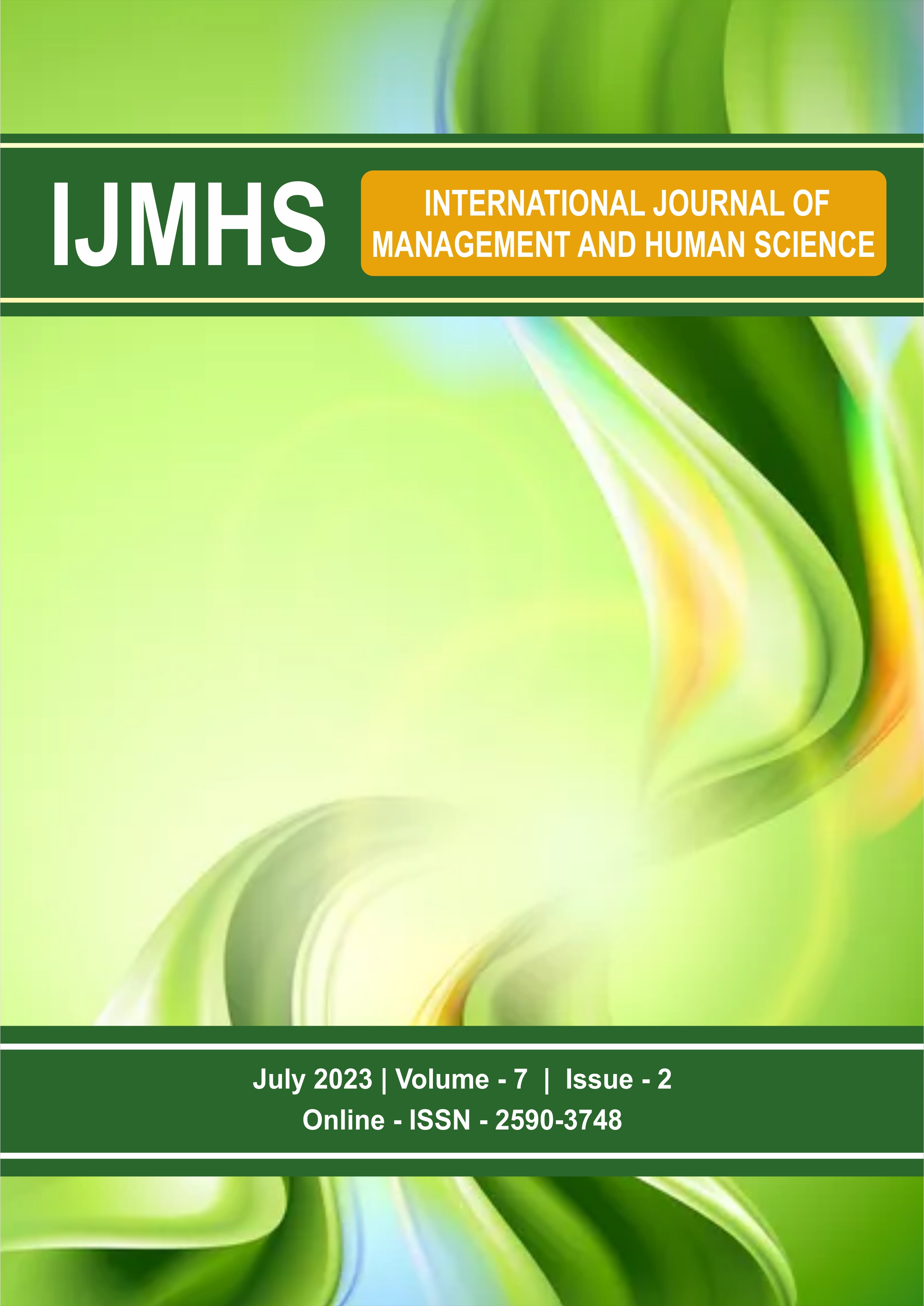 How to Cite
ChangDa, H. ., & Bhaumik, A. (2023). The Effects of an Epidemic of Disease on the Global Market: A Coronavirus Disease Case Study. International Journal of Management and Human Science (IJMHS), 7(2), 1-7. https://doi.org/10.31674/ijmhs.2023.v07i02.001
License
Copyright (c) 2023 International Journal of Management and Human Science (IJMHS)
This work is licensed under a Creative Commons Attribution-NonCommercial-NoDerivatives 4.0 International License.