Parenting Styles and Parents' Attitudes towards Children's Gender Nonconformity: Moderating Role of Parents' Education
Abstract
Parents are concerned about how gender identity may affect their child's views and behaviors, given the surge in the number of children and young adults who are willing to defy normal gender expression these days. However, due to the subject's sensitivity, few studies on this topic have been conducted in Malaysia. As a result, the focus of this study was on parenting practices and parents' attitudes toward a child's gender nonconformity, with parental educational levels serving as a moderating factor. This study sought to educate and inform parents by providing them with a greater understanding of the techniques they choose as their parenting styles and attitudes, as well as how those styles and attitudes affect how they know, reflect on, and interpret their children's gender behaviors. This study included 300 parents from Klang Valley, Malaysia. As instruments, the Attitude Toward Woman Scale (AWS), Personal Attributes Questionnaire (PAQ), and Gender Identity Questionnaire (GIQC) were used. According to the findings of this study, attitude plays a substantial role on children's gender nonconformity. Furthermore, the study's findings demonstrated that parental education considerably moderates the relation between parents' attitudes and authoritative parenting style and children's gender nonconformity. Finally, higher degrees of education minimize gender nonconformity in children with the same level of parental attitude. Higher levels of education, on the other hand, increase children's non-conformity among children with the same amount of authoritative parenting style. In other words, higher levels of education increase the negative influence of parents' authoritative parenting style on non-conformity behavior in children.
Keywords:
Gender Nonconformity, Parents' Attitudes, Parents' Education, Parenting Styles
Downloads
Download data is not yet available.
References
Alanko, K., Santtila, P., Salo, B., Jern, P., Johansson, A., & Sandnabba, N. K. (2010). Testing causal models of the relationship between childhood gender-atypical behavior and the parent-child relationship. British Journal of Developmental Psychology, 29(2), 214-233. https://doi.org/10.1348/2044-835x.002004
Bailey, J. M., Dunne, M. P., & Martin, N. G. (2000). Genetic and environmental influences on sexual orientation and its correlate in an Australian twin sample. Journal of Personality and Social Psychology, 78(3), 524-536. https://doi.org/10.1037/0022-3514.78.3.524
Beijsterveldt, C. E., Hudziak, J. J., & Boomsma, D. I. (2006). Genetic and Environmental Influences on Cross-Gender Behavior and Relation to Behavior Problems: A Study of Dutch Twins at Ages 7 and 10 Years. Archives of Sexual Behavior, 35(6), 647-658. https://doi.org/10.1007/s10508-006-9072-0
Bornstein, M. H., & Bradley, R. H. (2014). Socioeconomic status, parenting, and child development. Routledge.
Bradley, B. S., & Gobbart, S. K. (1989). Determinants of Gender-Typed Play in Toddlers. The Journal of Genetic Psychology, 150(4), 453-455. https://doi.org/10.1080/00221325.1989.9914612
Buri, J. R. (1991). Parental Authority Questionnaire. Journal of Personality Assessment, 57, 110-119. https://shorturl.at/afm68
Connell, R. (2018). Decolonizing sociology. Contemporary Sociology, 47(4), 399-407. https://doi.org/10.1177/0094306118779811
Department of Statistics Malaysia. (2019). Current Population Estimates, Malaysia, 2020. https://shorturl.at/nwFNZ
Diamond, L. M. (2013). Sexual-Minority, Gender-Nonconforming, and Transgender Youths. Handbook of Child and Adolescent Sexuality, 275-300. https://doi.org/10.1016/b978-0-12-387759-8.00011-8
Dornbusch, S. M., Ritter, P. L., Leiderman, P. H., Roberts, D. F., & Fraleigh, M. J. (1987). The Relation of Parenting Style to Adolescent School Performance. Child Development, 58(5), 1244-1257. https://doi.org/10.2307/1130618
Epstein, M., & Ward, L. M. (2011). Exploring Parent-Adolescent Communication About Gender: Results from Adolescent and Emerging Adult Samples. Sex Roles, 65(1-2), 108-118. https://doi.org/10.1007/s11199-011-9975-7
Freund, K., & Blanchard, R. (1983). Is the Distant Relationship of Fathers and Homosexual Sons Related to the Sons' Erotic Preference for Male Partners, or the Sons' Atypical Gender Identity, or to Both? Journal of Homosexuality, 9(1), 7-25. https://doi.org/10.1300/j082v09n01_02
Fulcher, M., Sutfin, E. L., & Patterson, C. J. (2007). Individual Differences in Gender Development: Associations with Parental Sexual Orientation, Attitudes, and Division of Labor. Sex Roles, 58(5-6), 330-341. https://doi.org/10.1007/s11199-007-9348-4
Gay, L. R. (1996). Educational Research: Competencies for Analysis and Application. Beverly Hill, CA: Sage Publications.
Ispa, J., Fine, M., Halgunseth, L., Harper, S., Robinson, J., Boyce, L., Brooks-Gunn, J. and Brady-Smith, C., 2004. Maternal Intrusiveness, Maternal Warmth, and Mother-Toddler Relationship Outcomes: Variations Across Low-Income Ethnic and Acculturation Groups. Child Development, 75(6), pp.1613-1631. https://doi.org/10.1111/j.1467-8624.2004.00806.x
Jacobs, S., Thomas, W., & Lang, S. (1997). Two-spirit people: Native American gender identity, sexuality, and spirituality. Urbana, Illinois: University of Illinois Press.
Johnson, L. L., Bradley, S. J., Birkenfeld-Adams, A. S., Kuksis, M. A., Maing, D. M., Mitchell, J. N., & Zucker, K. J. (2004). A Parent-Report Gender Identity Questionnaire for Children. Archives of Sexual Behavior, 33(2), 105-116. https://doi.org/10.1023/b:aseb.0000014325.68094.f3
Kahn, J. S. (2009). An introduction to masculinities. Malden, Massachusetts: Wiley-Blackwell.
Kane, E. W. (2006). "No Way My Boys Are Going to Be Like That!". Gender & Society, 20(2), 149-176. https://doi.org/10.1177/0891243205284276
Katz-Wise, S. L., Rosario, M., & Tsappis, M. (2016). Lesbian, Gay, Bisexual, and Transgender Youth and Family Acceptance. Pediatric Clinics of North America, 63(6), 1011-1025. https://doi.org/10.1016/j.pcl.2016.07.005
Kollmayer, M., Schultes, M. T., Schober, B., Hodosi, T., & Spiel, C. (2018). Parents' judgments about the desirability of toys for their children: Associations with gender-role attitudes, gender-typing of toys, and demographics. Sex Roles, 79(5), 329-341. https://doi.org/10.1007/s11199-017-0882-4
Landolt, M. A., Bartholomew, K., Saffrey, C., Oram, D., & Perlman, D. (2004). Gender Nonconformity, Childhood Rejection, and Adult Attachment: A Study of Gay Men. Archives of Sexual Behavior, 33(2), 117-128. https://doi.org/10.1023/b:as.0000014326.64934.50
Langlois, J. H., & Downs, A. C. (1980). Mothers, Fathers, and Peers as Socialization Agents of Sex-Typed Play Behaviors in Young Children. Child Development, 51(4), 1237-1247. https://doi.org/10.2307/1129566
Lytton, H., & Romney, D. M. (1991). Parents' differential socialization of boys and girls: A meta-analysis. Psychological Bulletin, 109(2), 267-296.
Martin, K. A. (2009). Normalizing Heterosexuality: Mothers' Assumptions, Talk, and Strategies with Young Children. American Sociological Review, 74(2), 190-207. https://doi.org/10.1177/000312240907400202
Meyer, I. H. (2003). Prejudice, social stress, and mental health in lesbian, gay, and bisexual populations: Conceptual issues and research evidence. Psychological Bulletin, 129(5), 674-697. https://doi.org/10.1037/0033-2909.129.5.674
National Registration Department. (2019, July 15). Registration of Marriage for Non-Muslim. https://www.jpn.gov.my/en/
Perrone-McGovern, K. M., Oliveira-Silva, P., Simon-Dack, S., Lefdahl-Davis, E., Adams, D., McConnell, J., ... & Gonçalves, Ó. F. (2014). Effects of empathy and conflict resolution strategies on psychophysiological arousal and satisfaction in romantic relationships. Applied Psychophysiology and Biofeedback, 39(1), 19-25. https://doi.org/10.1007/s10484-013-9237-2
Plöderl, M., & Fartacek, R. (2007). Childhood Gender Nonconformity and Harassment as Predictors of Suicidality among Gay, Lesbian, Bisexual, and Heterosexual Austrians. Archives of Sexual Behavior, 38(3), 400-410. https://doi.org/10.1007/s10508-007-9244-6
Rosario, M. (2015). Implications of childhood experiences for the health and adaptation of lesbian, gay, and bisexual individuals: Sensitivity to developmental process in future research. Psychology of sexual orientation and gender diversity, 2(3), 214. https://doi.org/10.1037/sgd0000120
Skidmore, W. C., Linsenmeier, J. A., & Bailey, J. M. (2006). Gender Nonconformity and Psychological Distress in Lesbians and Gay Men. Archives of Sexual Behavior, 35(6), 685-697. https://doi.org/10.1007/s10508-006-9108-5
Spence, J. T., & Hahn, E. D. (1997). The Attitudes Toward Women Scale and Attitude Change in College Students. Psychology of Women Quarterly, 21(1), 17-34. https://doi.org/10.1111/j.1471-6402. 1997.tb00098.x
Strong, S. M., Singh, D., & Randall, P. K. (2000). Sex Roles, 43(7/8), 427-439. https://doi.org/10.1023/a:1007126814910
Stryker, S. (2008). Transgender history, homonormativity, and disciplinarity. Radical History Review, 2008(100), 145-157. https://doi.org/10.1215/01636545-2007-026
Testa, R. J., Habarth, J., Peta, J., Balsam, K., & Bockting, W. (2015). Development of the Gender Minority Stress and Resilience Measure. Psychology of Sexual Orientation and Gender Diversity, 2(1), 65-77. https://doi.org/10.1037/sgd0000081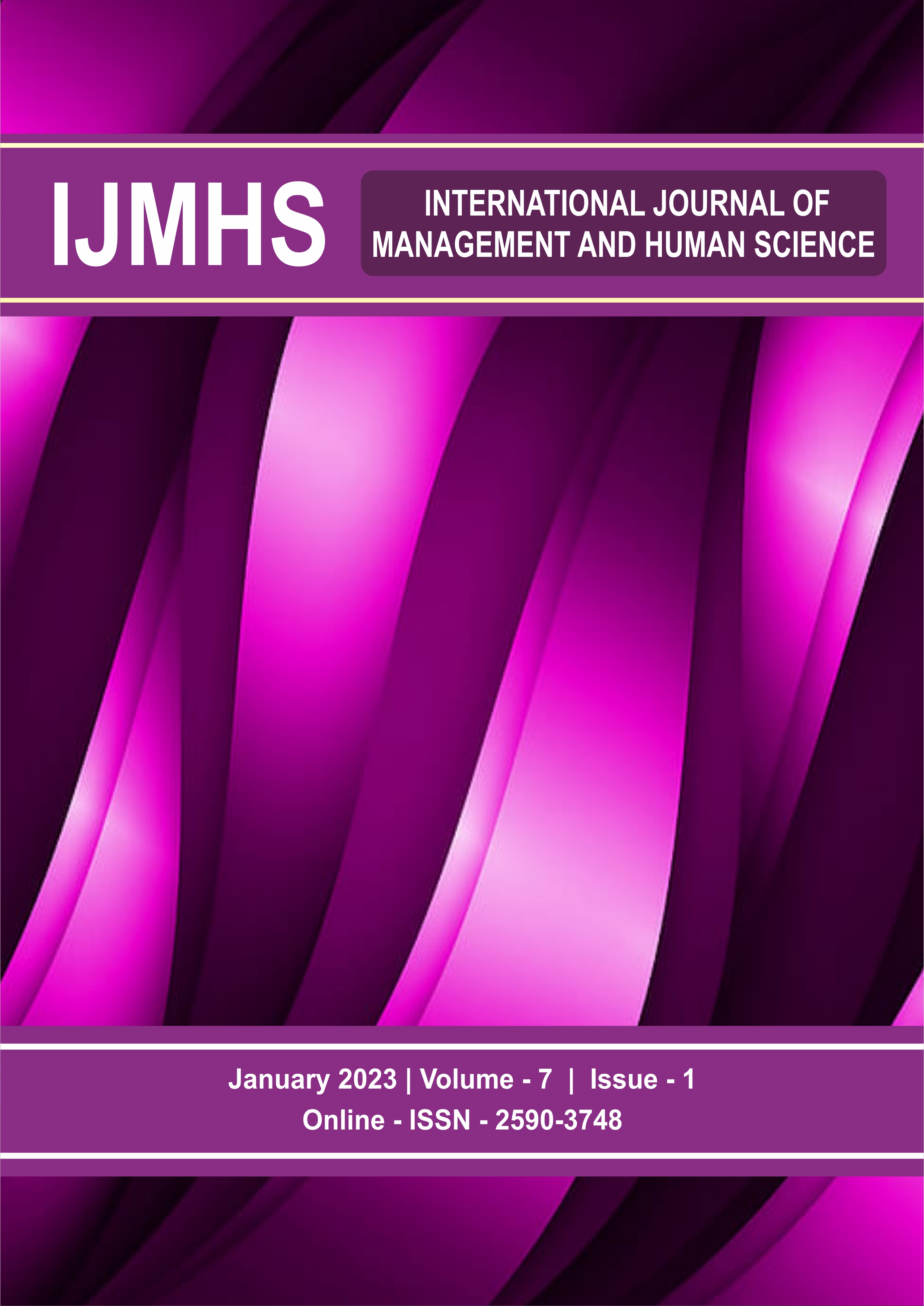 How to Cite
Rabbani, M., Hosseinian, S. ., Xavier, T. ., Nosrati, S. ., & Movahedijam, A. . (2023). Parenting Styles and Parents' Attitudes towards Children's Gender Nonconformity: Moderating Role of Parents' Education. International Journal of Management and Human Science (IJMHS), 7(1), 8-15. https://doi.org/10.31674/ijmhs.2023.v07i01.002
License
Copyright (c) 2023 International Journal of Management and Human Science (IJMHS)
This work is licensed under a Creative Commons Attribution-NonCommercial-NoDerivatives 4.0 International License.