Research on Challenges of Farmers in Rural Areas of North 24 Parganas, West Bengal, India, and the Prospect of E-commerce in Agriculture
Abstract
The pandemic situation of COVID-19 has highlighted the importance of agriculture and farmers in our society and has constructed a way to accelerate the process of digitalization. When the pandemic crisis will come to end, countries will be reprioritizing and pressurizing their values and investing accordingly. In this reprioritizing process, agriculture will gain the focus. A questionnaire-based survey was conducted to get an outline picture of the challenges and issues of the farmers of North 24 Parganas and the need for an e-commerce platform. A questionnaire-based survey was conducted, collecting the data from experienced farmers and business experts in agriculture. The qualitative method has been used to find solutions for the farmers to uplift their social and financial lives. After compilation of the data, it shows that e-commerce is a beneficial way to reach a large number of customers in this pandemic situation.
Keywords:
Agriculture, COVID 19, Food System, Food Supply Chain, E-Commerce, North 24 Parganas
Downloads
Download data is not yet available.
References
Chanana, N., & Goele, S. (2012). Future of e-commerce in India. International Journal of Computing & Business Research, 8. https://www.researchmanuscripts.com/isociety2012/7.pdf
Chou, D. C., & Chou, A. Y. (2000). A guide to the Internet revolution in banking. Information Systems Management, 17(2), 51-57. https://doi.org/10.1201/1078/43191.17.2.20000301/31227.6
D'Silva, B., D'Silva, S., & Bhuptai, R. S. (2010). Behavioral Aspect of Teenagers towards Internet Banking: An Empirical Study. Indian Journal of Marketing, 40(10), 44-53.
Hsieh, C. T. (2005). Implementing self-service technology to gain competitive advantages. Communications of the IIMA, 5(1), 9.
Mitra, A. (2013). E-commerce in India-A Review. International Journal of Marketing, Financial Services & Management Research, 2(2), 126-132.
Ozok, A. A., Oldenburger, K., & Salvendy, G. (2007). Impact of consistency in customer relationship management on e-commerce shopper preferences. Journal of Organizational Computing and Electronic Commerce, 17(4), 283-309. https://doi.org/10.1080/10919390701436424
PTI. (2015, Nov 20). India to surpass US with 402 million Internet by 2016: IAMAI. The Indian Express. http://indianexpress.com/article/technology/tech-news-technology/india-to-have-402-mn-internet-users-by-dec-2015-will-surpass-us-iamai-report/
PTI. (2016, Jan 2). India's e-commerce revenue may touch $38 bn in 2016: Assocham. The Indian Express. http://indianexpress.com/article/technology/tech-news-technology/indias-e-commerce-revenue-may-touch-38-bn-in-2016-assocham/
Pujari, D. (2004). Self‐service with a smile? Self‐service technology (SST) encounters among Canadian business‐to‐business. International Journal of Service Industry Management, 15(2), 200-219. https://doi.org/10.1108/09564230410532510
Pyun, C. S., Scruggs, L., & Nam, K. (2002). Internet banking in the US, Japan and Europe. Multinational Business Review, 10(2), 73-73.
Rust, R. T., & Chung, T. S. (2006). Marketing models of service and relationships. Marketing Science, 25(6), 560-580. https://doi.org/10.1287/mksc.1050.0139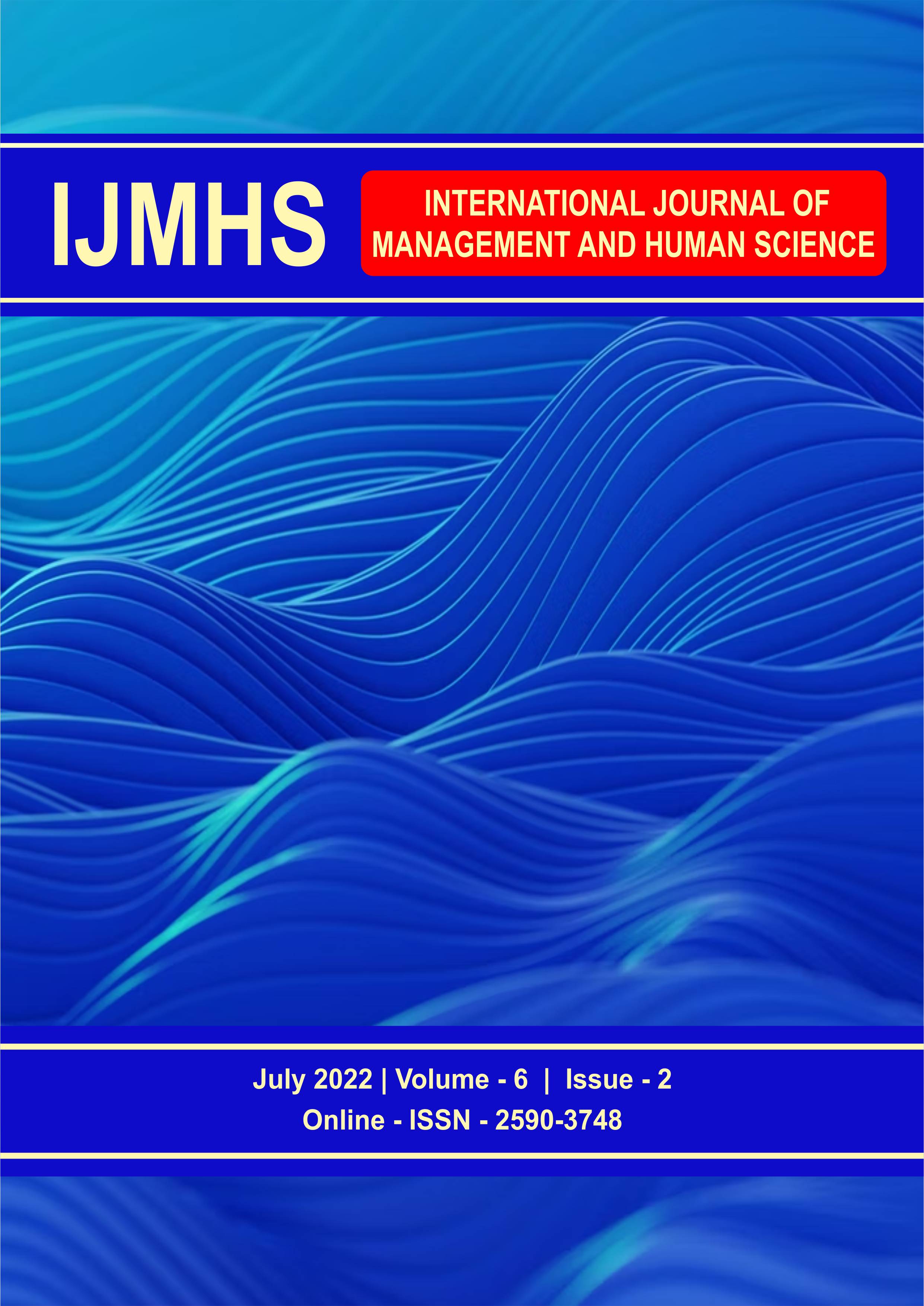 Downloads
How to Cite
Biswas, S., & Banerjee, S. (2022). Research on Challenges of Farmers in Rural Areas of North 24 Parganas, West Bengal, India, and the Prospect of E-commerce in Agriculture. International Journal of Management and Human Science (IJMHS), 6(2), 8-14. Retrieved from https://ejournal.lucp.net/index.php/ijmhs/article/view/1741
License
Copyright (c) 2022 International Journal of Management and Human Science (IJMHS)
This work is licensed under a Creative Commons Attribution-NonCommercial-NoDerivatives 4.0 International License.