Deficiencies in Banking Services and Improvement in Banking Services in Tamil Nadu
Abstract
Business homes have entered into economic carrier activities. Public zone banks have begun fund trusts and completely different economic carrier subsidiaries. These subsidiaries have brought new merchandise within the market, that has an aggressive side over merchandise of the various banks. Even personal zone and overseas banks have brought trendy services. A financial organisation is an establishment that offers money and credit. For a frequent man, a financial organisation is capable of keeping residents of cash for a business person; it's a bunch of finance and for every day-to-day shopper; it's an installation for his savings. Truly, banks square measure business enterprise corporations promoting financial organisation services. Banks play a vital perform to serve the folks and enhance the national economy of any country. Nowadays, the banking zone acts because of the spine of gift day business. The development of any bank ordinarily depends upon the industry. A financial organisation offers deposits and advances and completely different associated services. There is a huge distinction between male and feminine with relation to the dimension of assurance. There is no right smart distinction between male and feminine with relation to the dimension of responsiveness, charges, facilities and area. There's a massive distinction between male and feminine with relation to the dimension of facilities and data. There is no Brobdingnagian distinction between male and feminine with relation to the dimension of strategy, orientation, empathy, responsiveness, accessibility, area and system. Within the days to return, banks square measure anticipated to play an important perform within the financial improvement and, therefore, the rising market can grant business enterprise and advertising and selling potentialities to harness. As banking in India can return to be additional and additional info supported, capital can emerge because of the greatest property of the industry.
Keywords:
Banks, Customers, Development, Fashionable Business Enterprise, Patron Angle
Downloads
Download data is not yet available.
References
Ananth, A., Ramesh, R., & Prabaharan, B. (2011). Service Quality Gap Analysis in Private Sector Banks–A Customers Perspective. Indian Journal of Commerce and Management Studies, 2(1), 245-253.
Ramakrishnan, R. T., & Thomas, J. K. (1998). Valuation of permanent, transitory, and price-irrelevant components of reported earnings. Journal of Accounting, Auditing & Finance, 13(3), 301-336.
Selvaraj, N. (2016) Influence of Services and Quality of Private Banking in India. Journal of Entrepreneurship & Organization Management, 5(2). https://doi.org/10.4172/2169-026X.1000178
Selvaraj, N., Alagupandi, V., & Santhanamari, R. (2019). Customer Perception to the Services of Commercial Banks in Madurai with Special Reference to Socio-Economic Profile - A Study. ICTACT Journal on Management Studies, 5(2), 1030-1036. https://doi.org/10.21917/ijms.2019.0141
Shah, A. (2012). Market research on factors affecting customer satisfaction in retail banking in Vadodara, Gujarat, Western India. Journal of Management CH Institute of Management & Commerce, 3(1), 23-34.
Gandi, S., Vaddadi, V. S. C. S., Panda, S. S. S., Goona, N. K., Parne, S. R., Lakavat, M., & Bhaumik, A. (2022). Recent progress in the development of glass and glass-ceramic cathode/solid electrolyte materials for next-generation high capacity all-solid-state sodium-ion batteries: A review. Journal of Power Sources, 521, 230930. https://doi.org/10.1016/j.jpowsour.2021.230930
Mutahar, A. M., Aldholay, A., Isaac, O., Jalal, A. N., & Kamaruddin, F. E. B. (2021, June). The Moderating Role of Perceived Risk in the Technology Acceptance Model (TAM): The Context of Mobile Banking in Developing Countries. In International Conference on Emerging Technologies and Intelligent Systems (pp. 389-403). Springer, Cham. https://doi.org/10.1007/978-3-030-82616-1_34
Sulistyowati, W. A., Alrajawy, I., Isaac, O., & Ameen, A. (2021). Mobile Banking Adoption—Extending Technology Acceptance Model with Transaction Convenience and Perceived Risk: A Conceptual Framework. In Intelligent Computing and Innovation on Data Science (pp. 221-228). Springer, Singapore. https://doi.org/10.1007/978-981-16-3153-5_25
Zhihui, L. (2021). Reform And Development Of E-Banking In Modern Age Scenario: An Indepth Study Based On Malaysian Banking Sector. Turkish Journal of Computer and Mathematics Education (TURCOMAT), 12(10), 6674-6684. https://doi.org/10.17762/turcomat.v12i10.5533
PTI. (2013, Nov 29). Changes in debt recast plan for discoms cleared. The Hindu. https://www.thehindu.com/business/Economy/changes-in-debt-recast-plan-for-discoms-cleared/article5402013.ece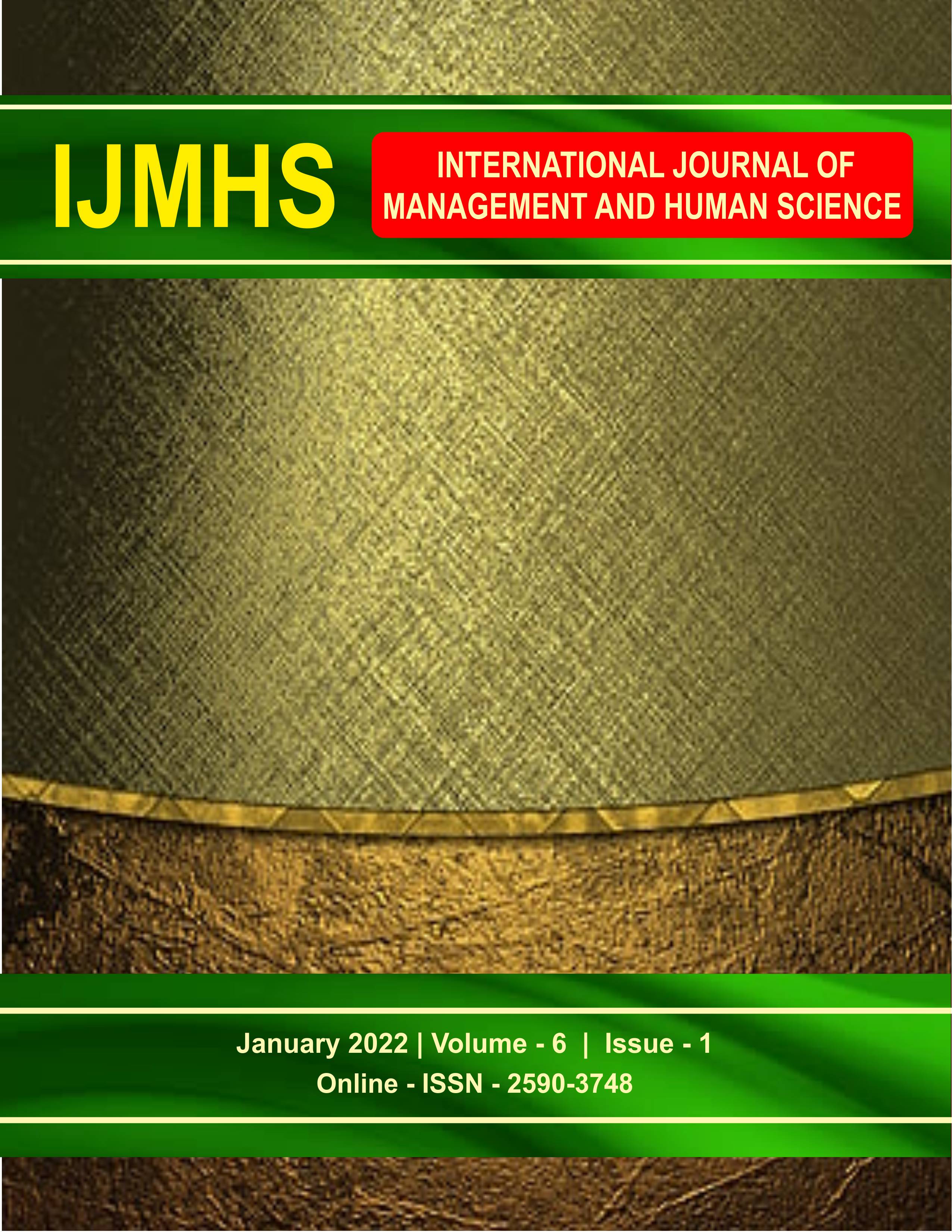 How to Cite
Narayanan Selvaraj. (2022). Deficiencies in Banking Services and Improvement in Banking Services in Tamil Nadu. International Journal of Management and Human Science (IJMHS), 6(1), 31-40. https://doi.org/10.31674/ijmhs.2022.v06i01.003
License
Copyright (c) 2022 International Journal of Management and Human Science (IJMHS)
This work is licensed under a Creative Commons Attribution-NonCommercial-NoDerivatives 4.0 International License.