Documentation of the Minor Edible Fruits Sold in Phoolbagan, Kolkata, India
Abstract
Most of the underutilized minor fruits of the tropics are often available only in the local markets. They are usually relatively less palatable than other commercial fruits. Minor fruits generally have lesser demand in the market. They are usually very resilient and can adapt to the local climate. Literature review reveals that minor edible fruits play a vital role as food and medicine. Along with humans, many birds and animals eat these minor fruits. These minor fruits are part of our indigenous fruit legacy. Sometimes these minor fruits are sold in temporary shops by individuals who bring them from the districts into the city. Documentation of the minor edible fruits in different areas will help in making a comprehensive database of these underutilised fruits in local areas. There need to be extensive awareness drives so that the urban population becomes aware of the nutritional status of these minor fruits. Awareness drives need documentation of existing minor fruit diversity first. This paper is a documentation of the minor edible fruits sold in Phoolbagan near Gurudas College.
Keywords:
Minor Edible Fruits, Underutilised Fruit, Documentation, Indigenous Fruit Legacy
Downloads
Download data is not yet available.
References
Das, S.C., Prakash, J., & Deb, A.K., & Biswas, T. (2013). Medicinal Value of Underutilized Fruits in Hilly Tripura. International Society for Horticultural Science, 972, 135-141.
Diengngan, S., Hasan, M.A. (2015). Genetic Diversity of Underutilized Fruits in India for Environmental Sustainability. Advances in Plants & Agriculture Research, 2(7), 299-303.
French, B. (2019). Food Plants International Database of Edible Plants of the World: A Free Resource for All. Acta Hortic, 1241, 1-6.
Gowda, A.P.M., Ranjini, T.N., Peethambar, S.K. & Praneeth, Y.S. (2019). Underutilized, yet potential medicinal plants of Western Ghats. Acta Hortic. 1241, 15-22.
Humphrey, G., Carter, A. & Dorine, N. (1978). Useful Plants of the District of Lakhimpur (1st ed.). M/s Bishen Singh Mahendra Pal Singh.
Joshi, B.D. (1998). Indigenous horticultural fruits of the Indian Himalayas. In T. Partap & Sthapit, B. (Eds.), Managing agrobiodiversity: farmers' changing perspectives and institutional responses in the HKH (Hindu Kush-Himalayan) region.
Mahapatra, A.K. & Panda, P.C. (2012). Wild edible fruit diversity and its significance in the livelihood of indigenous tribals: Evidence from eastern India. Food Security, 4(2), 219-234
Majumder, K., and Dutta, B.K. (2009). Traditional wild edible fruits for the forest dwellers of Tripura, India. East Himalayan Society for Spermatophyte Taxonomy, 3(2), 167-178.
Malik, S. K., Choudhury, R., Dharial, O.P., & Bhandari, D.C. (2010). Genetic Resources of Tropical Underutilized fruits of India. https://doi.org/10.17660/ACTAHORTIC.2011.918.23
Mazumdar, B.C. (2004). Minor Fruit Crops of India: Tropical and Subtropical. Daya Publishing House.
Mitra, S. K., Pathak, P.K., & Chakraborty, I. (2008). Potential Use of Underutilized Crops for Nutritional and Medicinal Properties. In J. Smith & N. Haq (Eds.), New Crops and Uses, Their Role in rapidly Changing world.
Mitra, S.K., Pathak, P.K., & Chakraborty I. (2010). Potential underutilized tropical fruits of India. Acta Hortic, 864, 61-67.
Pareek O.P., & Sharma, S. (1993). Underutilized Fruits. Indian Horticulture Journal, 38:47-58.
Pasha, M.K. & Uddin, S.B. (2019). Minor edible fruits of Bangladesh. Bangladesh Journal of Plant Taxonomy, 26(2), 299-313.
Porika, H., Chavan, M., Karosiya, A., & Suchithra, M. (2019). Under-exploited fruits - a high potential for processing and value addition. Acta Hortic. 1241, 615-626
Rahman, M., & Rahman, J. (2014). Medicinal value and nutrient status of indigenous fruits of Bangladesh. Nova Journal of Medical and Biological Sciences, 26, 1-19.
Roy, A., & Bauri, F.K. (2019). Scope of minor fruit production in India. Acta Hortic, 1241, 43-50.
Seal, T. (2011). Antioxidant Activity of Some Wild Edible Fruits of Meghalaya State in India. Advances in Biological Research, 5(3), 155-160
Srivastava, A., Bishnoi, S. K., & Sarkar, P. K. (2017). Value Addition in Minor Fruits of Eastern India: An Opportunity to Generate Rural Employment. In A. K. Dutta and B. Mondal (Eds.), Fruits for Livelihood: Production Technology and Management Practices. Agrobios.
Suresh, C.P., Bhatia, K.D., Sukla, G., Pradhan, K., & Chakravarty, S. (2014). Wild Edible Tree Fruits of Sikkim Himalayas. Journal of Tree Science, 33(1), 12-33.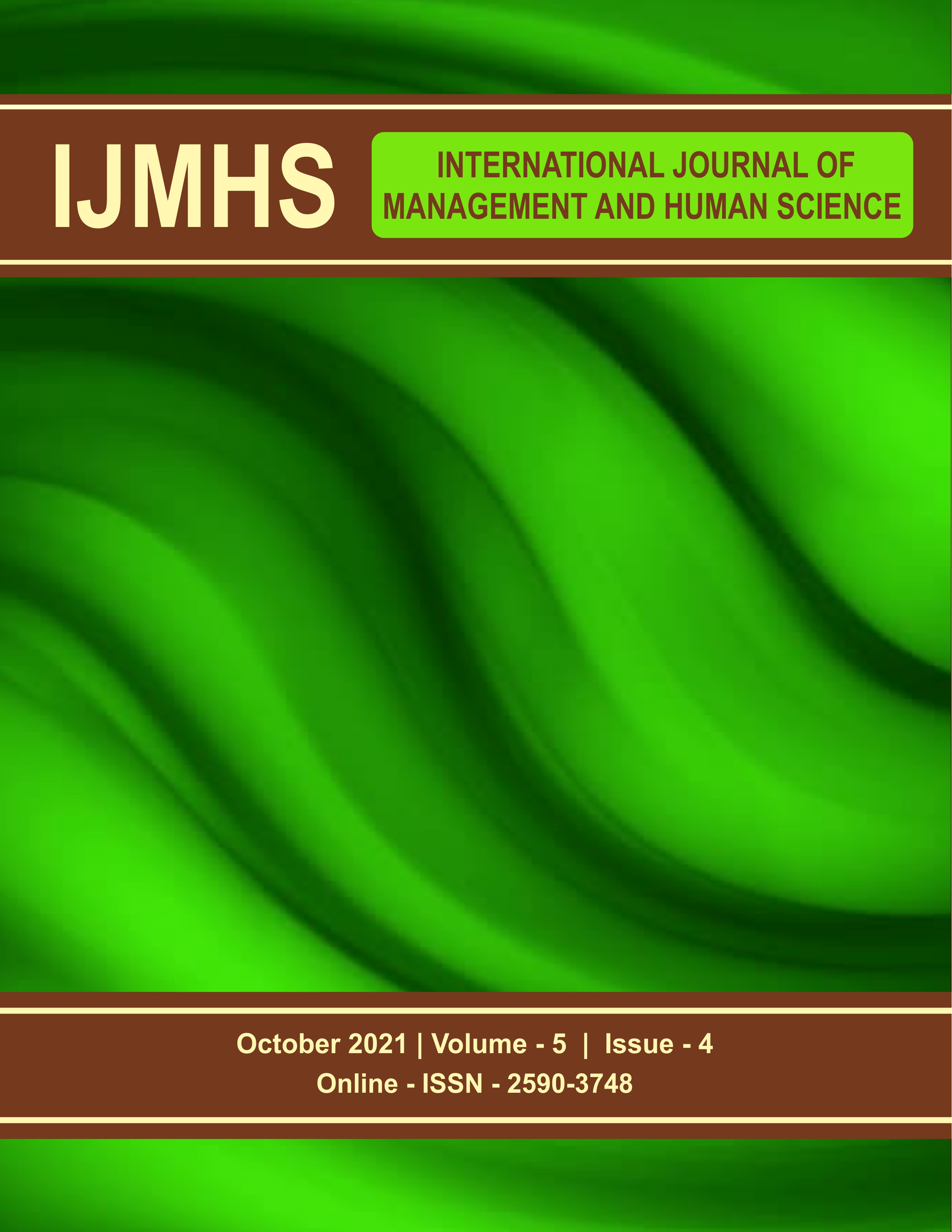 How to Cite
Mitu De. (2021). Documentation of the Minor Edible Fruits Sold in Phoolbagan, Kolkata, India. International Journal of Management and Human Science (IJMHS), 5(4), 31-36. https://doi.org/10.31674/ijmhs.2021.v05i04.004
License
Copyright (c) 2021 International Journal of Management and Human Science (IJMHS)
This work is licensed under a Creative Commons Attribution-NonCommercial-NoDerivatives 4.0 International License.