Internet Usage Among Children in Bangladesh
Abstract
Internet has become an integral part of human life and living. Internet has opened new land of opportunities for people of all age and race. Due to the enormous contribution of science, humanity has stepped into the era of globalization and technological advancement. Multiple innovations to make human life easier is the core concern for experts and researchers across the world. The amazing development of the computer and the consequent birth of the Internet is considered as the most significant advancement in human history in twentieth century. The Internet has dramatically revolutionized in different fields across globe. The Internet nowadays turns to become global means of communication in every day's life and living of human race. Today human being is living in the era of information age where the Internet plays most significant role and thus has become an inevitable part and parcel of human life. Till January 2023, more than sixty-four (64.4%) percent of the entire human race were the Internet users. This clearly defines nowadays the Internet has captured almost every aspect of human life and living. In the era of technological advancement no one can escape from the impact of the Internet especially children who are largest users among different age groups. This article explores the usage of Internet and its impact on the children of Bangladesh while considering worldwide scenario of the Internet usage.
Keywords:
Internet for Children, Child Internet User, Child Internet User in Bangladesh, Internet Usage among Children in Bangladesh
References
Bangladesh Telecommunication Regulatory Commission (2023). Mobile Subscriber. https://Btrc.Portal.gov.bd. https://btrc.portal.gov.bd/site/page/0ae188ae-146e-465c-8ed8-d76b7947b5dd
Bangladesh Bureau of Statistics (2022). Statistical Yearbook 42, 50-80. http://www.bbs.gov.bd/site/page/29855dc1-f2b4-4dc0-9073-f69236112da/Statistical-Yearbook
Britannica, T. Editors of Encyclopaedia (2023). J.C.R. Licklider. Encyclopedia Britannica. https://www.britannica.com/biography/J-C-R-Licklider
Campbell, D., Health policy editor (2018). Research Finds Link Between Time Online and Obesity in Children. www.Theguardian.com. https://www.theguardian.com/society/2018/oct/17/research-finds-link-between-time-online-and-obesity-in-children
Country Meters (n.d.). Bangladesh Population. https://countrymeters.info/en/Bangladesh
DataReportal (2022). Digital 2022: Global Overview Report, Datareportal.com. https://datareportal.com/reports/digital-2022-global-overview-report
Dhaka Tribune, (2022). All educational institutes will have internet access. Dhaka Tribune, Online Edition, www.dhakatribune.com/education/2022/09/02/dipumoni-all-educational-institutes-will-have-internet-access
Ferdousi, N., (2020). Justice for Children in Bangladesh: Legal and Ethical Issues. Bangladesh Journal of Bioethics. 11. 35-43. DOI:10.3329/bioethics.v11i1.49268 https://www.researchgate.net/publication/345192401_Justice_for_Children_in_Bangladesh_Legal_and_Ethical_Issues
Hasnayen, E., & Sultana, S. (2016). Internet use in Bangladesh: problems and prospects. Int. J. Comput. Sci. Inf. Technol. Res, 4(3), 251-260.
Internet World Stats (2022). Usage and Population Statistics. https://www.internetworldstats.com/stats.htm
IANA (n.d.). Internet Assigned Numbers Authority. https://www.Iana.org/. https://www.iana.org/
Jackson, L. A., Von Eye, A., Biocca, F., Barbatsis, G., Zhao, Y., & Fitzgerald, H. E. (2006). Does home internet use influence the academic performance of low-income children? Developmental Psychology, 42(3), 429–435. https://doi.org/10.1037/0012-1649.42.3.429
Kameke, L. V. (2023). Internet Penetration Rate in Asia 2010-2022. Statista.com. https://www.statista.com/statistics/265156/internet-penetration-rate-in-asia/
Oberlo (n.d.). Social Media Age Demographics. https://www.Oberlo.com. www.oberlo.com/statistics/what-age-group-uses-social-media-the-most
Online Library Learning Centre (n.d.). A Brief History of the Internet. www.usg.edu. https://www.usg.edu/galileo/skills/unit07/internet07_02.phtml
OCHA Services (2017). United Nations Office for the Coordination of Humanitarian Affairs. The State of the World's Children 2017: Children in a Digital World. https://reliefweb.int/report/world/state-worlds-children-2017-children-digital-world-enar
Petrosyan, A., (2023). Worldwide Digital Population 2023. www.Statista.com. www.statista.com/statistics/617136/digital-population-worldwide/
Petrosyan, A., (2023). Global Number of Internet Users 2005-2022. https://www.Statista.com. https://www.statista.com/statistics/273018/number-of-internet-users-worldwide/
Population and Housing Census (2022) Preliminary Report, Page 19 (2022, August), Bangladesh Bureau of Statistics, Statistics & Information Division, Ministry of Planning, https://sid.gov.bd/sites/default/files/files/sid.portal.gov.bd/publications/01ad1ffe_cfef_4811_af97_594b6c64d7c3/PHC (Preliminary_Report_(English)_August_2022.pdf )
Raj K., CEO (2014). Information age: We are living in the best Time now. https://www.linkedin.com/pulse/20140823144850-14974109-information-age-we-are-living-in-the-best-time-now/
Roberts, L., (2012) Inductee Lawrence Roberts. https://www.internethalloffame.org/inductee/lawrence-roberts/
Roknuzzaman, M. (2006). A survey of Internet access in a large public university in Bangladesh. International Journal of Education and Development using ICT, 2(3).
Ronald W., Quotes. (n.d.). BrainyQuote.com. BrainyQuote.com Web site: https://www.brainyquote.com/quotes/ron_wyden_447986
Simon, K., Founder (2022). Digital 2022: Bangladesh. www.Datareportal.com. https://datareportal.com/reports/digital-2022-bangladesh
Steven, S. (2020). The Blessing and Curse of the Internet. Psychology Today. https://www.psychologytoday.com/intl/blog/anger-in-the-age-entitlement/202010/the-blessing-and-curse-the-internet
Stephen Hawking (n.d.). BrainyQuote.com. www.brainyquote.com/quotes/stephen_hawking_696272
Subrahmanyam, K., Greenfield, P., Kraut, R., & Gross, E. (2001). The impact of computer uses on children's and adolescents' development. Journal of Applied Developmental Psychology, 22(1), 7–30. https://doi.org/10.1016/s0193-3973(00)00063-0
The Business Standard (2022). 37% adults in country are internet users. www.tbsnews.net https://www.tbsnews.net/tech/37-adults-country-are-internet-users-466238
UNICEF (2018). UNICEF calls for urgent action to protect children and
their digital footprint. Www.Unicef.org. www.unicef.org/eca/press-releases/more-175000-children-go-online-first-time-every-day-tapping-great-opportunities
Valcke, M., Bonte, S., De Wever, B., & Rots, I. (2010). Internet parenting styles and the impact on Internet use of primary school children. Computers & Education, 55(2), 454–464. https://doi.org/10.1016/j.compedu.2010.02.009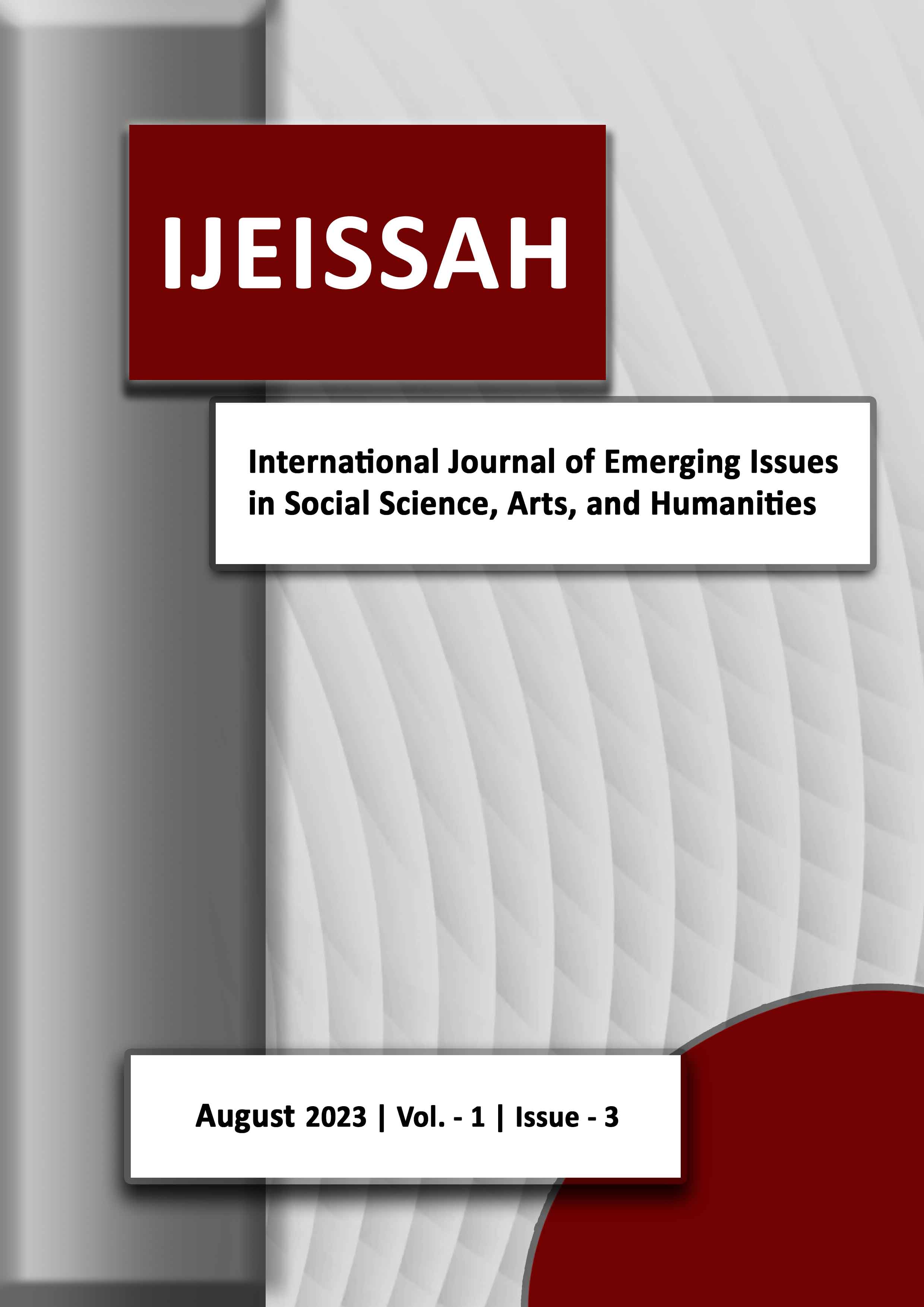 How to Cite
Yousuf, M. A. B., & Bin Yousuf, A. H. (2023). Internet Usage Among Children in Bangladesh. International Journal of Emerging Issues in Social Science, Arts and Humanities ( IJEISSAH), 1(3), 24-40. https://doi.org/10.60072/ijeissah.2023.v1i03.003