TRAINEE TEACHERS POST-TRAINING QUALITATIVE ASSESSMENT ON SEXUAL REPRODUCTIVE HEALTH FOR SPECIAL CHILDREN
Abstract
Introduction Providing training on areas of known social cultural limitation such as sexual and reproductive health (SRH) is challenging and many end up with improper training. Present study aims to explore facilitators' skills and exploring feedback on the SRH program implementation. A training program was conducted based on existing module developed by Ministry of Health Malaysia. The focus of the training is on imparting essential sexual reproductive health knowledge for the teachers and instilling confidence in educating it on children and adolescents particularly those with disabilities.
Methods The respondents were enrolled from a training centre for teachers trained for special needs children. The fascilitators of the program were the public health doctors in training. A case studies design was used to explore the themes. Nine focus group discussions comprising 15 participants each were conducted on teachers who had participated in the training. A semi-guided questionnaire was used to guide the discussion. Discussions were audio and video recorded with permission then transcribed verbatim. Transcriptions were analysed using thematic analysis to capture similarities and differences in views expressed by the participants.
Results Eight themes were derived. Three related to the facilitators which were personality and characteristics, knowledge and skills. Five were related to the programme implementation – time, input, output, outcome and venue.
Conclusion Generally, the programme received positive remarks. Programme input needs further improvement. Based on the participants' feedback, the programme managed to achieve its objectives. Facilitators were able to facilitate the training satisfactorily.
Keywords:
Sexual and reproductive health, Training, Evaluation, Teacher, Malaysia, Qualitative study
Downloads
Download data is not yet available.
References
Ahmed, N., Flisher, A. J., Mathews, C., Jansen, S., Mukoma, W., & Schaalma, H. (2006). Process evaluation of the teacher training for an AIDS prevention programme. Health education research, 21(5), 621- 632.
Chandra-Mouli, V., Svanemyr, J., Amin, A., Fogstad, H., Say, L., Girard, F., & Temmerman, M. (2015). Twenty Years After International Conference on Population and Development: Where Are We With Adolescent Sexual and Reproductive Health and Rights? Journal of Adolescent Health, 56(1), S1- S6. doi:10.1016/j.jadohealth.2014.09.015
Chin, N. C. (2018, 22 September 2018). 'Viral' video of autistic man masturbating on MRT train sparks calls for greater empathy. Today. Retrieved from https://www.todayonline.com/singapore/viral-video- autistic-man-masturbating-mrt-train-sparks-calls-greater-empathy
Denford, S., Abraham, C., Campbell, R., & Busse, H. (2017). A comprehensive review of reviews of school- based interventions to improve sexual-health. Health psychology review, 11(1), 33-52
(DSW), G. F. f. W. P. (2006). Sexual and Reproductive Health Training Manual for Young People Retrieved from https://www.k4health.org/sites/default/files/DSW_training%20manual_Eng_0.pdf Green, J., & Thorogood, N. (2009). Qualitative methods for health research (6th ed.): SAGE.
Greydanus, D. E., & Omar, H. A. (2008). Sexuality Issues and Gynecologic Care of Adolescents with Developmental Disabilities. Pediatr Clin N Am, 55, 1315–1335. doi:doi:10.1016/j.pcl.2008.08.002
Hunt, X., Carew, M. T., Braathen, S. H., Swartz, L., Chiwaula, M., & Rohleder, P. (2017). The sexual and reproductive rights and benefit derived from sexual and reproductive health services of people with physical disabilities in South Africa: beliefs of non-disabled people. Reproductive Health Matters, 25(50), 66-79. doi:10.1080/09688080.2017.1332949
Kamrani, M. A., & Yahya, S. S. (2016). Bringing X, Y, Z Generations Together to Facilitate School-Based Sexual and Reproductive Health Education. Global Journal of Health Science, 8(9), 132-138. doi:10.5539/gjhs.v8n9p132MOH. (2009). Training Module, Live Life, Stay Safe Kuala Lumpur: Proprint Enterprise
Mokhtar, N. A. (2018, 16 September 2018). Arrest of autistic man in molest case conducted in accordance with SOP, says police chief. New Straits Times. Retrieved from https://www.nst.com.my/news/nation/2018/09/411968/arrest-autistic-man-molest-case-conducted- accordance-sop-says-police
Narimah, A., Ang, E. S., Sarinah, L. W. Y., Mary, H. S. L., Mymoon, A., & Nik Rubiah, N. A. R. (2007). Sexual and reproductive health of adolescents and youths in Malaysia a review of literature and projects 2005. Retrieved from
National College for Teaching and Leadership. (2012). The facilitation competency framework. Retrieved from https://www.nationalcollege.org.uk/transfer/open/facilitation/fac-s4/fac-s4-t2.html
Sarma, H., Islam, M. A., & Gazi, R. (2013). Impact of training of teachers on their ability, skills, and confidence to teach HIV/AIDS in classroom: a qualitative assessment. BMC public health, 13(1), 990.
Tang, A. (2018, 17 September 2018). 'You're in a Gerak Khas movie', mother told adult autistic son when he was arrested. The Star Online. Retrieved from : https://www.thestar.com.my/news/nation/2018/09/17/youre-in-a- gerak-khas-movie-mother-told-adult-autistic-son-when-he-was-arrested/#0ErpmrGP6rEJ5zZO.99
WHO. (2018). Adolescent development. Maternal, newborn, child and adolescent health. Retrieved from : http://www.who.int/maternal_child_adolescent/topics/adolescence/development/en/
Zhagan, M. (2012). Understanding of Parents and Adults on the Down syndrome Female Sexual Reproductive Health. The Malaysian Online Journal of Educational Science, 1(4).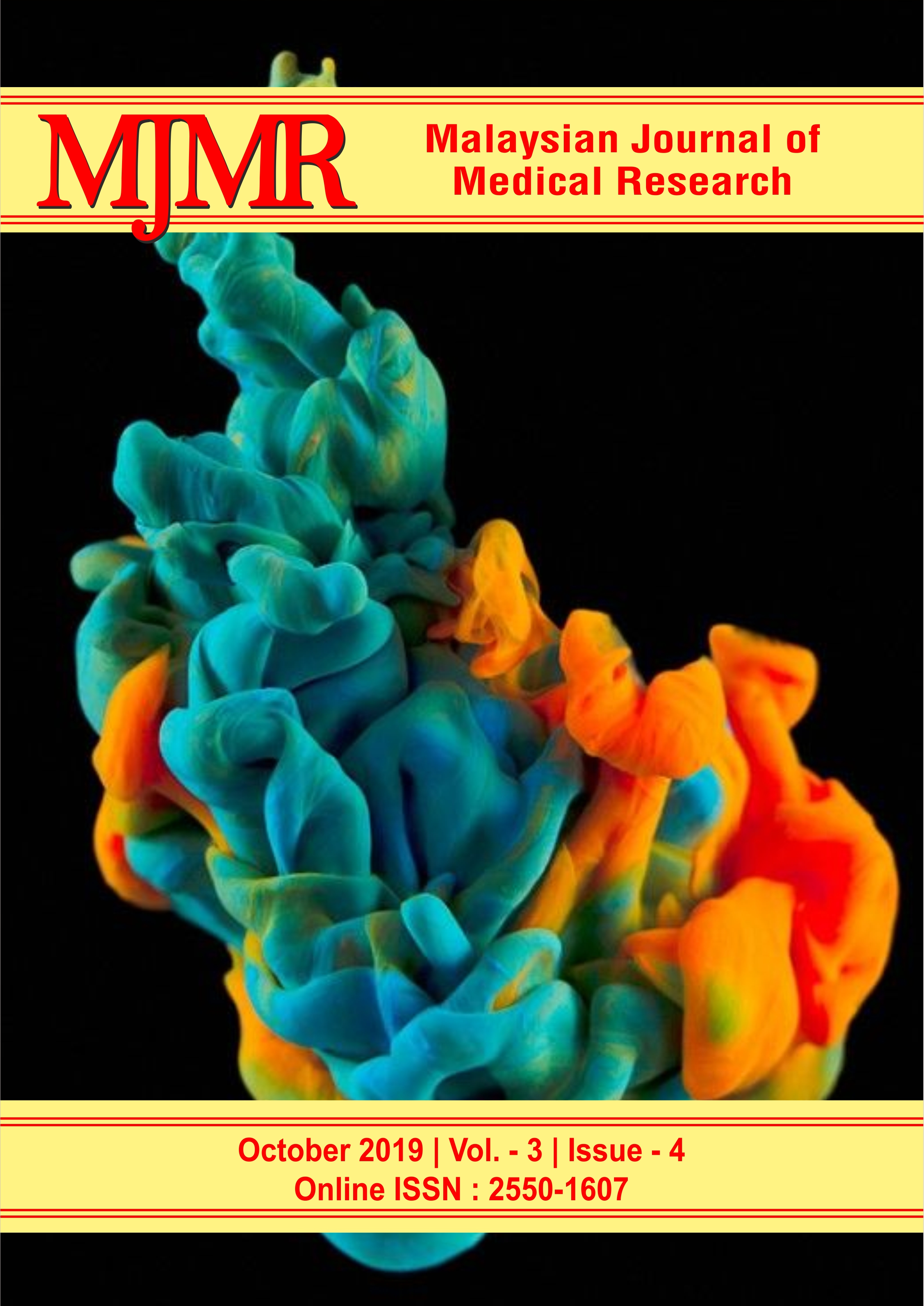 How to Cite
Nur Ezdiani Mohamed, Siti Diyana Ibrahim, Abdul Rahman Ramdzan, Nur Ashiqin Abdul Rahman, Sutan Rosnah, & Alijah Ujang. (2019). TRAINEE TEACHERS POST-TRAINING QUALITATIVE ASSESSMENT ON SEXUAL REPRODUCTIVE HEALTH FOR SPECIAL CHILDREN. Malaysian Journal of Medical Research (MJMR), 3(4), 1-7. https://doi.org/10.31674/mjmr.2019.v03i04.001