THE RELATIONSHIP OF EARLY BREASTFEEDING INITIATION WITH POSTPARTUM MATERNAL PROLACTIN LEVELS
Abstract
Breastfeeding (ASI) is the best way to meet the nutritional needs for growth and development of infants. The scope of exclusive breastfeeding in the city of Padang in West Sumatra province in 2014 reached 72.2%. This level is still far below the national target of 80% in 2015. No secretion of breast milk in the first days after birth has led to the failure executive of not breastfeeding ekskusif. One of the ways that support successful breastfeeding is Early Initiation of Breastfeeding (IMD). The first hour after the baby was born is a golden opportunity to will determine the success of a mother to breastfeed her baby because the baby had been trained optimally instinctively find their own mother's nipple. The purpose of this study was to determine the influence of IMD against postpartum maternal prolactin levels. The decrease of breast milk production and milk ejection after delivery could be caused by a lack of stimulation of prolactin and oxytocin hormone which has an important role in production and ejection of breast milk. The purpose of this study was to the correlation of IMD on postpartum maternal prolactin levels. 
This study was an analytical study with the cross-sectional study. It was conducted at a midwifery clinic in Padang and at the Biomedical laboratory of Andalas University in August 2014 to November 2016 with 50 postpartum subjects (each group was 25 subjects).
The result of this study showed that the mean prolactin level in the successful early breastfeeding group was 314,88 ± 40,38 ng/ml, while prolactin level in unsuccessful early breastfeeding group was 144,481 ± 28,101 ng/ml (p = 0,000).
It is concluded that there is a significant correlation between Early Breastfeeding Initiation (IMD) with prolaktin postpartum. 
Keywords:
Early Breastfeeding Imitation, Prolactin
Downloads
Download data is not yet available.
References
Aprilia, Y. (2009). Analysis of Socialization of Early Breastfeeding and Exclusive Breastfeeding Initiation Programs to Midwives in Klaten Regency. Retrieved from: http://eprints.undip.ac.id/23900/1/Yesie_Aprillia.pdf
Dinas Kesehatan Kota Padang. (2013). Babi Pendahulun. Retrieved from: https://arsipskpd.batam.go.id/batamkota/skpd.batamkota.go.id/kesehatan/files/2015/ 05/Profile-dinkes-2014-pdf-1.pdf
Greenstein. B. & Wood, D. (2007). At a Glace Sistem Endokrin. Edisi Kedua. Diterjemahkan oleh: dr. Elizabeth Yasmine. Jakarta: Erlangga
Grewen, K.M., Stuebe, A.M. & Meltzer-Brody, S. (2013). Association Between Maternal Mood and Oxytocin Response to Breastfeeding. Journal of Women's Health, 22(4), pp 352-361
Holbrook, H.J., Schetter, D.C.& Haselton, M. (2012). Breastfeeding and Maternal Mental and Physical Health. Diunduh melalui. Retrieved from: http://www.sscnet.ucla.edu
Kementerian Kesehatan RI. (2015). Profil Kesehatan Indonesia Tahun 2014. Jakarta: Pusat Data dan Informasi Kemenkes Republik Indonesia.
Maryunani, A. (2012). Inisiasi Menyusu Dini ASI Ekslusif dan Manajemen Laktasi. Jakarta: CV. Trans Info Media.
Noel, G.L., Suh, H.K.& Frantz, AG. (2009). Prolactin Release During Nursing and Breast Stimulation in Postpartum and Nonpostpartum Subjects. New York. The Journal of Clinical Endocrinology and Metabolism.
Pediatrics. (2005). Breastfeeding and the use of human milk. Official Journal of The American Academy of Pediatrics. 115;496. American Academy of Pediatrics.
Riordan, J. (2005). Breastfeeding and Human Lactation Third Edition. Canada: Jones and Bartlett Publishers.
Riskesdas. (2013). Riset Kesehatan Dasar. Retrieved from: http://www.depkes.go.id/resources/download/general/Hasil%20Riskesdas%202013. pdf
Roesli, U. (2008). Inisiasi Menyusui Dini Plus Asi Ekslusif. Jakarta : Pustaka Bunda.
Sherwood, Lauralee. (2011). Fisiologi Manusia Dari Sel ke Sistem Edisi Keenam. Jakarta : EGC.
UNICEF. (2007). Breast Crawl Initiation of Breastfeeding by Breast Crawl. Retrieved from: http://breastcrawl.org
World Health Organization. (2009). Infant and Young Child Feeding: Model Chapter for Textbooks for Medical Students and Allied Health Professionals.
session 2. The physiological basis of breast feeding. Diunduh melalui. Retrieved from:http://www.ncbi.nlm.nih.gov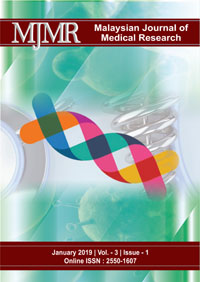 How to Cite
Arfianingsih Dwi Putri. (2019). THE RELATIONSHIP OF EARLY BREASTFEEDING INITIATION WITH POSTPARTUM MATERNAL PROLACTIN LEVELS. Malaysian Journal of Medical Research (MJMR), 3(1), 5-9. https://doi.org/10.31674/mjmr.2019.v03i01.002
License
Copyright (c) 2017 Malaysian Journal of Medical Research (MJMR)
This work is licensed under a Creative Commons Attribution-NonCommercial-NoDerivatives 4.0 International License.