THE INFLUENCE OF PROGRESSIVE MUSCLE RELAXATION ON INSOMNIA IN THE ELDERLY IN THE HEALTH CENTER OF KURANJI PADANG
Abstract
Insomnia is a common chronic disease, which can have important negative impacts on health and well-being. Insomnia with inadequate complaints, difficulty starting to sleep, difficulty maintaining sleep or waking up too early. Insomnia has side effects for the health of the elderly such as mental dysfunction that can interfere with memory concentration of a person's ability to carry out daily activities, when a person is very tired due to sleep difficulties will make mental emotions more unstable so that it can become stressful, heart disease, headaches visual disturbances, body aches and pains, body feels not fresh and changes in sleep patterns will affect a sustainable mood will become anxiety and depression. The purpose of the study was to identify the effects of progressive muscle relaxation on insomnia in the elderly in the Kuranji Padang health center. This type of research is quantitative with the design of one group pretest-posttest. The research population was all elderly 94 people in the Padang Kuranji region with a total sample of 15 people. The study was conducted 15 weeks until August 13, 2018 in the working area of ​​the Kuranji Padang Health Center. Questionnaires used in measuring insomnia using KSPBJ-IRS. The results of the study showed that there was an effect of progressive muscle relaxation on insomnia in the elderly in the work area of ​​Kuranji health center in Padang with a mean value of 6.467 with a standard deviation of 2.416 and p value of 0.000. It is recommended for the elderly and health center cadres to be given training on progressive muscle relaxation techniques so that they have skills that can be used to reduce insomnia in the elderly.
Keywords:
Progressive Muscle Relaxation, Insomnia
Downloads
Download data is not yet available.
References
Amir, N. (2007). Mirror the World of Medicine Retrieved from: http://www.kalbe.co.id/files/15709/gangguantidurpadalansia.
Asmandi. (2008). Konsep Dasar Keperawatan. Jakarta: ECG. Azizah, M.L. (2011). Elderly nursing Yogyakarta: Graha Science.
Badan Pusat Satistik (2016). Pembangunan Berkelanjutan. Retrieved from: https://www.bps.go.id/
Chen, W., Chu, H., Lu, R., Chou, Y., Chen, C., Chang, Y., O'Brien, A. & Chou, K. (2009). Efficacy of progressive muscle relaxation training in reducing anxiety in patients with acute schizophrenia. Journal of Clinical Nursing, 18(15), pp 2187– 2196.
Depkes, R.I. (2009). Pedoman Praktis Pemantauan Gizi Lansia. Jakarta:Departemen Kesehatan Republik Indonesia.
Dewi, S.R. (2014). Buku Ajar Keperawatan Gerontik. Yogyakarta. Retrieved from: http://penerbitbukudeepublish.com/shop/keperawatan-gerontik/
Feinsilver, S.H. & Hernandez, A.B. (2017). Sleep in the Elderly: Unanswered Questions. Clinics in Geriatric Medicine, 33(4), pp 579–596.
Gambhir, I.S., Chakrabarti, S.S., Sharma, A.R. & Saran, D.P. (2014). Insomnia in the elderly - A hospital-based study from North India. Journal of Clinical Gerontology and Geriatrics, 5(4), pp 117–121.
Hidayat, A. A.A. (2009). Pengantar Konsep Dasar Keperawatan. Jakarta: Salemba Medika.
Kallo, V.D. (2015). Pengaruh Terapi Relaksasi Otot Progresif Terhadap Perubahan Tingkat Insomnia Manado. E Journal Keperawatan (e-Kep), 3(1), pages 9.
Lin, Y.F., Liu, Z.D., Ma, W. & Shen, W. (2016). Hazards of insomnia and the effects of acupuncture treatment on insomnia. Journal of Integrative Medicine, 14(3), pp174–186.
Martono, H.H & Pranarka, K. (2011).Geriatrics—Elderly. Retrieved from: http://lib.ui.ac.id/file?file=pdf/metadata-128378.pdf
Nugroho, W. (2008). Keperawatan Gerontik & Geriatrik. Jakarta : EGC
Stuart, G.W & Sundeen, S.J. (2011). Buku Saku Keperawatan Jiwa (Terjemahan).Jakarta: EGC.
Suastari,N.M.P., Tirtayasa, P.N.B., Aryana, I.G.P.S. & Kusumawardhani, R.T.(2014).Hubungan Antara Sikap Sleep Hygiene Dengan Derajat Insomnia Pada Lansia Di Poliklinik Geriatri Rsupsanglah, denpasar. Retrieved from: file:///C:/Users/Admin/Downloads/11866-1-21909-1-10-20150123.pdf
Sumirta, I.N.& Laraswati, Gangguan Tidur A.S. (2013). (Insomnia) Faktor Yang Pada Lansia.Menyebabkan Gangguan Tidur (Insomnia) Pada Lansia Retrieved from: http://poltekkes- denpasar.ac.id/files/JURNAL%20GEMA%20KEPERAWATAN/JUNI%202015/I %20Nengah%20Sumirta.pdf
Supriyati, L. (2010). The Effect of Therapy Think Stopand Progressive Muscle Relaxation against Anxiety in Clients with Physical Disorders at Dr Soedono Hospital in Medan. Thesis. University of Indonesia. Retrieved from: file:///C:/Users/Admin/Downloads/41-69-1-PB.pdf
Tamher, S. & Noorkasiani .(2009). Kesehatan Usia Lanjut dengan Pendekatan Asuhan Keperawatan. Salemba Medika
Taylor, D., Gehrman, P., Dautovich, N.D., Lichstein, K.L. & McCrae, C.S. (2014).Handbook of Insomnia. Spinger, U.S.
Thahir, A. (2014). Effect of PMR (Progressive Muscle Relaxation) on Insomnia in the Elderly at the Elderly Social Institution Tresna Werdha Natar Lampung Province in 2012, 1–11. Retrieved from:download.garuda.ristekdikti.go.id/article.php?...Pengaruh%20PMR%20(Progres sive%.
Tobing, D.L., Keliat, B.A. & Wardhani, I.Y. (2014). Pengaruh Progressive Muscle Relaxation dan Logoterapi terhadap Effect of Progressive Muscle Relaxation and Logotherapy on Anxiety, Depression, and Relaxation Ability. Jurnal Keperawatan Padjadjaran, 2, pp 65–73.
Widodo. (2010). Peran Musik sebagai Fasilitas untukMengurangi Insomnia Pasien. Retrieved from:www.journal.unair.ac.id.
Wilkinson, J.M. & Ahem, N.R. (2013). Buku Saku Diagnosis Keperawatan: diagnosis NANDA,intervensi NIC, criteria hasil NOC edisi9. Jakarta:EGC.
World Health Organization (2012). Angka Kematian Bayi. Amerika. Retrieved from: file:///C:/Users/Admin/Downloads/D4-2015-321347-bibliography.pdf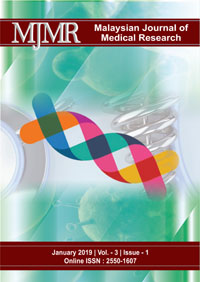 How to Cite
Diana Arianti, & Milya Novera. (2019). THE INFLUENCE OF PROGRESSIVE MUSCLE RELAXATION ON INSOMNIA IN THE ELDERLY IN THE HEALTH CENTER OF KURANJI PADANG . Malaysian Journal of Medical Research (MJMR), 3(1), 67-71. https://doi.org/10.31674/mjmr.2019.v03i01.010
License
Copyright (c) 2017 Malaysian Journal of Medical Research (MJMR)
This work is licensed under a Creative Commons Attribution-NonCommercial-NoDerivatives 4.0 International License.