PHARMACISTS' PERCEPTION ON MEDICATION ERRORS IN INTENSIVE CARE UNIT
Abstract
Introduction: Medication error is a global issue. A medication error is one of the medical errors that can result from mild to severe complications which may violate patient safety. A holistic approach is important to prevent medication error includes contributed factor, reporting system and training for staffs. Objective: This research sought to determine the pharmacists' perception of medication errors in the intensive care unit. Methodology: This descriptive cross-sectional study involved 132 pharmacists from two hospitals in state of Pahang, Malaysia. A self-administrated questionnaire was used to collect the data. Statistical analysis of the data was carried out using SPSS and association between variables was analyzed using one way ANOVA and multiple regression tests. Result: The findings show that interruptions (= 3.40) as the commonest cause of dispensing errors perceived by pharmacists, followed by pharmacists fatigue at any cause (= 3.20) and pharmacist overwork (= 3.17). Besides, 51% of participants practice dispensing less than 10 hours per week on average. 54% and 55% of participants believe the increase of risk of error in dispensing and actual errors become more common in pharmacy practice, respectively. The results also showed that only level of education has a significant association with possible factors in dispensing medication among the pharmacists at the hospital (P=0.000). Besides, multiple regressions showed no significant relationship between both dependent variables. Conclusion: Most of the pharmacist perceived those possible factors associated with dispensing error. This study suggests that pharmacists should be well informed regarding dispensing error in order to be more alert. Besides, future study should be more specific on pharmacists who assigned to the in-patient department.
Keywords:
Medication Error, Intensive Care Unit (ICU), Pharmacist
Downloads
Download data is not yet available.
References
Abdullah, D.C., Ibrahim, N. S., & Ibrahim, M. I. (2004). Medication errors among geriatrics at the outpatient pharmacy in a teaching hospital in Kelantan, Malaysian Journal of Medical Sciences 11(2), 11–17.
Adejumo, P.O. & Oseni, O.M. (2014) Nurses' reported practice and knowledge of wound assessment, assessment tools and documentation in a selected hospital in Lagos, Nigeria. African Journal of Medical and Health Sciences. 43(2) pp:149-157
Airaksinen, O., Luomajoki, H., Kool, J. & de Bruin, E.D. (2008) Movement control tests of the low back; evaluation of the difference between patients with low back pain and healthy controls. BMC Musculoskelet Disord. 24(9) pp:170
Alsulami, Z., Conroy, S., Choonara, I. (2012) Double checking the administration of medicines: what is the evidence? A systematic review. Archives of Disease in Childhood. 97(9) pp:833-837
Chamoun, N.R., Zeenny, R., Mansour, H. (2016) Impact of clinical pharmacy interventions on medication error nodes. International Journal of Clinical Pharmacy. 38(6) pp:1436-1444
Demehin, A.I., Babalola, O.O., Erhun, W.O. 2008 Pharmacists and nurses perception of medication errors in a Nigerian University teaching hospital. International Journal of Health Research. 2(1) pp:51–61.
Flynn, L., Liang, Y., Dickson, G., Xie, & Suh (2012). Nurses' Practice Environments, Error Interception Practices, and Inpatient Medication Errors. Journal of Nursing Scholarship, 44(2), pp: 180-186.
Gelayee, D.A., Mekonnen, G.B. (2017) Perception of Community Pharmacists towards Dispensing Errors in Community Pharmacy Setting in Gondar Town, Northwest Ethiopia. BioMed Research International. 2017(2137981)
Geri, G., Wechsler, B., Thi Huong du, L., Isnard R, Piette JC, Amoura Z, Resche-Rigon M, Cacoub P, Saadoun D. (2012) Spectrum of cardiac lesions in Behçet disease: a series of 52 patients and review of the literature. Medicine (Baltimore) 91(1) pp:25-34
Lehman, G.J. (2005) The influence of grip width and forearm pronation/supination on upper-body myoelectric activity during the flat bench press. Journal of Strength and Conditioning Research. 19(3) pp:587-591
Malone, A.M., Anderson, C.T., Tummala, P., Kwon, R.Y., Johnston, T.R., Stearns, T. & Jacobs, C.R. (2007) Primary cilia mediate mechanosensing in bone cells by a calcium-independent mechanism. Proceedings of the National Academy of Sciences. 104(33) pp:13325-13330.
Millar, J., Handley, K. & Price, M. (2011) Beyond 'doing time': investigating the concept of student engagement with feedback. Journal Oxford Review of Education 37(4) pp:543-560
Ojerinde, A.C. & Adejumo, P. (2014). Factors associated with medication errors among health workers in University College Hospital, Nigeria. Journal of Nursing and Health Science, 3(3), pp: 22-23.
Orbæk, J., Gaard, M., Fabricius, P., Lefevre, R.S. & Møller, T. (2015) Patient safety and technology-driven medication - A qualitative study on how graduate nursing students navigate through complex medication administration. Nurse Education in Practice. 15(3) pp:203-11
Smith, K.N., Penkner, A., Ohta, K., Klein, F. & Nicolas, A. (2001) B-type cyclins CLB5 and CLB6 control the initiation of recombination and synaptonemal complex formation in yeast meiosis. Current Biology. 11(2) pp:88-97.
Tzeng, H.M., Yin, C.Y. & Schneider, T.E. (2013) Medication error-related issues in nursing practice. MEDSURG Nursing. 22(1) pp:13-6, 50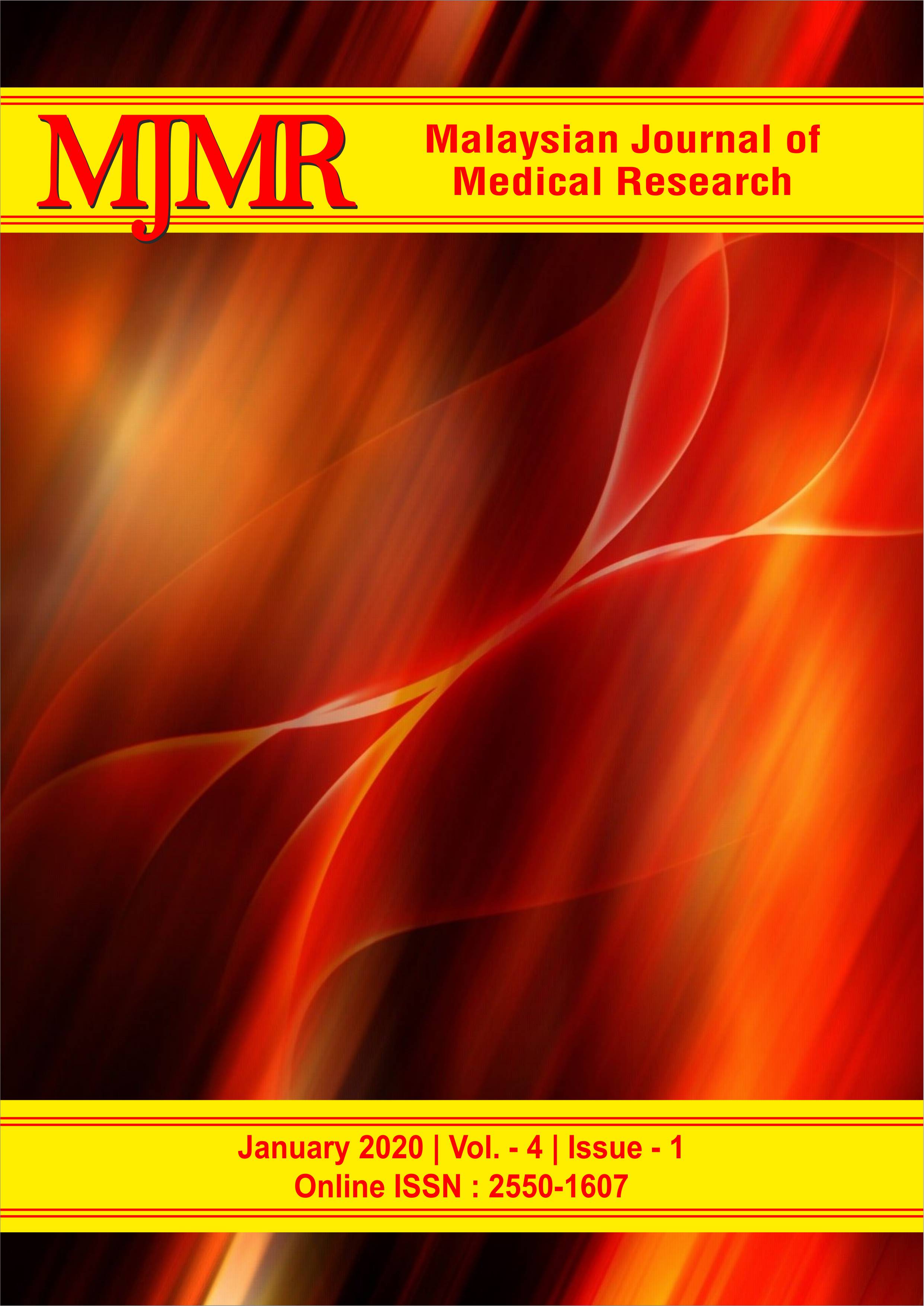 How to Cite
Suzilawati Mohamed Ariffin, Abdullah Hafiz Abdul Aziz, Khin Thandar Aung, & Salizar Mohamed Ludin. (2020). PHARMACISTS' PERCEPTION ON MEDICATION ERRORS IN INTENSIVE CARE UNIT. Malaysian Journal of Medical Research (MJMR), 4(1), 20-25. https://doi.org/10.31674/mjmr.2020.v04i01.003
License
This work is licensed under a Creative Commons Attribution-NonCommercial-NoDerivatives 4.0 International License.