NURSE'S PERCEPTION AND COMPLIANCE ON IDENTIFICATION, SITUATION, BACKGROUND, ASSESSMENT AND RECOMMENDATION (ISBAR) TOOLS FOR HANDOFF COMMUNICATION IN TERTIARY HOSPITAL, DAMMAM
Abstract
Background: The identification, situation, background, assessment and recommendation (ISBAR) is a handoff tool that plays an important role in transferring responsibility and accountability in patient care from outgoing shifts to incoming shifts. Many researchers believe that handoff is very important among nurses. Nurses had the responsibility to ensure patients' correct information which were shared among themselves during handoff. It also delivers the best patient care by improving the transfer of clinical information globally and systematically.
Purpose: The aim of the study is to determine nurse's perception and compliance on ISBAR tool for handoff communication in tertiary hospital, Dammam.
Method: A cross-sectional descriptive study was conducted in oncology unit at King Fahad Tertiary Hospital, Dammam, Saudi Arabia. Total sample size was 70. Questionnaire was the instrument tool in the study to measure nurse's perception and compliance on ISBAR tools.
Result: The overall perception mean score achieved was 38.64±1.455 and compliance score was 7.73±0.588. This showed nurses had good perception and compliance on ISBAR tools and none of them had poor perception and compliance regarding the same. There was statistically significant relationship (P=0.000) between perception and compliance on ISBAR tools.
Conclusion: ISBAR is reliable and effective handoff communication tools to promote patient safety. However, continuous education should be maintained to ensure all nurses competent in ISBAR tool. Further studies will be necessary to evaluate relationship between nurses' perception and compliance on ISBAR tool.
Keywords:
Compliance, ISBAR, Perception
Downloads
Download data is not yet available.
References
Alolayan, A., Alkaiyat, M., Ali, Y., Alshami, M., Al-Surimi, K. & Jazieh, A. (2017). Improving Physician's Hand Over Among Oncology Staff Using Standardized Communication Tool. BMJ Quality Improvement Reports, pages 4
Blom, L., Petersson, P., Hagell, P. & Westergren, A. (2015). The Situation, Background, Assessment and Recommendation (SBAR) Model for Communication between Health Care Professionals: A Clinical Intervention Pilot Study. International Journal of Caring Sciences. 8(3), pp 530-535
Malekzadeh, J., Mazloum, S.Z., Etezadi, T.& Tasseri,A. (2013). A Standardized Shift Handover Protocol: Improving Nurses' Safe Practice in Intensive Care Units. Journal of Caring Sciences, 2(3), pp 177-185
Mamalelala, T.T. (2017). Quality of Handover Assessments by Registered Nurses on Transfer of Patients from Emergency Departments to Intensive Care Units. Retrieved from: http://wiredspace.wits.ac.za/jspui/bitstream/10539/23202/1/MSc_NURSING_%20MAMALEL ALA%281055795%29_2017.pdf
Manser, T. & Foster, S. (2011). Effective Handover Communication: An Overview of Research and Improvement Efforts. Best practice & research, Clinical anaesthesiology, 25(2), 181-191.
Masal, E., Önder, İ., Çalışkan, H., Beşoluk, Ş. & Demirhan, E. (2017). Special Issue on Education. Retrived from: https://doi.org/10.1051/shsconf/20173701019
Nagammal, S., Nashwan, A. J., Nair, S. L. & Susmitha, A. (2017). Nurses' perceptions regarding using the SBAR tool for handoff communication in a tertiary cancer center in Qatar. Journal of Nursing Education and Practice, 7(4), pp 103-110.
Nuru, N., Zewdu, F., Amsalu, S. & Mehretie, Y. (2015). Knowledge and practice of nurses towards prevention of pressure ulcer and associated factors in Gondar University Hospital, Northwest Ethiopia. BMC nursing, pages 8
Polit, D. F. & Beck, C. T. (2017). Essentials of Nursing Research: Appraising evidence for nursing practice. 9th Edition, LWW, USA
Siew Eng, H., Kin, A.T.G. & Mani, T. (2017). Effects of Situation, Background, Assessment, and Recommendation (SBAR) Usage on Communication Skills among Nurses in a Private Hospital in Kuala Lumpur. Journal of Krishna Institute of Medical Sciences University, 6(2), pp 74-78
Sis International Research. (2018). What is quantitative research? Retrieved from: https://www.sisinternational.com/what-is-quantitative-research/
The Joint Commission (2019). National Patient Safety Goals. Retrieved from: https://www.jointcommission.org/standards_information/npsgs.aspx
Thompson, J. E., Collett, L.W., Langbart, M. J., Purcell, N. J., Boyd, S. M., Yuminaga, Y., Ossolinski, G., Susanto, C. & McCormack, A. (2011). Using the ISBAR Handover Tool in Junior Medical Officer Handover: A Study in an Australian Tertiary Hospital. Postgraduate Medical Journal, 86(1027), pp 340-344.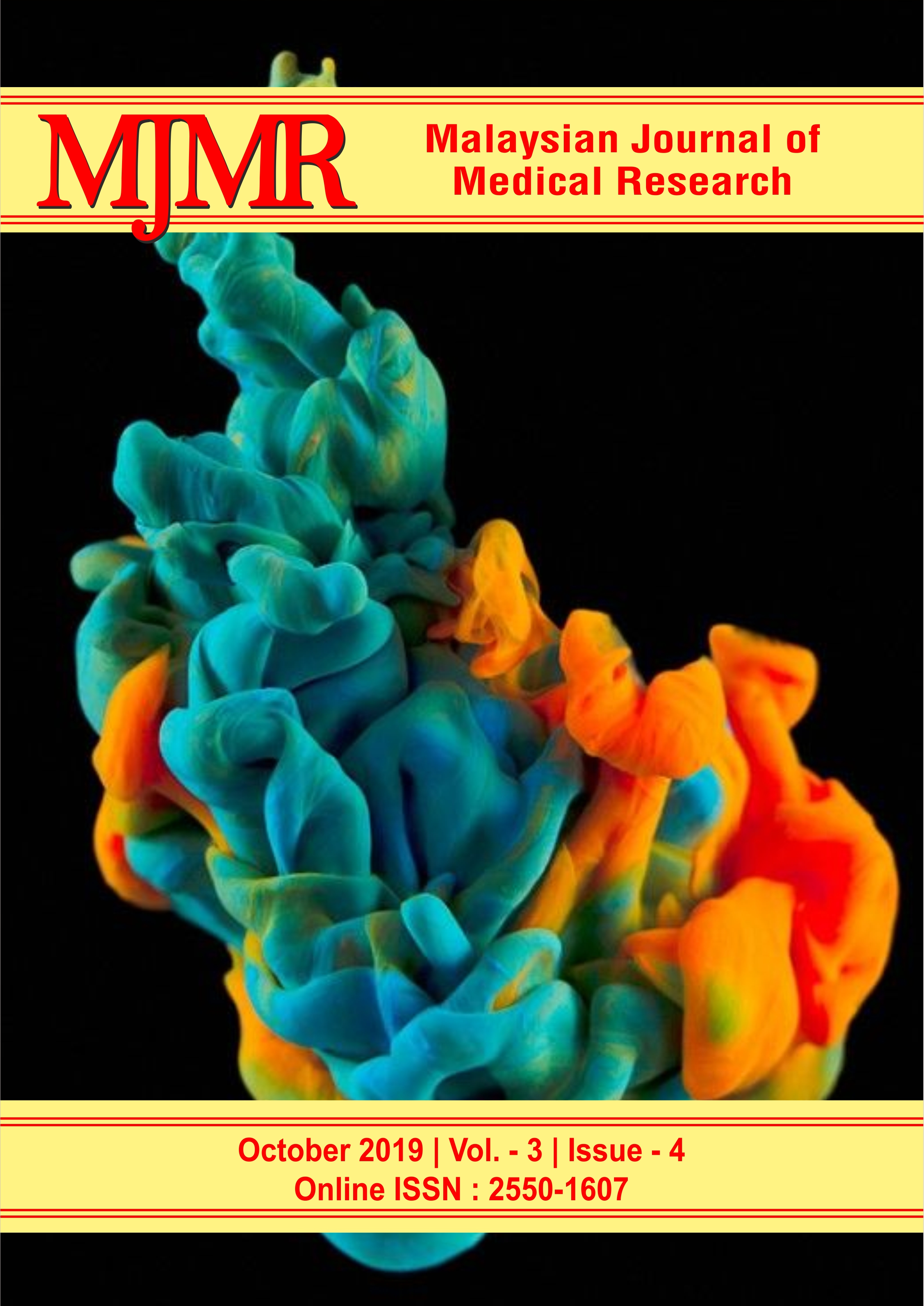 How to Cite
Lisa Chiew, Sazelin Binti Abu Bakar, Selvi Ramakrishnan, Patricia Lo Cheng Cheng, Yugeswary Karunagaran, & Zuraidah Binti Bunyaman. (2019). NURSE'S PERCEPTION AND COMPLIANCE ON IDENTIFICATION, SITUATION, BACKGROUND, ASSESSMENT AND RECOMMENDATION (ISBAR) TOOLS FOR HANDOFF COMMUNICATION IN TERTIARY HOSPITAL, DAMMAM. Malaysian Journal of Medical Research (MJMR), 3(4), 26-32. https://doi.org/10.31674/mjmr.2019.v03i04.004