LIVED EXPERIENCES OF BADJAO FEMALE WHO ENTERED EARLY MARRIAGE: A PHENOMENOLOGICAL STUDY
Abstract
Marriage is a social institution that unites people in a special form of mutual dependence for the purpose of founding and maintaining a family (Omobola, 2013). In the year 2016, about 2% of the Philippine's total population were already married at the age of 15 and 15% were married at the age of 18. Many of these marriages, where one or both partners were below 18 years, took place in poor, rural areas, where norms are tolerating, if not encouraging. The practice is common. The purpose of this study is to know the lived experiences of female Badjao who entered into early marriages. Badjao is a tribal group in the Philippines, also known as the Sea Gypsies.The study made use of the phenomenological approach, particularly transcendental approach, to have a better understanding of their lived-experiences as teenage wives. Self-made open-ended questions were raised during interview using interview guide. The study was conducted in Barangay Tambacan with majority of Badjao residents in Iligan City. Respondents were purposively selected based on the following criteria: (1) Badjao women who have been married at the age of 13-18; (2) married for at least 5 years; and (3) willing to participate in this study.Using thematic analysis, three solid themes emerged: (1) early marriage is dictated by culture and tradition, (2) early marriage inspired by love and intimacy, and (3) early marriage is pushed by security for basic needs. Most participants were propelled into marriage because of culture and tradition, parental pleasure and age. They fear no one would marry them at an older age. Participants perceived marriage as two people who love each other, however, some participants expressed that they opt to marry with the thought that their partners will be able to sustain their basic needs. Most participants were contented of their lives marrying at a young age. The data suggests that Badjaos need support, services and assistance in all areas of their daily living.
Keywords:
Badjao, Early Marriage, Phenomenology, Philippines
Downloads
Download data is not yet available.
References
Ahmed, S., Khan, A., Khan, S. & Noushad, S. (2014). Early marriage; A Root of Current Physiological and Psychosocial Health Burdens. International Journal of Endorsing Health Science Research, 2 (1), pp 50-53.
Ben-Ze'ev, A. & Goussinsky, R. (2008). In the Name of Love: Romantic Ideology and Its Victims.1st edition, Oxford University Press, India.
Bogdan, R. C. & Biklen, S. K. (2003). Qualitative Research of Education: An Introductive to Theories and Methods (4 th edition), Allyn and Bacon, Boston.
Challies, T. (2009). Leadership in the Home – A Godly Man Provides. Retrieved from: https://www.challies.com/christian-living/leadership-in-the-home-a- godly-man-protects/.
Chanra-Mouli, V., Greifinger, A., Nwosu, A., Hainsworth, G., Sundaram, L., Hadi, S., McConville, F., Benevides, R., Simon, C., Patkar, A., Schoening, E., Sethi, D., Boldosser-Boesch, A., Awasthi, P., Mathur, A. & Braeken, D. (2013). Invest in Reproductive health, 10 (51). Pages 5.
De Jong, R. (2010). The Last Tribes of Mindanao, Badjao, the Sea Gypsies. Things Asian. Retrieved from: http://thingsasian.com/story/last-tribes- mindanaobad-badjao-sea-gypsies.
Dhital, R. (2000).Child Marriage in Nepal. Retrieved from: http:/www.cwin.org.np/resources/issues/chi- ldmarriage.htm.
Dickens,B.(2015). Ethical Considerations on the Health Consequences of Child or Adolescent Marriage. Obstretrics & Gynaecology, 128(1), pp 83-84.
Giday, T. (2006). Causes and Consequences of Early Marriage in the Amhara Region of Ethiopia. Ababa Addis, Pathfinder International, Ethiopia. Retrieved From: https://www.pathfinder.org/wp-content/uploads/2008/01/Causes-and-Consequences-of-Early-Marriage-in-the-Amhara-Region-of-Ethiopia.pdf .
Hotchkiss, D.R., Godha, D. & Gage. (2013).Association Between Child Marriage and Reproductive Health Outcomes and Service Utilization: A Multi-Country Study from South Asia. Journal of Adolescent Health, 52(5), pp 552-558.
Loaiza, E. S. & Wong, S. (2012). Marrying too Young. End Child Marriage. United Nations Population Fund, New York.
Michael, R. (2014). Factors Which Contribute to Early Marriage among Teenagers in Rural Areas: A Case Study Casulu District in Kigoma Region. Retrieved From:http://repository.out.ac.tz//584/1/DISSERTA TI-ON-RUTH.pdf .
Montazeri, S., Gharacheh, M., Mohammadi, N., Rad, J. & Ardabili, H. (2016). Determinants of Early Marriage from Married Girls' Perspectives in Iranian Setting: A Qualitative Study. Journal of Environmental and Public Health, pp 1-8.
Omobola, O. C. (2013). Influence of Socio-Economic Change on Marriage Norms in the Yoruba Soiety, in Southwest Nigeria. Academic Journal of Interdiscip
-linary Studies, 2 (3), pp 139-146.
Peralta, J.T. (2002). Glimpses: Peoples of the Philippines.National Commision for Culture and the Arts. Retrieved From: http://ncca.gov.ph/about- culture-and-arts/culture-profile/e-books/glimpses-peoples-philippines-e-book/.
Robinson, L. (2014). Early marriage and poverty: Why we must break the cycle. Retrieved From: https://wwwone.org/us/2014/07/08/early-marriage-and-poverty-why-we-must-break-the-cycle/.
Sabbe, A., Oulami, H., Zekraoui, W., Hikmat, H., Temmerman, M. & Leye, E. (2013). Determinants of Child and Forced Marriage in Morocco: Stakeholder Perspectives on Health, Policies and Human Rights. BMC International Health and Human Rights, 13(1).pp 1-12.
Santhya, K. G. (2011). Early Marriage and Sexual and Reproductive Health Vulnerabilities of Young Women: A Synthesis of Recent Evidence from Developing Countries. Current Opinion in Obstetrics and Gynaecology, 23(5), pp 334-339.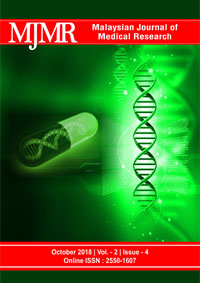 How to Cite
Abdullah Junior S. Mangarun, Llana Almira A. Agao-Agao, Duchess Raeven A. Gimena, & Arreane T. Tumanda. (2018). LIVED EXPERIENCES OF BADJAO FEMALE WHO ENTERED EARLY MARRIAGE: A PHENOMENOLOGICAL STUDY . Malaysian Journal of Medical Research (MJMR), 2(4), 39-44. https://doi.org/10.31674/mjmr.2018.v02i04.005
License
Copyright (c) 2017 Malaysian Journal of Medical Research (MJMR)
This work is licensed under a Creative Commons Attribution-NonCommercial-NoDerivatives 4.0 International License.