KNOWLEDGE, ATTITUDE AND PRACTICE ON BLOOD DONATION AMONG UNIVERSITY STUDENTS: A SYSTEMATIC REVIEW OF LITERATURE
Abstract
Objective:  Students are considered as the best source to mitigate the need for blood experienced especially among nations on a low resource. This study assessed the knowledge, attitude, and practices of students in relation to blood donation in a developing country.
Methods: This study utilized a systematic review of the literature to assess the knowledge, attitude, and practices of students on blood donation. Using the keywords on eight research databases, the search was able to run 53 hits. Full texts, peer-reviewed, quantitative research design, in English language and published within the year 2013-2018 were the inclusion criteria observed in the review. Appraisal on methodological quality of literature was done on the gathered studies. There are five (5) studies that were considered appropriate for review.
Results:  Findings revealed that all literature were conducted from developing countries. Students are knowledgeable and has a good attitude towards blood donation, however, there is a low turnout on the actual practice and volunteerism in donating blood.  More specifically, students inclined to health have better knowledge and attitude compared students in non-health related course. Female students are found to have low intention to donate. Interventional strategies that are suggested by the literature are mass media and enhancing donor efficiency.
Conclusion: Evaluating the results of the previously conducted studies revealed the high knowledge and attitude of students in developing countries relative to blood donation. There is a need to intensify education and advocacy campaigns to translate knowledge and attitude into practice.
Keywords:
Knowledge, Attitude, Practice, Blood Donation, Students, Developing Country
Downloads
Download data is not yet available.
References
Arshad, A., Borhany, M., Anwar, N., Naseer, I., Ansari, R., Boota, S., Fatima, N., Zaidi, M. & Shamsi, T. (2016). Prevalence of Transfusion Transmissible Infections in Blood Donors of Pakistan. BMC Hematology, Pages 6.
Centre for Reviews and Dissemination. (2008). Systematic Reviews: CRD's Guidance for UndertakingReviewsinHealthCare.Retrievedfrom:https://www.york.ac.uk/media/crd/Syste matic_Reviews.pdf
Chopra, D. & Jauhari, N. (2015). Knowledge, Attitude and Practices Toward Voluntary Blood Donation Among Medical Students in Barabanki. Indian Journal of Community Health, 27 (3).
Dubey, A., Sonker, A., Chaurasia, R. & Chaudhary, R. (2014). Knowledge, Attitude and Beliefs of People in North India Regarding Blood Donation. Blood Transfusion, 12(Suppl 1), s21–s27.
Gebresilase, H., Fite, R.O. & Abeya, S. G. (2017). Knowledge, attitude and practice of students towards blood donation in Arsi university and Adama science technology university: a comparative cross sectional Study. Biomed Central Hematology, Pages 10.
Kmet, L.M., Lee, R.C. & Cook, L.S. (2004). Standard Quality Assessment Criteria for Evaluating Primary Research Papers from a Variety of Fields. Edmonton: Alberta Heritage Foundation for Medical Research, USA
Kowsalya, N., Vijayakumar, R., Chidambaram, R., Srikumar, R., Reddy, E., Latha, S., Fathima, I., & Kumar, K. (2013). A Study on Knowledge, Attitude, and Practice Regarding Voluntary Blood Donation Among Medical Students in Pudacherry, India. Pakistan Journal of Biological Sciences. 16 (9), pp 439- 442
Ngoma, A.M., Goto, A., Yamazaki, S., Machida, M., Kanno, T., Nollet, K.E., Otho, H. & Yasumura, S. (2013). Barriers and Motivators to Blood Donation Among University Students in Japan: Development of a Measurement Tool. Vox sanguinis, 105(3), pp 219- 224.
Raghuwanshi, B., Pehlajani, N, & Sinha, M. (2016). Voluntary Blood Donation Among Students-A Cross-sectional Study on Knowledge and Practice vs. Attitude. Journal of Clinical and Diagnostic Research, 10 (10), EC18-EC22.
Sandborg, E. (2000). Getting People to Give Blood. Vox Sanguinis, 78 (Suppl. 2), pp 297–301.
Shan, H., Wang, J., Ren, F., Zhang, Y., Zhao. H., Gao, G., Ji, Y. & Ness, P. (2002). Blood Banking in China. The Lancet, 360(9347), pp 1770–1775.
Strauss, R.G. (2001). Blood Donations, Safety and Incentives. Transfusion, 41(2), pp 165–167.
Tedesse, W., Ayalew, Y., Yisma, E., Liben, M.L. & Wudu, M. (2018). Knowledge, Attitude, Practice and Associated Factors Toward Voluntary Blood Donation Among Regular Health Science Students of Samara University, Ethiopia. Health Science Journal. 12 (1:542). DOI:10.21767/1791-809X.1000542
Van der Poel, C.L., Seifried, E. & Schaasberg, W.P. (2002). Paying for blood donations: still a risk? Vox Sanguinis, 83(4), pp 285–293.
Viswananthan, C. (2001). Are our donors safe? Indian Journal of Pediatrics, 68(1), pp 69–75.
World Health Organization.(2010). Toward 100% Voluntary Blood Donation: A Global Framework for Action. Retrieved from: https://www.ncbi.nlm.nih.gov/pubmed/26225399
World Health Organization.. (2010). World blood donor day: new blood for the world. Available from:https://www.who.int/mediacentre/news/releases/2010/blood_donor_day_2 0100613/en/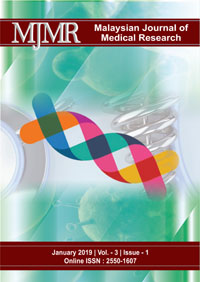 How to Cite
Janet Alexis A. De Los Santos, & Carmen N. Firmo. (2019). KNOWLEDGE, ATTITUDE AND PRACTICE ON BLOOD DONATION AMONG UNIVERSITY STUDENTS: A SYSTEMATIC REVIEW OF LITERATURE. Malaysian Journal of Medical Research (MJMR), 3(1), 18-28. https://doi.org/10.31674/mjmr.2019.v03i01.004
License
Copyright (c) 2017 Malaysian Journal of Medical Research (MJMR)
This work is licensed under a Creative Commons Attribution-NonCommercial-NoDerivatives 4.0 International License.