INTERPERSONAL COMMUNICATION PATTERNS OF HEALTH EDUCATION LECTURERS IN GUIDING PRACTICAL CLINICAL TRAINING OF NURSING STUDENTS IN PADANG CITY
Abstract
Introduction: The process of sending and receiving information called communication becomes the part of teaching and learning process which can be ignored by the lecturers and students. The process of this continual activity takes the important part in education itself, especially for the students academic achievements. The failure of communication not only affects the students in receiving information but also their relationship with the lecturers. This study is purposed to analyze in depth about the interpersonal communication patterns of health education lecturers in guiding the practical clinical training of nursing students in Padang city.Research Methodology: The type of research used is descriptive research. The population of this study were all nursing students from three private health education in the city of Padang who took practical clinical training courses. Sample research consisted of 51 nursing students. The instruments of this research are questionnaires, interviews and direct observation. Results and Discussion: The results showed that the communication pattern between health education lecturers and nursing students in the city of Padang was a circular communication pattern. This communication is suitable to be done in an academic environment because of the success of this communication pattern that runs in two directions as a result the process of exchanging information goes well. Conclusion: However, communication anxiety is still felt by students towards their supervision in practical clinical training so that it is difficult to communicate, feeling uncomfortable and the intimacy between students and supervisors is still difficult to achieve.
Keywords:
Interpersonal Communication Patterns, Health Education Lecturers, Practical Clinical Training, Nursing Students
Downloads
Download data is not yet available.
References
Abubakar, F. (2015). Effect of Interpersonal Communication Between Lecturer and Students of Learning and Achievement Motivation for Students. Journal of Pekommas, 18 (1). pp 61-62.
Brok, P.D., Tartwijk, J,V., Wubbels, T. & Veldman, L. (2010). The differential effect of the teacher–student interpersonal relationship on student outcomes for students with different ethnic backgrounds. British Journal of Educational Psychology, 80(2), pp 199- 221.
Cangara, H. (2007). Introduction to Communication Study. Raja Grafindo Persada, Jakarta: PT.
DeVito, J. A. (2011). Inter-Human Communication. 5th edition, Karisma Publishing Group, Jakarta.
Enjang, A.S. (2009).Counseling Communication, Bandung: Nuansa.Retrieved from : http://www.kemalapublisher.com/index.php/ppi-ukm/article/view/217.
Fiske, J. (1990). Introduction to Communication Studies. Routledge, United Kingdom. Johnson, B. & Christensen, L. (2012). Educational Research. 4th edition. Los Angeles, CA:Sage.
Mulyana, D & Rakhmat, J. (2001).Why and For What We Learn Between Intercultural Communication, In: Interpersonal CommunicationCulture, Guidelines for Communicating with People of Different Cultures. Retrieved from: http://www.ijhssi.org/papers/v3(2)/Version-3/L0323069074.pdf
Pantow, M., Kawenglan, D.D.V. & Merentek, E. (2016). Interpersonal Communication Pattern of Lecturers with Students in Determining Success (Study at the Nursing Academy Bethesda Tomohon).Retrieved from : file:///C:/Users/user/Downloads/18361- 37056-1-SM.pdf.
Rakhmat, J. (2003). Psychology of Communication. Bandung: Remaja Rosdakarya. Retrieved from: http://25qt511nswfi49iayd31ch80-wpengine.netdna-ssl.com/wp content/uploads/papers/aceid2017/ACEID2017_35144.pdf.
Rinaldi, A. (2013). Communication patterns in Maintaining Public Relations Officier Citra PT. Lion Air Indonesia Manado Branch. Journal 'Acta Diurna', 1(1), pp 2-3.
Robbins, S.P. (2000). Essentials of Organizational Behavior. 6 th edition, Pertinance –Hall, Upper Saddle River.
Rohim, S. (2009).Bahasa Indonesia Learning Communication By Using Cooperative Model Approach. Jurnal ASPIKOM, 3(4), pp 685-699.
Sudocu.(2014). Maintaining Relationships with Thesis Supervisors.Retrieved from: http://bimbinganskripsi. Co.cc.
Supratiknya, A. (1995). Interpersonal Communication: Psychological Review. Yogyakarta Kanisius.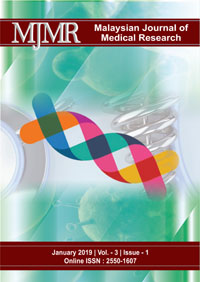 How to Cite
Novriyanti Achyar, Rusdinal, Khairudin, & Mellati Mandasari. (2019). INTERPERSONAL COMMUNICATION PATTERNS OF HEALTH EDUCATION LECTURERS IN GUIDING PRACTICAL CLINICAL TRAINING OF NURSING STUDENTS IN PADANG CITY . Malaysian Journal of Medical Research (MJMR), 3(1), 60-66. https://doi.org/10.31674/mjmr.2019.v03i01.009