IMPROVEMENT OF SOFT SKILLS THROUGH COOPERATIVE LEARNING METHOD (JIGSAW) IN COURSES OF MIDWIFERY CARE EMERGENCY ON MATERNAL AND NEONATAL
Abstract
Being a professional midwife in the future is not enough to have good hard skills, but also a good soft skill, and for students to have good soft skills, a proper learning method is required, and the lecturer has an important role in determining the learning method. The purpose of this research is to know the method of learning that can improve students' soft skills on Maternal and Neonatal Emergency Care. The method in this research is Classroom Action Research which measure soft skills of students DIII midwifery. The attributed used soft skills consisted of 15 items. The population of this research is the students of DIII Midwifery of PEMKAB Jombang Institute of Health Science semester IV who follow the Subject of care of Midwifery Emergency Maternal and Neonatal care, which are number 43 respondents. Sampling used is total sampling Method of data collection in this research is lecturers apply three kinds of learning method in 3 times meeting: conventional method, Case Based learning and Cooperative Learning (Jigsaw).The results of this study shows that the case-based learning method is better than the conventional method in improving the soft skills of DIII Midwifery students., cooperative learning (jigsaw) is better than conventional methods in improving the soft skills of DIII midwifery students. There is no significant difference between case based learning method and cooperative learning method (jigsaw).Thus cooperative learning is an appropriate method for midwives students because it is proven to improve students' soft skills.
Keywords:
Soft Skills, Midwifery Education, Learning Methods, Conventional Model, Case Based Learning
Downloads
Download data is not yet available.
References
Arends, R. (2008). Learning to Teach, 7th Edition,McGraw-Hill Higher Education, USA.
Arnata, I. W. & Surjoseputro, S. (2014). Evaluasi Soft Skills dalam Pembelajaran Mahasiswa Barudi Fakultas Teknologi Pertanian Universitas Udayana, JURNAL PENDIDIKAN DAN PEMBELAJARAN,21(1), Pages 9.
Carolyn., Medel-Añonuevo.,Toshio., Ohsako., Werner. & Mauch. (2001).Revisiting lifelong learning for the 21st century, Eric, pages 36.
Joyoatmojo, S., Renol, S. & Indriayu, M. (2017). The Effect of Problem Based Learning (PBL) Model and Jigsaw Type of Cooperative Learning Model with Prezi Aid on the Students' Learning Outcome. Advances in Social Science, Education and Humanities Research (ASSEHR), 158, pages 8.
Ormrod, J.E. (2008). Educational Psycology: Developing Learners. 6th Edition, Pearson Merrill Prentice Hall,USA.
Reed, Z.A. (2014). Collaborative Learning in the Classroom. Pages 6.
Rusman. (2011). Model-Model Pembelajaran Mengembangkan Profesionalisme Guru. Rajawali, Indonesia.
Speaking of Teaching. (2001). Problem-Based Learning. Retrieved from: http://scholar.googleus ercontent.com/scholar?q=cache:GUnPexjqeAYJ:scholar.google.com/+Winter.+2001.+Speaking+of+T eaching.+ProblemBased+Learning&hl=id&as_sdt=0,5&as_vis=1
Tran, D.V. & Lewis, R. (2012).The Effects of Jigsaw Learning on Students Attitudes in a Vietnamese Higher Education Classroom. International Journal of Higher Education,1(2), pages 12.
Vijayalakshmi, V. (2016). Soft Skills-The Need of the Hour for Professional Competence - A Review on Interpersonal Skills and Intrapersonal Skills Theories. International Journal of Applied Engineering Research, 11(4), pp 2859-2864.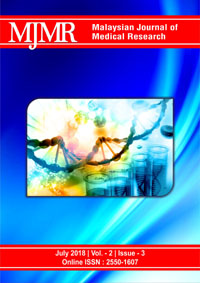 How to Cite
Erika Agung Mulyaningsih, Septi Fitrah N, & Mudhawaroh Mudhawaroh. (2018). IMPROVEMENT OF SOFT SKILLS THROUGH COOPERATIVE LEARNING METHOD (JIGSAW) IN COURSES OF MIDWIFERY CARE EMERGENCY ON MATERNAL AND NEONATAL . Malaysian Journal of Medical Research (MJMR), 2(3), 45-50. https://doi.org/10.31674/mjmr.2018.v02i03.006
License
Copyright (c) 2017 Malaysian Journal of Medical Research (MJMR)
This work is licensed under a Creative Commons Attribution-NonCommercial-NoDerivatives 4.0 International License.