EVIDENCE- BASED ACTION PLAN OF REHAB CENTERS FOR PATIENTS WITH LOW BACK PAIN
Abstract
Back pain is common and many people experience long term problems. The goals of physical therapy are to decrease back pain, increase function and provide health education. Low back pain (LBP) is pain, muscle tension, or stiffness localized below the costal margin and above the inferior gluteal folds, with or without sciatica, and is defined as chronic when it persists for 12 weeks or more. The study objective is to enhance the compliance of Patients to Rehabilitation Regimen to achieve better prognosis and treatment outcomes. The respondents of the study were low back pain patients from three (3) different rehabilitation centers, Rehabilitation Medicine of Cebu Velez General Hospital, Rehab Solutions Incorporated in Perpetual Succor Hospital and Rehab Medics of Chong Hua Hospital. To answer the mean characteristics of the respondents, descriptive statistical procedures were utilized. To determine the differentiating factors, discriminant analysis was used while logistic regression was utilized to determine the predictors of therapy outcomes. This study utilized a quantitative descriptive research design which enabled the researcher to determine if there exists a relationship between the therapy outcomes as the dependent variable to the demographic, employment and clinical variables identified in the study. It can therefore be concluded that of the twelve (12) variables explored, only four (4) clinical variables are significant predictors of low back pain treatment outcomes. These are (a) compliance to treatment regimen, (b) Co-morbidity, (c) Surgical history and (d) Type of low back pain. The rehabilitation centers would take into consideration the results of the study and that they will find a better way encourage compliance of patients to rehabilitation treatment utilizing the proposed evidence-based action plan. With this development, the problem with regard to compliance and result of rehabilitation treatment will be addressed and will greatly contribute to overall wellness and successful outcome of low back pain treatment. It is therefore imperative that physical therapists should focus on these clinical variables in treating for patients with LBP and recommended that rehabilitation centers should follow the evidence-based action plan.
Keywords:
Low Back Pain, Physical Therapy Treatment Outcomes, Quantitative Descriptive Research
Downloads
Download data is not yet available.
References
Buchner, M., Neubauer, E., Zahlten-Hinguranage, A., & Schiltenwolf. (2007). Age as a predicting factor in the therapy outcome of multidisciplinary treatment of patients with chronic low back pain--a prospective longitudinal clinical study in 405 patients. Clin Rheumatol, 26(3), pp 385-92.
Chou, R. & Huffman, L. H. (2007). Nonpharmacologic therapies for acute and chronic low back pain: a review of the evidence for an American Pain Society/American College of Physicians clinical practice guideline. Annals of Internal Medicine, 147 (7), pp 492-504.
Dickerman, R. D. (2005). Spine Health. Retrieved from: http://www.spine-health.com/treatment/physical-therapy/physical-therapy-low-back- pain-relief
Ehrlich, G. E. (2003). Low Back Pain. Bulletin of the World Health Organization, 81, pp 671-676.
Lu, H. & Javier, F. (2011). Prevalence and Treatment of Chronic Pain in the Philippines. Philippine Journal of Internal Medicine, 49(2), pp 61-69.
Macfarlane, G., Thomas, E., Papageorgiou, A., Croft, P., Jayson, M. & Silman, A. (1997). Employment and physical work activities as predictors of future low back pain. Spine. 22(10), pp 1143-1149.
Manchikanti, L. (2000). Epidemiology of Low Back Pain. Pain Physician, 3(2), pp 167-192.
McIntosh, C. D., Hall, H. & Hoffman, C. W. (2014). Prognostic factors associated with low back. Journal of Primary Health Care, 6(1), pp 23-30.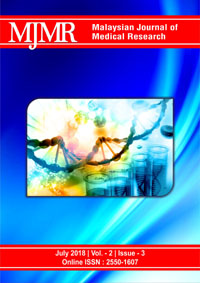 How to Cite
Ulysses M. Cutamora. (2018). EVIDENCE- BASED ACTION PLAN OF REHAB CENTERS FOR PATIENTS WITH LOW BACK PAIN. Malaysian Journal of Medical Research (MJMR), 2(3), 11-21. https://doi.org/10.31674/mjmr.2018.v02i03.002
License
Copyright (c) 2017 Malaysian Journal of Medical Research (MJMR)
This work is licensed under a Creative Commons Attribution-NonCommercial-NoDerivatives 4.0 International License.