ENVIRONMENTAL HEALTH SOCIETY AND COMMUNITY IN KECAMATAN KURANJI KOTA PADANG IN ORDER TOWARD TO SDG'S
Abstract
Community health is the basis for meeting SDG's health goals, including the health of a home or residence, the environment, and individual health. This research was conducted to find out the health in the household and the environment. This research method in the form of surveys, interviews, and questionnaires, the data were analyzed qualitative descriptive of 807 households and 2,850 people, consisting of men 1.356 people (48%) and woman 1.494 people (52%), in Kelurahan Korong Gadang Kecamatan Kuranji, Kota Padang held on March to May 2016. The results showed that the physical environment in the house that still had a floor of land as much as 17 houses (households/KK) or 2.1%. Minimal lighting at home 93 KK (11.5%), source of drinking water was unhealthy 33 families (4%), distance of wells with septic tanks was less than 10m as many as 306 households (40%) and did not have 134 KK septic tanks (17.2). The landfill is not in the house of 264 households (32.8%) and garbage is disposed of in rivers, sewers, city, as much as 692 households (85.8%). Waste scattered at home as many as 238 families (29.4%) and disposal of household waste into the sewers or rivers all households (100%) do so because of the absence of a good sanitation system and screening done at home. The conclusion of this study is that the environmental conditions in the research location are still categorized as unhealthy (bad) and house pollute the surrounding environment so that it will have an impact on public health and the environment. 
Keywords:
Environment, Health, Society, Community, SDG's, Kuranji
Downloads
Download data is not yet available.
References
A report to the Secretary-General of the United Nations by the Leadership Council of the Sustainable Development Solutions Network (SDSN) (2015). Indicators and a Monitoring Framework for the Sustainable Development Goals Launching a data revolution for the SDGs.
Asian Development Bank (2017). Key Indicators for Asia and the Pacific. 48th Edition. Asian Development Bank Metro Manila, Philippines
Ministry of Health Indonesia (2018). Indonesia Health Profile 2017. Jakarta, Ministry of Health Republic of Indonesia.
Rezeki, S., Mulyadi, A. & Nopriadi (2013). Health promotion strategy the improvement of clean and healthy lifestyle behavior the plantation community in Puskesmas Sei Kijang Kabupaten Pelalawan. Journal of Environmental Sciences, 7(1), pp 38-48.
Statistics Indonesia (Badan Pusat Statistik—BPS), National Population and Family Planning Board (BKKBN), and Kementerian Kesehatan (Kemenkes—MOH), and ICF International. 2013. Indonesia Demographic and Health Survey (2012). Jakarta, Indonesia: BPS, BKKBN, Kemenkes, and ICF International.
UNEP (2015). Indicators and Data Mapping to Case of Indonesia 2015 Measure Sustainable Development Goals (SDGs) Targets. Case of Indonesia 2015, Report.
World Health Organization (WHO) (2017). Health SDG Profile: Indonesia. World Health Organization. Retrieved from: http://www.searo.who.int/entity/health_situation_trends/countryprofile_ino.pdf?ua=1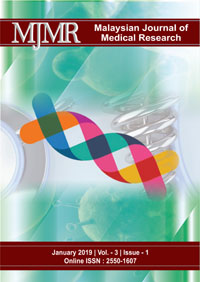 How to Cite
Mitayani, & Zulmardi. (2019). ENVIRONMENTAL HEALTH SOCIETY AND COMMUNITY IN KECAMATAN KURANJI KOTA PADANG IN ORDER TOWARD TO SDG'S . Malaysian Journal of Medical Research (MJMR), 3(1), 72-77. https://doi.org/10.31674/mjmr.2019.v03i01.011