DECODING PARKINSON'S ASSOCIATED HEALTH MESSAGES IN SOCIAL MEDIA PAGES BY MALAYSIAN SERVICE ADMINISTRATORS
Abstract
Social media pages serve as a valuable tool for promoting positive behavioural changes among patients. With a splurge of modern communication tools used today, health promoters use social media pages to get more people take preventive healthcare measures or effectively manage illness on its onset. Most of the health messages are twinned between Observed Information (factual details for health education) and Applied Information (prompting health messages directly used by patients) both resulting in improved health outcomes. Further by applying Positive Deviance, an alternative approach to elevate behavioural changes by sharing successful health best practices to patients and care givers are easily achieved. One such disease which needs more communication attention to promote behavioural change is Parkinson's due to its complex and debilitated condition. This research focuses how health messages are used in social media page like Facebook by Parkinson's disease Associations functioning in Malaysia to impart Parkinson's related information through different communication approaches and also examine social media consumption by Parkinson's patients/followers for behavioural changes through a quantitative content analysis. The findings indicate that evidence of behavioural change may not be proved with just Social Media pages, it is found to be more essential for Parkinson's communication discerning rehabilitation therapies.  Further, Social Media pages have all vicissitudes to become obsolete if not effectively used and may not be a sufficient communication tool to achieve positive health outcomes in Parkinson's affected patients.
Keywords:
Social Media Pages, Parkinson's disease, Objective and Applied Information, Positive Deviance Approach, Behavioural Changes
Downloads
Download data is not yet available.
References
Azmin, S., Khairul, A.A.M., Tan, H.J., Nafisah, W.Y., Raymond, A.A., Hanita, O., Shah, S.A. & Norlinah,
M.I .(2014). Nonmotor Symptoms in a Malaysian Parkinson's Disease Population. Parkinson's Disease,Pages7.
Fernández-Gómez, E. & Díaz-Campo, J. (2017). La participación de los stakeholders de las asociaciones contra el cáncer en Facebook. Retrieved from:https://www.researchgate.net/publication/319 970916_La_participacion de_los stakeholders de las_asociaciones contra_el_cancer en_Facebook.
Freeman, B., Potente, S., Rock, V. & McIver, J. (2015). Social Media Campaigns That Make a Difference: What Can Public Health Learn From The Corporate Sector and Other Social Change Marketers? Public health research & practice, 25(2).
Guo, C. & Saxton, G. D. (2014). Tweeting social change: How Social Media are Changing Nonprofit Advocacy. Nonprofit and VoluntarySector Quarterly, 43(1), pp.57-79.
Koenker, H., Keating, J., Alilio, M., Acosta, A., Lynch, M. & Nafo-Traore, F. (2014). Strategic Roles for Behaviour Change Communication in a Changing Malaria Landscape. Malaria Journal, 13(1).
Kong, C. N. (2009). Parkinson's A Better Tomorrow. Negeri Sembilan Parkinson's Society. Retrieved from: http://www.nlb.gov.sg/biblio/13208330
Nkanunye, C.C. & Obiechina, G.O. (2017). Health Communication Strategies a s G a t e w a y t o Effective Health Promotion and Well-being. Journal of Medical Research Health Education, 1(3:13), pages 4 Effective Health Promotion and Well-being. Journal of Medical Research Health Education, 1(3:13), pages 4.
Shute, N. (2011). Web communities help patients with rare diseases. Retrieved from: http://www.npr.org/ 2011/04/04/135106113/ patients-with-rare diseases-connect-online.
Singhal, A. & Dura, L. (2017). Positive Deviance: A Non-Normative Approach to Health and Risk Messaging. Retrieved from: http://communication. oxfordre.com/view/10.1093//acrefore/9780190228 613.001.0001/acrefore-9780190228613-e-248
Skrischer (2016). Make Your Voice Heard. A Study for all People with Parkinson's.
Statista. (2018). Number of monthly active Facebook users worldwide as of 2nd quarter 2018 (in millions). Retrieved from: https://www.statista.com/statistics/ 264810/number-of-monthly -active-face- book--worldwide/
Subirats, L.; Reguera, N.; Bañón, A.M.; Gómez- Zúñiga, B.; Minguillón, J.; Armayones, M. (2018). Mining Facebook Data of People with Rare Diseases: A Content-Based and Temporal Analysis. International Journal of Environmental Resaerch and Public Health, 15(9), pages 13.
Tan, L.C., Koh, W.P., Yuan, J.M., Wang, R., Au, W.L., Tan, J.H., Tan, E.K. & Yu, M.C. (2008). Differential Effects of Black Verus Green Tea on Risk of Parkinson's Disease in the Singaporean Chinese Health Study. American Journal of Epidemiology, 167(5), pp 553-560.
Taylor, A.H., Goodwin, V.A., Richards, S.H., Taylor, R.S. & Campbell, J.L. (2008).The effectiveness of exercise interventions for people with Parkinson's disease: a systematic review and meta-analysis. Movement Disorders, 23(5), pp 631–640.
Tozzi, A.E., Mingarelli, R., Agricola, E., Gonfiantini, M., Pandolfi, E., Carloni, E.,Gesualdo, F, & Dallapiccola, B. (2013). The internet user profile of Italian families of patients with rare diseases: a web survey. Orphanet Journal of Rare Diseases. 16(8), pages 9.
Tull, K. (2017). Behaviour-change communication on health related issues (part two). Retrieved from: https:// assets.publishing.service.gov.uk/media/5bae0b024 0f0b62dd06e3246/182_BCC_on_health_related_issues_PART_TWO.pdf
Twitchy Women. My Adventures with Parkinson's disease. Retrieved from: https//twitchywoman.com./tag/positive-deviance/
Woolley, P. & Peterson, M. (2012). Efficacy of a health- Related Face book Social Network Site on Health- Seeking Behaviors. Social arketing Quarterly, 18(1), pp 29-39.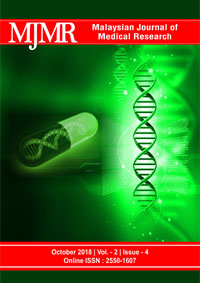 How to Cite
S. Bexci, & R. Subramani. (2018). DECODING PARKINSON'S ASSOCIATED HEALTH MESSAGES IN SOCIAL MEDIA PAGES BY MALAYSIAN SERVICE ADMINISTRATORS . Malaysian Journal of Medical Research (MJMR), 2(4), 64-72. https://doi.org/10.31674/mjmr.2018.v02i04.009
License
Copyright (c) 2017 Malaysian Journal of Medical Research (MJMR)
This work is licensed under a Creative Commons Attribution-NonCommercial-NoDerivatives 4.0 International License.