ASSESSMENT OF LEVEL OF KNOWLEDGE, ATTITUDE AND PRACTISE IN PROMOTING HEALTHCARE AMONG HEALTH CLINIC ADVISORY PANEL IN KUALA SELANGOR
Abstract
In 1978, in Alma Ata Declaration and Ottawa Charter (1986), World Health Organization has highlighted their vision in health promotion is about principles of participation and empowerment. In 1994, HCAP has been introducing by Malaysia Ministry of Health as a channel to help the community to get an information regarding health and also to get health services such as health screening program, defaulter tracing program and home medical assessment review program. A cross-sectional survey of a random 36 Health Clinic Advisory Panel has been selected has been conducted in 2017. Questionnaire from Individual-Community Related Empowerment has been used to assess the level of knowledge, attitude, and practice regarding healthcare. All the data has been analysed used SPSS Statistics 21.
On the demographic data, sample gender stat higher on a male with 52.8% (n:19) meanwhile on the second components in demographics are sample age, 30.9% (29) have come from age of 19 – 59 years old group. For the level of education, 69.2% stated are from secondary level and the last components in demographic data are sample income 77.8% (n:28) stated monthly income more than Rm 3001 per month. For assessment of level KAP. From the data analysed all components of knowledge stated 94.33%. Meanwhile, in attitude components show 96.26% and practice show 93%. An average percentage is 94.5% which from this study showed HCAP members have good knowledge, attitude, and practice in promoting healthcare.
Keywords:
Health Clinic Advisory Panel, Promoting Healthcare
Downloads
Download data is not yet available.
References
Israel, B. A., Checkoway, B., Schulz, A. & Zimmerman, M. (1994). Health Education and Community Empowerment: Conceptualizing and Measuring Perceptions of Individual, Organizational and Community Control. Health Education Quarterly, 21(2), pp 149-170.
Malaysia Ministry of Health (1990). Garis Panduan Penubuhan Panel Penasihat Klinik Kesihatan. Putrajaya.
World Health Organization (1986). The Ottawa Charted for Health Promotion.
Retrievedfrom: https://www.who.int/healthpromotion/conferences/previous/ottawa/en/
World Health Organization (1978). Declaration of Alma-Ata. Retrieved from http://www.euro.who.int/en/publications/policy-documents/declaration-of-alma-ata,- 1978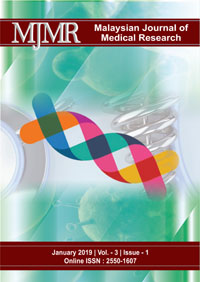 How to Cite
Zulhelmie Bin Abdul Hamid, & Farzana Yasmin. (2019). ASSESSMENT OF LEVEL OF KNOWLEDGE, ATTITUDE AND PRACTISE IN PROMOTING HEALTHCARE AMONG HEALTH CLINIC ADVISORY PANEL IN KUALA SELANGOR. Malaysian Journal of Medical Research (MJMR), 3(1), 1-4. https://doi.org/10.31674/mjmr.2019.v03i01.001
License
Copyright (c) 2017 Malaysian Journal of Medical Research (MJMR)
This work is licensed under a Creative Commons Attribution-NonCommercial-NoDerivatives 4.0 International License.