PATCH CAPSICUM OLEORESIN FOR REDUCING DYSMENORRHEA
Abstract
The incidence of dysmenorrhea was 90% among teens and 50% among women adding to more than 59.2% decline in productivity among Indonesians. Most of the interventions used the drug Non-steroidal Anti-Inflammatory Drugs (NSAIDs), whereas these drugs were reported to be increasing the risk of complications. The purpose of this study was to determine the effectiveness of a Capsicum oleoresin patch to decrease low back pain of dysmenorrhea. The researchers used one group pre-post design. The population was the students of  Diploma Midwifery Program who had dysmenorrhea. The intervention of Capsicum oleoresin patch was evaluated in the lower back during 6-8 hours on the first 3 days of menstruation period. The results were significant, reflecting the effectiveness of pain dysmenorrhea reduction before and after using patches which was evaluated by the pain scale measurement. The data analysis was carried out in a statistical test with p=0.000 with significant value α=0.05. Therefore, it should be recommended that intervention of patch of Capsicum oleoresin in dysmenorrhea is a natural and safe treatment for patient.
Keywords:
Dysmenorrhea, Low back pain, Effectiveness, Capsicum oleoresin patch
Downloads
Download data is not yet available.
References
Akin, M.D., Weingand, K.W., Hengehold, D.A., Goodale, M.B., Hinkle, R.T. & Smith R.P. (2001). Continuous Low-Level Topical Heat in the Treatment of Dysmenorrheal Obstetrics Gynecology, 97(3), pp 343-9.
American Academy of Neorology (2011). AAN Evidence-Based Guideline Summary for Clinicians: Treatment of Posttherpethic Neuralgia. Retrieved from: http://tools.aan.com/professionals/practice/pdfs/pn_guideline_physicians.pdf.
Baron, M. F. & Jean, S. K. (2007). Moist Heat Therapy for Natural Pain Relief. University of Southern California School of Pharmacy, USA
Dysmenorrhea: Painful Periods (2015). The American Congress of Obstetricians and Gynecologists. Retrieved from:https://www.acog.org/Patients/FAQs/Dysmenorrhea-Painful-Periods.
Gagnier, J.J., Van, Tulder M.W., Berman, B.M. & Bombardier, C. (2006). Herbal Medicine for LowBack Pain. Cochrane database Systematic Review, 32(1), pp 82-92.
Ju, H., Jones, M. & Mishra, G. (2013). The Prevalence an Risk Factors of Dysmenorrea. Epidemiologic Reviews, 36, pp 104-13
Latthe, P., Latthe, M., Say, L., Gulmezoglu, M. & Khan, K.S. (2006). WHO Systematic Review of
Prevalence of Chronic Pelvic pa in: A Neglected Reproductive Health Morbidity. BMC Public
Health, 6, pages 7.
Midilli, T.S., Yasar, E. & Baysal E. (2015). Dysmenorhhea Characteristic of Female Students of
Health School and Affecting factors and Their Knowledge and use of Complementary and
Alternative Medicine Methods. Holistic Nursing Practice, 29(4), pp 194-20
Mulyadi, A. (2010). Food review Indonesia Vol V/No 3 Maret. Retrieved from: http://elibrary.putraindonesiamalang.or.id/main/index.php?pg=detail_katalog&id=743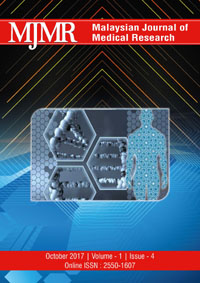 Downloads
How to Cite
Erika Agung Mulyaningsih, Pepin Nahariani, & Rodiyah Rodiyah. (2017). PATCH CAPSICUM OLEORESIN FOR REDUCING DYSMENORRHEA . Malaysian Journal of Medical Research (MJMR), 1(4), 35-39. Retrieved from https://ejournal.lucp.net/index.php/mjmr/article/view/283
License
Copyright (c) 2017 Malaysian Journal of Medical Research (MJMR)
This work is licensed under a Creative Commons Attribution-NonCommercial-NoDerivatives 4.0 International License.
Metrics