IMPACT OF HEALTH EDUCATIONAL PROGRAM UPON CAREGIVERS' KNOWLEDGE AND PRACTICES FOR PSYCHOSOCIAL PROBLEMS OF ACUTE LEUKEMIA ADOLESCENT PATIENTS
Abstract
Leukemic patients express of psychosocial impact of cancer and its treatment, the caregivers can provide psychosocial care at home. The study aims to improve the psychosocial problems among adolescent leukemic patients. A quasi experimental study was carried to detect Blood Diseases at Nanakali Hospital, Erbil city, Kurdistan region, Iraq, from the period of 1st October 2010 to 1st of October 2011. Seventy caregivers (35 controls and 35 cases) and their adolescent's acute leukemia patients were participated in the study. Most caregivers were mother's patient; the Mean and SD of caregivers' age were between 41.7±9.176 for control group and 40 ± 8.15 for study group, illiterate, from rural areas, and living with low socioeconomic status (SES). The mean age of the adolescents was14.94±2.950 in control group and 14.83±3.535 of study group most of them were males, and complain of acute lymphocytic leukemia (ALL) in control and study groups respectively. The study reveals highly significant proportions between caregiver's knowledge and practices at p-value 0.001, 0.028, 0.003 and 0.012 in study groups respectively. It has been found that there are highly significant differences between pre and post-tests (1 and 2) at p-value 0.002, 0.016, 0.012 and 0.002 respectively. Health educational program had positive impact on caregivers; knowledge and practice and found that some aspects of psychosocial problems such as worry, body image, communication and interpersonal relationship of study group were improved. The study recommended nurses should consider utilizing such program to improve psychosocial problems among leukemic patients'.
Keywords:
Caregivers, Psychosocial problems, Leukemic Adolescent
Downloads
Download data is not yet available.
References
Al-Barakat, L. P., Marmer, P. L. & Schwartz, L. A. (2010). Quality of Life of Adolescents with Cancer: Family Risks and Resources. Health and Quality of Life Outcomes, 8(63), pp1-8.
Al-Jauissy, M. S. (2010). Health Care Needs of Jordanian Caregivers of Patients with Cancer
Receiving Chemotherapy on an Outpatient Basis. Eastern Mediterranean Health Journal, 16(10), pp 1-7.
Aziz, A. (2002). Impact of Health Educational Oriented Toward Mothers Child with Leukemia (PhD Dissertation). University of Baghdad, College of Nursing.
Barrera, M. & Schulte, F. A. (2009). Group Social Skills Intervention Program for Survivors of
Childhood Brain Tumors. Journal of Pediatric Psychology, 34(10), pp 1108–1118.
Bener, A., Ayub, H., Kakil, R. & Ibrahim, W. (2007). Patterns of Cancer Incidence among the Population of Qatar: A Worldwide Comparative Study. Asian Pacific Journal of Cancer Prevention, 9(1), pp19-24.
Chang Yu & Hwang Hu. (2008). Education for Homecare Patients with Leukemia Following a
Cycle of Chemotherapy: An Exploratory Pilot Study. Oncology Nursing Forum, 35(5), pp E83-
E89.
Gladys K S K. (2004). The Effectiveness of Chemotherapy Educational Program (CEP) for
Leukemia and Lymphoma Patients (Master Thesis). University of Hong Kong, College of
Nursing.
Han, J., Liu, J., Xiao, Q., Zheng, X., Ma, Y. & Ding, Y. (2011). The Experiences and Feelings of Chinese Children Living with Leukemia: A Qualitative Study. Cancer Nursing, 34(2), pp 1-8.
Hashemi F, Shokrpour N. (2010). The Impact of Education Regarding the Needs of Pediatric
Leukemia Patients' Siblings on the Parents' Knowledge and Practice. Health Care Manage
(Frederick). 29(1), pp 75-79.
Hauser, K. & Walsh, D. (2008). Visual Analogue Scales and Assessment of Quality of Life in Cancer. The Journal of Supportive Oncology, 6(6), pp1-12.
Huizing, G. A., Visser, A., Van der Graaf, W.T, F., Hoekstra, H.J. & Hoekstra-Weebers, J. E. (2005). The Quality of Communication between Parents and Adolescent Children in the Case of Parental Cancer. Annals of Oncology, 16(12), 1956–1961.
Graham, D. K., Craddock, J. A., Quinones, R. R., Keating, A. K., Maloney, K., Foreman, N. K.,
Giller, R. H. & Greffe, B. S. (2009). Neoplastic Disease. In: Hay WW, Levin MJ, Sondheimer J M, Deterding RR. CURRENT Diagnosis and Treatment Pediatrics. 19th edition. McGraw-Hill Companies, Toronto, pp 854-856.
McHarg, T., Carey, M., Fisher, R., Shakeshaft, R. & Rainbird, K. (2010). Measuring the Psychosocial Health of Adolescent and Young Adult (AYA) Cancer Survivors: A Critical Review. Health and Quality of Life Outcomes, 8(25), pp 1-13. Retrieved from: http://www.hqlo.com/content.
McMillan, S. C., Small, B. J. & Haley, W. E. (2011). Improving Hospice Outcomes through Systematic Assessment a Clinical Trial. Cancer Nursing, 34(2), pp 89-97.
Nanakali Hospital for Blood Disease Statistic (2011). The Number of Cancer Registered in the Nanakali Hospital the Middle. CD. 2011. Unpublished CD.
O'Connor, R.E. (2006). On being treated as a person A review of non-physical interventions to improve outcomes for adolescents and young adults with cancer. The preparation of this report was supported by Canteen - The Australian Organisation for Young People Living with Cancer.
Russell, K. M. W., Hudson, M., Long, A. & Phipps, S. (2006). Assessment of Health-Related Quality of Life in Children with Cancer Consistency and Agreement between Parent and Child Reports. Cancer, 106(10), pp 1120-1128.
Saeui, W., Chintanadilo, N., Sriussadaporn, P. & Sanasuttipun, W. (2009). The Effects of an Empowerment Program on the Competence of Caregivers in Caring for Preschool Children with Acute Leukemia Undergoing Chemotherapy. Journal of Nursing Science, 27(2), pp 8-17.
Scarpelli, A. C., Paiva, S. M., Pordeus, I. A., Varni, J. W., Viegas, C. M. & Allison, P. J. (2008). The Pediatric Quality of Life Inventory™ (PedsQL™) family impact module: reliability and validity of the Brazilian version. Health and Quality of Life Outcomes, 6(35), pages 8.
Shankar, S., Robison, L., Jenney, M. E., Rockwood, T. H., Wu E, Feusner J, et al. (2005). Health-Related Quality of Life in Young Survivors of Childhood Cancer Using the Minneapolis-Manchester Quality of Life-Youth Form. Pediatrics,115(20, pp 435- 442.
Sitaresmi, M. N., Mostert, S., Gundy, C. M., Sutaryo & Veerman A. J. P. (2008). Health-related Quality of Life Assessment in Indonesian Childhood Acute Lymphoblastic Leukemia. Health and Quality of Life Outcomes. 6(96), pp 1477-7525.
Tomlinson, D. & Kline, N. E. (2005). Pediatric Oncology Nursing- Advanced Clinical Handbook, Springer-Verlag Berlin Heidelberg. Printed in Germany, pp2-23,162-190. (online).
Toseland R W. (2004). Caregiver Education and Support Programs: Best Practice Models. Family Caregiver Alliance, San Francis, CA.
UsVasalo, A., Räty, R., Knuutila, S., Vettenranta K, Harila-SaariA,Vries M AG, et al. (2008). Acute Lymphoblastic Leukemia in Adolescents and Young Adults in Finland. Haematologica, 93(8), pp 1161-1168.
Woods, L. M., Rachet, B. & Coleman M P. (2006). Origins of Socio-Economic Inequalities in
Cancer Survival: a Review. Annals of Oncology, 17(1), pp 5–19.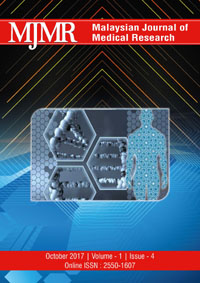 Downloads
How to Cite
Shukir S. Hasan. (2017). IMPACT OF HEALTH EDUCATIONAL PROGRAM UPON CAREGIVERS' KNOWLEDGE AND PRACTICES FOR PSYCHOSOCIAL PROBLEMS OF ACUTE LEUKEMIA ADOLESCENT PATIENTS . Malaysian Journal of Medical Research (MJMR), 1(4), 12-17. Retrieved from https://ejournal.lucp.net/index.php/mjmr/article/view/276
License
Copyright (c) 2017 Malaysian Journal of Medical Research (MJMR)
This work is licensed under a Creative Commons Attribution-NonCommercial-NoDerivatives 4.0 International License.
Metrics