TEACHING STRATEGY: STRENGTH AND LIMITATION OF TEACHING STRATEGIES FOR NURSING EDUCATION VIA LECTURE AND SIMULATION
Abstract
The purpose of this article is to discuss the strengths and limitations of two teaching strategies currently utilized in Diploma in Nursing, in Malaysia. The diploma was started in 1994 with a 3 years duration of study. It also requires certificates of qualification from the Malaysian Quality Agency (MQA) and the Malaysian Board of Nursing.
Teaching strategies of individual teachers differ according to their teaching styles and generalized lesson plans, which include structures, instructional objectives, outlines of teaching and learning tactics, and other accessories needed to implement the strategies. A strategy does not necessarily follow a single track all the time, but changes according to the demands of the situations such as the age, level, needs, interests and abilities of the students. Thus, strategy is a method that is more comprehensive. It is directional in nature and refers to the goal oriented activities of the teacher. Hence, it resembles science rather than arts.
Lecture and simulation methods are the best teaching strategies for nursing students in Malaysia. The lecture method allows clarification on difficult concepts, organizes thinking, and promotes problem solving attitudes, whereas simulation provides students with the opportunity for proper social, emotional and intellectual development. Moreover, students are highly motivated by educational simulation, for they enjoy the learning process while participating in it.
Keywords:
Teaching strategy, lecture, Simulation, Knowledge of students, Strategy
Downloads
Download data is not yet available.
References
Beers, G. W. (2005). The effect of teaching method on objective test scores: Problem-based learning versus lecture. Journal of Nursing Education, 44(7), pp 305-309.
Brewer, E. P. (2011). Successful techniques for using human patient simulation in nursing education. Journal of Nursing Scholarship, 43(3), pp 311-317.
Cooper, S. (2003). Some lecturing dos and don'ts. The Journal of Continuing Education in Nursing, 34(3), pp 99-100.
Curtin, M. M. & Dupuis, M. D. (2008). Development of human patient simulation programs: Achieving big results with a small budget. Journal of Nursing Education,47(11), pp 522-523.
Grady, J. L., Kehrer, R. G., Trusty, C. E., Entin, E. B., Entin, E. E. & Brunye, T. T. (2008). Learning nursing procedures: The influence of simulator fidelity and student gender on teaching effectiveness. Journal of Nursing Education, 47(9), pp 403-408.
Johnson, J. P. & Mighten, A. (2005). A comparison of teaching strategies: Lecture notes combined with structures group discussion versus lecture only. Journal of Nursing Education. 44(7), pp 319-322.
Kardong-Edgren, S. E., Starkweather, A. R. & Ward. L. D. (2008). The integration of simulation into a clinical foundations of nursing course: Student and faculty perspectives. International Journal of Nursing Education Scholarship, 5(1), 1-16.
Krautscheid, L., kaakinen, J. & Warner, J. R. (2008). Clinical faculty development: Using simulation to demonstrate and practice clinical teaching. Journal of Nursing Education, 47(9), pp 431-434.
Laing, G. K. (1996). The lecture a teaching strategy for large groups: A reprise. University of Wollongong. Research Online.
Leonardi, B. C. D. (2007). Tips for facilitating learning: The lecture deserves some respect. The Journal of Continuing Education in Nursing, 38(4), pp 154-161.
Ling, W. L., Chen, Q., Yang, Y. N. & Tsui, C. M. (2008). Application of simulation technology in pediatrics nursing teaching. Macau Journal of Nursing, 7(2), pp 38-40.
Medina, M. S. & Herring, H. R. (2011). Teaching during residency: Five steps to better lecturing skills. American Journal Health System Pharmacy 68(5), pp 382-387.
Quinn, F. M. & Hughes, S. J. (2007). Quinn'S Principles and Practice of Nurse Education. 5th
edition. UK: Nelson Thornes.
Rochmawati, E. & Wiechula, R. (2010). Education strategies to foster health professional students' clinical reasoning skills. Nursing and Health Sciences, 12(2), pp 244-250.
Rosenzweig, M., Hravnak, M., Magdic, K., Beach. M., Clifton, M. & Arnold, R. (2008). Patient
communication simulation laboratory for students in an acute care nurse practitioner program. American Journal of Critical Care, 17(4), pp 364- 372.
Sarver, P. A. S., Senczakowicz, E. A. & Slovensky, B. M. (2010). Development of simulation scenarios for an adolescent patient with diabetic ketoacidosis. Journal of Nursing Education, 49(10), pp 578-586.
Shepherd, C. K., McCunnis, M., Brown, L. & Hair, M. (2010). Investigating the use of simulation as a teaching strategy. Nursing Standard, 24(35), pp 42- 48.
Sinclair, B. & Ferguson, K. (2009). Integrating simulated teaching/learning strategies in undergraduate nursing education. International Journal of Nursing Education Scholarship, 6(1), pp 1-11.
Vivien, W. X., Tham, L. K. C., Lau, S. T. L., Mei, T. T. Y. & Kiat, T. K. (2010). An exploration of the critical thinking dispositions of students and their relationship with the preference for simulation as a learning style. Singapore Nursing Journal, 37(2), pp 25-33.
Waldner, M. H. & Olson, J. K. (2007). Taking the patient to the classroom: applying theoretical frameworks to simulation in nursing education. International Journal of Nursing Education Scholarship, 4(1), pp 1-14.
Wilford, A. & Doyle, T. J. (2006). Integrating simulation training into the nursing curriculum. British Journal of Nursing, 15(11), pp 926-930.patients. Diabetes, 54(12), pp 3541-3546.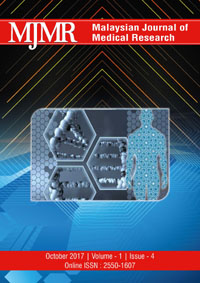 Downloads
How to Cite
Mardiana Mansor, Ayu Sulaini Jusoh, & Lim Chin Choon. (2017). TEACHING STRATEGY: STRENGTH AND LIMITATION OF TEACHING STRATEGIES FOR NURSING EDUCATION VIA LECTURE AND SIMULATION . Malaysian Journal of Medical Research (MJMR), 1(4), 1-5. Retrieved from https://ejournal.lucp.net/index.php/mjmr/article/view/272
License
Copyright (c) 2017 Malaysian Journal of Medical Research (MJMR)
This work is licensed under a Creative Commons Attribution-NonCommercial-NoDerivatives 4.0 International License.
Metrics