MULTILEVEL TRAINING ON CHILDHOOD CANCER: EFFECTIVENESS OF THE MASTER TRAINING TO INCREASE MEDICAL STAFF'S AND CADRE'S KNOWLEGDE OF CHILDHOOD CANCER EARLY DETECTION
Abstract
Delayed diagnosis is one of problems in treating childhood cancer in Indonesia. Lack of knowledge and recognition of the disease by health providers are the major risk factors. Therefore, YKAKI organized childhood cancer training that consists of three level of health promotion. Level-1: training to medical staff and cadre, level-2: training to their colleagues, and Level-3: public education. On February 2017 level-1 training was successfully conducted to medical staff (316 participants) and cadre (218 participants) from Depok and Bekasi (West Java) and East Jakarta and North Jakarta (DKI Jakarta). This study aimed to evaluate the implementation of level-1 training. Quantitative approach through pre and post-test design were applied to all participants. Data were then analyzed by paired t-test and ANOVA.  There was a significant increase in mean score of pre and post-test among cadre (p 0.000) and medical staff (p 0.000). Among cadre, there were no significant difference of pretest (p 0.978) and post-test mean score (p 0.066), they were within the area. Among medical staff, pre-test score was significantly different between Bekasi and North Jakarta, post-test score was significantly different between Depok and North and East Jakarta, and Bekasi North and East Jakarta. There were significant differenceof the gain score between Bekasi and East Jakarta, and Depok and East Jakarta. In conclusion, we can state that level-1 training was proven to increase knowledge of the medical staff and cadre about childhood cancer early detection. It is an important step since all the trained participants will train their colleagues in the next level-2 training.
Keywords:
Childhood cancer, Health promotion, Cadre, Medical staff, Indonesia
Downloads
Download data is not yet available.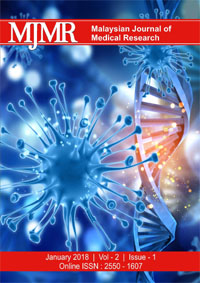 Downloads
How to Cite
Ajeng Tias Endarti, Neli Husniawati, Ilah Muhafilah, Titi Indriyati­, InggitMeliana Anggarini, Yasinta Dewi Kristianti, Wiwit Wijayanti, Ira Soelistyo, & Carmen Auste. (2018). MULTILEVEL TRAINING ON CHILDHOOD CANCER: EFFECTIVENESS OF THE MASTER TRAINING TO INCREASE MEDICAL STAFF'S AND CADRE'S KNOWLEGDE OF CHILDHOOD CANCER EARLY DETECTION . Malaysian Journal of Medical Research (MJMR), 2(1), 88-94. Retrieved from https://ejournal.lucp.net/index.php/mjmr/article/view/254