THE JOURNEY OF SALUBRIOUS WOMEN WITH CANCER: A PHENOMENOLOGICAL STUDY
Abstract
Cancer is a deadly disease that affects many people, particularly people exercising unhealthy lifestyle. But there are people who practice a healthy lifestyle and yet stricken with cancer. One of them is the salubrious women who exercise, healthy living and are not involved in any forms of bad habits such as smoking and drinking. The researcher explored the lived experiences of these cancer patients utilizing a qualitative descriptive phenomenological study design. Colaizzi's seven-step method of data analysis was used. The results revealed three emerging themes emanated from the lived experiences of salubrious women diagnosed with cancer. The first theme was the innocence experience which emanates from the passive, denial, and destitute experiences. The second theme is the ignorance experience which was derived from apathetic, chiding, and accepting experiences.  And the third theme is the advancing experience, which arouse from the past, extant, and hoping experiences. Their experiences showed how they coped up with cancer and how they hope that they will recover from the physical and emotional distress affecting their lives. Their journey encompassed their worries and norms on their diagnosis through resisting what can hinder their wellness and spring back to living.
Keywords:
Cancer, Salubrious Women, Innocence, Ignorance, Advancing
Downloads
Download data is not yet available.
References
American Psychiatric Association. (2013) Diagnostic and statistical manual of mental disorders (DSM-5®). American Psychiatric Pub. Available from:http://www.apa.org/helpcenter/chronic-illness.aspx.
American Psychological Association. (2016). The Road to Resilience. Available from http://www.
apa.org/helpcenter/road-resilience.aspx.
Anderson, C., 2010. Presenting and evaluating qualitativeresearch. American journal of pharmaceutical education, 74(8), p.141. Available from: https://www.ncbi.nlm.nih.gov/pmc/articles/PMC2987281/.
Cancer Council Victoria. (2016) Emotions. Available from http://www.cancervic.org.au/living-withcancer/ emotions.
Cancer Research UK. (2016). Cancer incidence by Age:Most Common Cancers by age in females. Available from: http://www.cancerresearchuk.org/aboutcancer.
City of Cebu. (2010). About Cebu City. Available from: https://www.cebucity.gov.ph/index.php/homenew/about-cebu-city Accessed 14th February 2017.
Kafle, Narayan Prasad. (2013) Hermeneutic phenomenological research method simplified. Bodhi: An Interdisciplinary Journal, 5(1), pp.181-200. Available from https://www.nepjol.info/index.php/BOHDI/article/view/8053.
Kübler-Ross E., Kessler D., Shriver M., (2014) On Grief and Grieving: Finding the Meaning of Grief Through the Five Stages of Loss, Scribner,US.
Page, A.E. and Adler, N.E. eds., 2008. Cancer care for the whole patient: Meeting psychosocial health needs. National Academies Press
Polit, D.F. and Beck, C.T., 2008. Nursing research: Generating and assessing evidence for nursing practice. 9thed. Lippincott Williams & Wilkins.
Polit, D.F. and Beck, C.T., 2010. Essentials of nursing research: Appraising evidence for nursing practice. 7th ed. Lippincott Williams & Wilkins.
Pringle, J., Drummond, J., McLafferty, E. and Hendry, C., 2011. Interpretative phenomenological analysis: a discussion and critique. Nurse researcher, 18(3), pp.20-24.
Shosha, Ghada Abu. (2012) Employment of Colaizzi's strategy in descriptive phenomenology: A reflection of a researcher. European Scientific Journal , ESJ , 8(27) . Available from: https://eujournal.org/index.php/esj/article/view/588.
Simon, S., (2016). Why Non-smokers Sometimes Get Lung Cancer. Available from http://www.cancer.org/cancer/news/features/why-lung-cancerstrikesnonsmokers.
Accessed 3rd December 2016.
Swan, L. & Ang, P., (2014). When Non-Smokers Get Lung Cancer. Available from http://www.
oncocare.sg/when-non-smokers-get-ung-cancer.
The Tidal Model. (2015). Theory: The Conceptual Basis of Practice. Available from: http://www.tidalmodel.com/theory.html.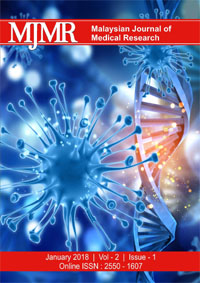 Downloads
How to Cite
Martinez Patricia Joy V, & Daño, Julius C. (2018). THE JOURNEY OF SALUBRIOUS WOMEN WITH CANCER: A PHENOMENOLOGICAL STUDY . Malaysian Journal of Medical Research (MJMR), 2(1), 10-18. Retrieved from https://ejournal.lucp.net/index.php/mjmr/article/view/235
License
Copyright (c) 2017 Malaysian Journal of Medical Research (MJMR)
This work is licensed under a Creative Commons Attribution-NonCommercial-NoDerivatives 4.0 International License.