Young Adult's Lived Experiences and Perceptions of a New Alternative to Smoking: A Qualitative Study
Abstract
Smoking electronic cigarettes (e-cigarettes) is currently a common social behaviour worldwide. Malaysia has the second highest smoking rate in the world after the United States. Some countries have positively embraced e-cigarettes to combat traditional cigarettes. However, most Asian countries, including Malaysia, are not sure whether to endorse or ban e-cigarette smoking. Therefore, this study aims to investigate the prevailing meanings and motives for e-cigarette smoking. An interpretive phenomenological approach was used to understand the lived experiences and underlying perceptions of e-cigarette smoking. A total 45 participants from the young adult age group (18-25) were selected and interviewed individually with open-ended questions until saturation was reached. Seven themes emerged from the analysis, namely public acceptance, social status and peer influence, healthy alternatives, smoking cessation tools, individual empowerment, flavourful attractions, and ease of availability. The themes identified provide a good understanding of this phenomenon for effective management of e-cigarette sales and general public health policy planning.
Keywords:
E-Cigarette, Harm Reduction, Empowerment, Cessation Tool
Downloads
Download data is not yet available.
References
Beard, E., Brown, J., McNeill, A., Michie, S., & West, R. (2015). Has growth in electronic cigarette use by smokers been responsible for the decline in use of licensed nicotine products? Findings from repeated cross-sectional surveys. Thorax, 70(10), 974-978. http://dx.doi.org/10.1136/thoraxjnl-2015-206801
Cheah, Y. K., Teh, C. H., & Lim, H. K. (2019). Sociodemographic differences in awareness of e-cigarette in Malaysia. Journal of Oncological Sciences, 5(2), 54-59. https://doi.org/10.1016/j.jons.2019.04.001
Chin, N.C. & Tay, T.F., (2023. January 12). Malaysia's billion-ringgit vaping empire and the anti-smoking bill that could curtail it. Channel News Asia. https://www.channelnewsasia.com/can-insider/Malaysia-vaping-industry-anti- smoking-bill-generation-endgame-cigarettes-tobacoo-2992591
Cho, J. H., Shin, E., & Moon, S. S. (2011). Electronic-cigarette smoking experience among adolescents. Journal of Adolescent Health, 49(5), 542-546. https://doi.org/10.1016/j.jadohealth.2011.08.001
Colaizzi, P.F. (1978). Psychological research as the phenomenologist views it. In Vaile R and King M. (Eds). Existential phenomenological alternatives for psychology. University Press.
Creswell, J. W., & Poth, C. N. (2016). Qualitative inquiry and research design: Choosing among five approaches. Sage publications.
Elkalmi, R. M., Bhagavathul, A. S., Ya'u, A., Al-Dubai, S. A. R., Elsayed, T. M., Ahmad, A., & Mohamed, W. (2016). Familiarity, perception, and reasons for electronic-cigarette experimentation among the general public in Malaysia: Preliminary insight. Journal of pharmacy & bioallied sciences, 8(3), 240. https://doi.org/10.4103/0975-7406.180768
Fagerström, K. O., & Bridgman, K. (2014). Tobacco harm reduction: the need for new products that can compete with cigarettes. Addictive behaviors, 39(3), 507-511. https://doi.org/10.1016/j.addbeh.2013.11.002
Gravely, S., Fong, G.T. & Cummings, K.M. (2014). Awareness, trial, and current use of electronic cigarettes in 10 countries: Findings from the ITC project. International Journal of Environmental Research and Public Health, 11 (11), 11691–11704. http://doi.org/10.3390/ijerph111111691
Hughes, J. R., Keely, J., & Naud, S. (2004). Shape of the relapse curve and long‐term abstinence among untreated smokers. Addiction, 99(1), 29-38. https://doi.org/10.1111/j.1360-0443.2004.00540.x
ITC Malaysia Wave 1-4 National Report (2005-2009). (2012). The International Tobacco Control Policy Evaluation Project. Retrieved from https://itcproject.s3.amazonaws.com/uploads/documents/ITC_Malaysia_National_Report_Waves_1_to_4_2005-2009_Ma.pdf
Keane, H., Weier, M., Fraser, D., & Gartner, C. (2017). 'Anytime, anywhere': vaping as social practice. Critical Public Health, 27(4), 465-476. https://doi.org/10.1080/09581596.2016.1250867
Kong, G., Morean, M. E., Cavallo, D. A., Camenga, D. R., & Krishnan-Sarin, S. (2015). Reasons for electronic cigarette experimentation and discontinuation among adolescents and young adults. Nicotine & tobacco research, 17(7), 847-854. https://doi.org/10.1093/ntr/ntu257
Larkin, M., Watts, S., & Clifton, E. (2006). Giving voice and making sense in interpretative phenomenological analysis. Qualitative research in psychology, 3(2), 102-120. https://doi.org10.1191/1478088706qp062oa
Mat Salleh, R., Baharom, N., Siau, C. S., Chan, C. M. H., Amit, N., Sia, P. Y., & Wee, L. H. (2023, February). E-Cigarette Users' Profiles and Their Association with Identified Impacts of COVID-19 on Vaping among Young Adults in Malaysia. In Healthcare (Vol. 11, No. 3, p. 434). MDPI.
Notley, C., Ward, E., Dawkins, L., & Holland, R. (2018). The unique contribution of e-cigarettes for tobacco harm reduction in supporting smoking relapse prevention. Harm reduction journal, 15(1), 1-12. https://doi.org/10.1186/s12954-018-0237-7
NST. (2020, June 3). 9pc Malaysian smokers choose vape to cut down, quit smoking, survey showed. New Straits Times. Retrieved from https://www.nst.com/business/2020/ 06/801954/49pc-malaysia-smokers-choose-vape-cut-down-quit-smoking-survey-showed
NST. (2020, October 19). Malaysia No. 1 in tobacco black market. New Straits Times. https://www.nst.com.my/net nation 2020/10/633398/Malaysia-world- no-1-tobacco-black-market
Nurasyikin, M. S., Leelavathi, M., & Tohid, H. (2019). E-cigarette use, its impact on tobacco smoking and the intention to quit. Medicine & Health, 14(1), 78 -90.
Pokhrel, P., Herzog, T. A., Muranaka, N., & Fagan, P. (2015). Young adult e-cigarette users' reasons for liking and not liking e-cigarettes: a qualitative study. Psychology & health, 30(12), 1450-1469. https://doi.org/10.1080/08870446.2015.1061129
Smith, J. A. (2011). Evaluating the contribution of interpretative phenomenological analysis: A reply to the commentaries and further development of criteria. Health psychology review, 5(1), 55-61. https://doi.org/10.1080/17437199.2010.541743
Sumisha, N. (2016, Nov 10). Malaysia to regulate sale of e-cigarette liquids. The New York Times. Retrieved from http://www.channe;newsasia.com/news/asiapacific/malaysia-to-regulatesale/2248560.html
van der Eijk, Y., Lin, L., Gan, L., Teo, O., Subramaniam, M., & Lee, J. K. (2022). "The Menthol One Is More Friendly": Young Singaporeans' Perspectives on Flavored Cigarettes. Asia Pacific Journal of Public Health, 34(2-3), 236-243. https://doi.org/10.1177/10105395211065307
Wong, L. P., Mohamad Shakir, S. M., Alias, H., Aghamohammadi, N., & Hoe, V. C. (2016). Reasons for using electronic cigarettes and intentions to quit among electronic cigarette users in Malaysia. Journal of community health, 41, 1101-1109. http://doi.org/10.1007/s10900-016-0196-4
Yunus, R. (2021, February 4). Malaysia's RM 2.27b vape industry too substantial to remain unregulated. The Malaysian Reserve. http//themalaysianreserve.com/2021/02/04 malaysias-rm-27b-industry-two-substantial-to-remain-unregulated/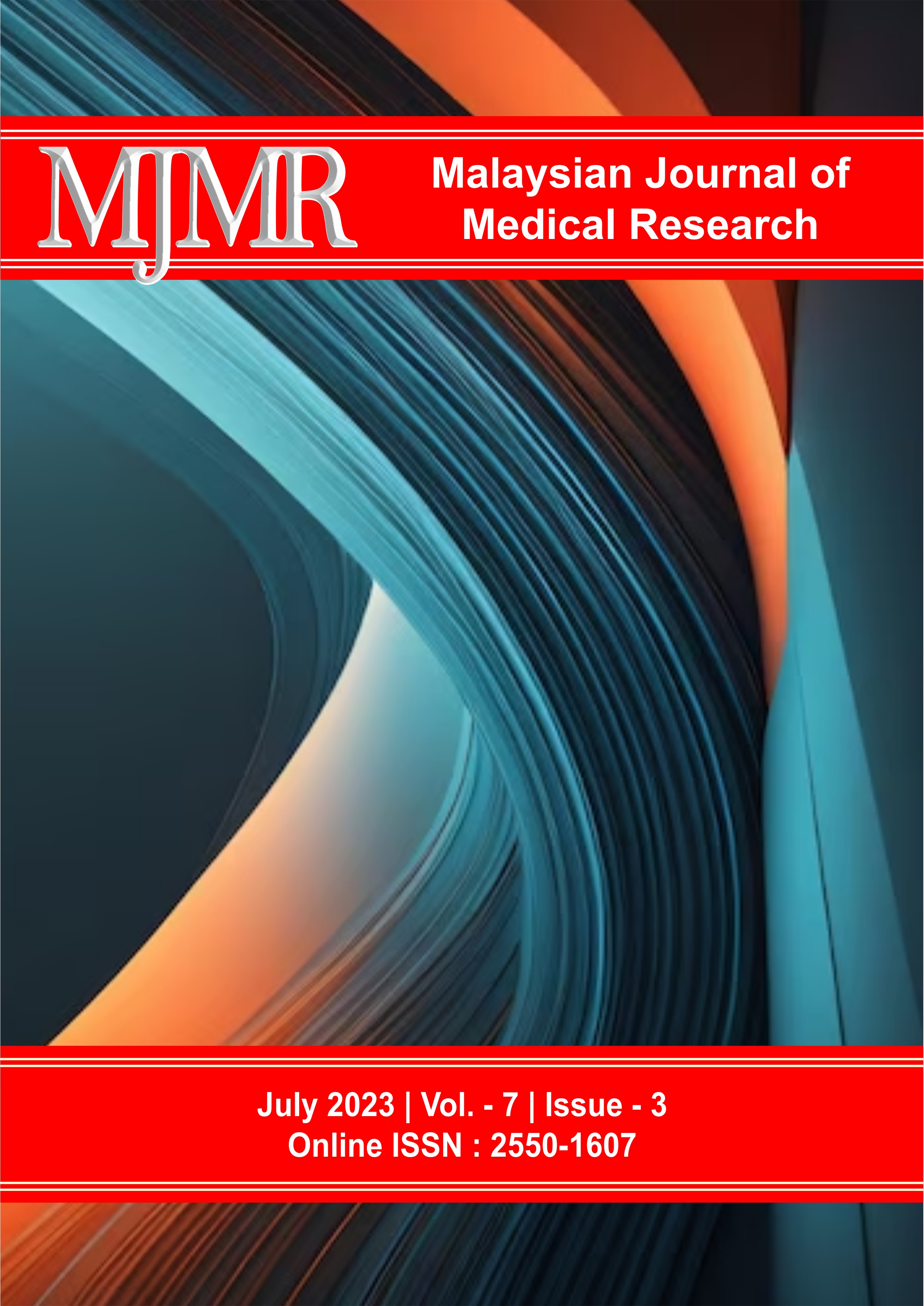 How to Cite
Sinnappan, S., Periyayya, T., Mastor, K. A., & Badilla Idris, I. (2023). Young Adult's Lived Experiences and Perceptions of a New Alternative to Smoking: A Qualitative Study. Malaysian Journal of Medical Research (MJMR), 7(3), 1-7. https://doi.org/10.31674/mjmr.2023.v07i03.001
Section
Original Articles
License
Copyright (c) 2023 Malaysian Journal of Medical Research (MJMR)
This work is licensed under a Creative Commons Attribution-NonCommercial-NoDerivatives 4.0 International License.