Abdominal Aortic Aneurysm with Persistent and Rebound Coagulopathy Despite Aggressive Corrective Treatment: A Case Report
Abstract
Abdominal aortic aneurysm (AAA) is not uncommon to cause coagulopathy. Warfarin use in patients presented with ruptured AAA can further complicate the preparation for surgical intervention and affect prognosis. We reported a case of impending rupture AAA that progressed to contained leak AAA in a warfarin user, with persistent elevated and rebound international normalized ratio (INR) despite aggressive correction with fresh frozen plasma (FFP) and three-factor prothrombin complex concentrate (3F-PCC). Persistent and rebound coagulopathy is possible in AAA. Corrective treatment with FFP or 3F-PCC alone does not always guarantee the successful reversal of coagulopathy in AAA. Some cases, especially those that failed the initial corrective treatment, require more aggressive reversal with co-administration of vitamin K. This case described coagulopathy in AAA, anticoagulation reversal agents used and emphasized the importance of rigorous coagulation profile monitoring in managing AAA.
Keywords:
Abdominal Aortic Aneurysm, Coagulopathy, Three-Factor Prothrombin Complex Concentrate, Fresh Frozen Plasma
Downloads
Download data is not yet available.
References
Davies, M. J., Murphy, W. G., Murie, J. A., Elton, R. A., Bell, K., Gillon, J. G., Jenkins, A. M., & Ruckley, C. V. (1993). Preoperative coagulopathy in ruptured abdominal aortic aneurysm predicts poor outcome. The British journal of surgery, 80(8), 974–976. https://doi.org/10.1002/bjs.1800800811
Gawenda, M., & Brunkwall, J. (2012). Ruptured abdominal aortic aneurysm: the state of play. Deutsches Arzteblatt international, 109(43), 727–732. https://doi.org/10.3238/arztebl.2012.0727
Greuters, S., van den Berg, A., Franschman, G., Viersen, V. A., Beishuizen, A., Peerdeman, S. M., Boer, C., & ALARM-BLEEDING investigators (2011). Acute and delayed mild coagulopathy are related to outcome in patients with isolated traumatic brain injury. Critical care (London, England), 15(1), R2. https://doi.org/10.1186/cc9399
Hoornweg, L. L., Storm-Versloot, M. N., Ubbink, D. T., Koelemay, M. J., Legemate, D. A., & Balm, R. (2008). Meta analysis on mortality of ruptured abdominal aortic aneurysms. European journal of vascular and endovascular surgery : the official journal of the European Society for Vascular Surgery, 35(5), 558–570. https://doi.org/10.1016/j.ejvs.2007.11.019
Kordzadeh, A., Parsa, A. D., Askari, A., Maddison, B., & Panayiotopoulos, Y. P. (2016). Presenting Baseline Coagulation of Infra Renal Ruptured Abdominal Aortic Aneurysm: A Systematic Review and Pooled Analysis. European journal of vascular and endovascular surgery : the official journal of the European Society for Vascular Surgery, 51(5), 682–689. https://doi.org/10.1016/j.ejvs.2016.02.009
Papageorgiou, C., Jourdi, G., Adjambri, E., Walborn, A., Patel, P., Fareed, J., Elalamy, I., Hoppensteadt, D., & Gerotziafas, G. T. (2018). Disseminated Intravascular Coagulation: An Update on Pathogenesis, Diagnosis, and Therapeutic Strategies. Clinical and applied thrombosis/hemostasis : official journal of the International Academy of Clinical and Applied Thrombosis / Hemostasis, 24(9_suppl), 8S–28S. https://doi.org/10.1177/1076029618806424
Skagius, E., Siegbahn, A., Bergqvist, D., & Henriksson, A. E. (2008). Fibrinolysis in patients with an abdominal aortic aneurysm with special emphasis on rupture and shock. Journal of thrombosis and haemostasis : JTH, 6(1), 147–150. https://doi.org/10.1111/j.1538-7836.2007.02791.x
Tran, H. A., Chunilal, S. D., Harper, P. L., Tran, H., Wood, E. M., Gallus, A. S., & Australasian Society of Thrombosis and Haemostasis (ASTH) (2013). An update of consensus guidelines for warfarin reversal. The Medical journal of Australia, 198(4), 198–199. https://doi.org/10.5694/mja12.10614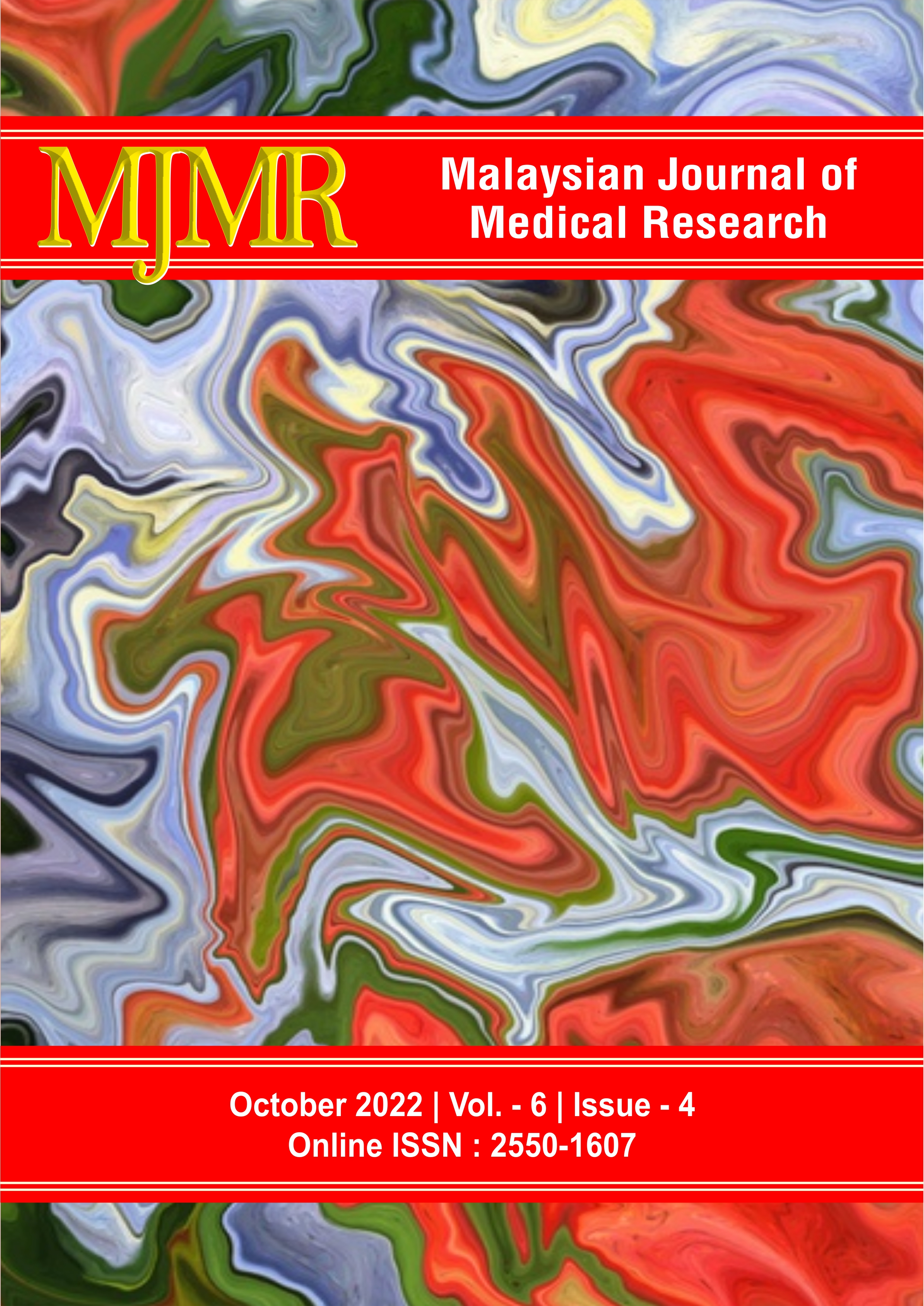 How to Cite
Koh, H. P., Tay, S. L., Zulkifli, S., Idris, M. S., & Hussien, H. (2022). Abdominal Aortic Aneurysm with Persistent and Rebound Coagulopathy Despite Aggressive Corrective Treatment: A Case Report. Malaysian Journal of Medical Research (MJMR), 6(4), 33-37. https://doi.org/10.31674/mjmr.2022.v06i04.007
License
Copyright (c) 2022 Malaysian Journal of Medical Research (MJMR)
This work is licensed under a Creative Commons Attribution-NonCommercial-NoDerivatives 4.0 International License.