Golden Period in Terms of Knowledge Family of Early Detection of Stroke for Stroke Patients in Installation of Emergency
Abstract
Stroke is a disease that often occurs in society with high mortality and disability, this is due to the lack of public awareness in recognizing risk factors and early symptoms of a stroke. The increase in stroke mortality is because many patients come late beyond the golden period. This problem occurs due to a lack of family knowledge about the emergency of stroke, signs, and symptoms of a stroke, and lack of knowledge of what to do immediately when a stroke occurs, resulting in delays in bringing to health services and resulting in delays in stroke treatment. The purpose of this study is to find out how the golden period is related in terms of family knowledge of early detection of stroke for stroke patients. This study is a correlational study with a population of all families of stroke patients in the IGD Brawijaya Malang who meet the criteria for being respondents are 55 respondents with accidental sampling techniques. There are two variables in this study, knowledge as the independent variable, and the golden period as the dependent variable. The data were analyzed using Chi-square analysis. The result of this research is that most of the respondents are highly knowledgeable (47.3%) and most of the respondents with the fast golden period are 32 respondents (58.2%) at Brawijaya Lawang Hospital. The results showed that there was a relationship between knowledge and the golden period in IGD Rumkitbang Brawijaya Malang. Good knowledge will affect the speed of the family asking for help in stroke management. Families as one of the main components who often find a stroke so when they know the symptoms of a stroke, the danger is that when stroke management is late it will make them quick in making decisions to immediately take them to health services.
Keywords:
Knowledge, Golden Period, Family, Stroke
Downloads
Download data is not yet available.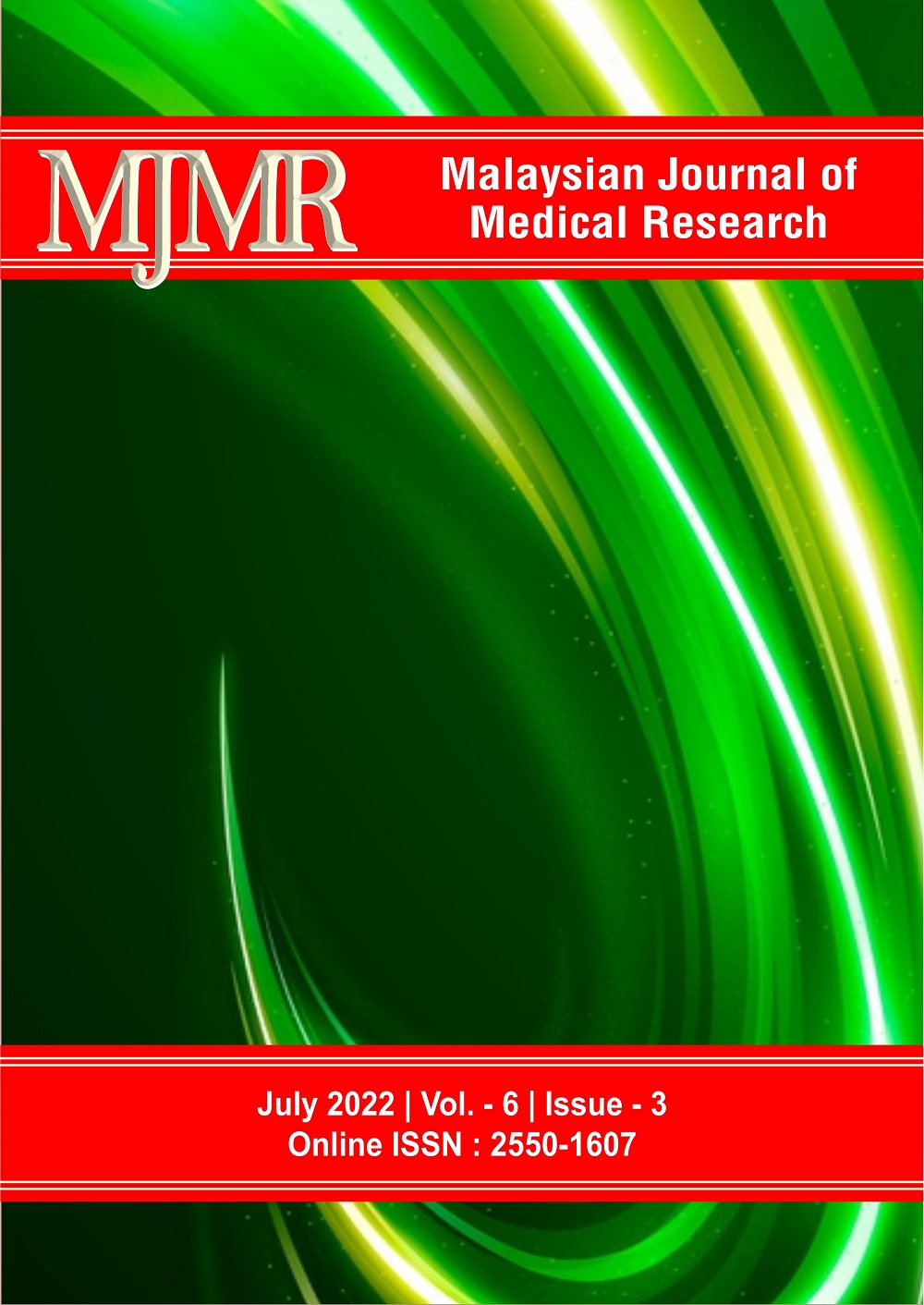 How to Cite
Ambarika, R. ., & Anggraini, N. A. . (2022). Golden Period in Terms of Knowledge Family of Early Detection of Stroke for Stroke Patients in Installation of Emergency . Malaysian Journal of Medical Research (MJMR), 6(3). Retrieved from https://ejournal.lucp.net/index.php/mjmr/article/view/1768
Section
Original Articles
License
Copyright (c) 2022 Malaysian Journal of Medical Research (MJMR)
This work is licensed under a Creative Commons Attribution-NonCommercial-NoDerivatives 4.0 International License.