INCREASING KNOWLEDGE OF HEALTH CADRES THROUGH TRAINING ON HOW TO CHOOSE CONTRACEPTION METHODS IN SOREANG DISTRICT
Abstract
The COVID-19 pandemic has had a major impact on health aspects, especially contraceptive services. This condition has resulted in a surge in baby births due to the increasing drop out rate in the use of contraceptives, limited public access to health facilities, the assumption that couples of childbearing age delay visiting health facilities to get family planning services due to fear of infection. Regarding the existing problems, it is very necessary to have an educational approach regarding contraception and cadres who are the closest people to the community.
This study used a quasi-experimental one group pretest-posttest design. The sample of this study used cluster sampling, there were 125 respondents. Analysis of the data using a different test t test. Calculation of data using SPSS. The results showed that the characteristics of cadres were in the age group, the majority of cadres were in the age group of 35-50 years (64.3%). Based on the length of time being a cadre, most are in the range of 1-3 years and more than 3 years have the same percentage (49.2%). There is a significant effect between the training of cadres on contraceptive methods in increasing the knowledge of health cadres.
Keywords:
Knowledge, Cadre, Contraception
Downloads
Download data is not yet available.
References
Armini N.K.A., Triharini M., Nastiti A.A. (2020) Empowerment Of Posyandu Cadres In Promotion Of Family Planning And Contraception Jurnal Layanan Masyarakat; Journal of Public Service, 4(1):109-115
Bandung City Health Office (2020). Bandung City Health Profile In.
Hardiyanti, R. , Jus'at, I., Angkasa, D. (2019) Hubungan Lama Kerja Menjadi Kader, Pengetahuan, Pendidikan, Pelatihan Dengan Presisi Dan Akurasi Hasil Penimbangan Berat Badan Balita Oleh Kader Posyandu. Jurnal Action: Aceh Nutrition Journal, 3(1): 74-81
Hartanto, H. (2020) Keluarga Berencana Dan Kontrasepsi. Jakarta: Pustaka Sinar Harapan.
Hatijar, H., Saleh, I.S. (2018) Relationship between Knowledge and Mother's Attitudes Toward Choice of Intrauterine Contraception Method. urnal Ilmiah Kesehatan Sandi Husada, 9(2), 1070-1074.
Indonesian Ministry Of Health. Indonesia Health Basic Research Results (Riskesdas) In (2020). Jakarta: Indonesian Ministry Of Health's Health Research And Development Agency.
Iswari (2019) Influencing Factors Of Family Planning Cadre Capability In Order To Increase Pasmupar Accessibility On Contraception Service In Surabaya, City. Jurnal Cakrawala, 8(1):50-61
Nabila, D.T., Nur, D. & Nindya, A. (2021) Husband's Support and Unmet Needs Family Planning in Women of Fertile Age Couples (WFAC). Bikfokes: Tahun 1(2).
Notoadmmodjo, S (2019). Metode Penelitian Kesehatan. Jakarta: Rineka Cipta.
Nugraha, A., Sukmawati, S. & Herliani YK. (2020) Anemia Prevention In Pregnant Women. Padjadjaran University.Bandung. : Journal of Maternity Care Reproductive Health: 3(1), 11-21.
Sari, S. D. (2019). Kehamilan, Persalinan, Bayi Preterm & Postterm disertai Evidence Based. Noerfikri.
Suryanti, Y. (2019) Faktor - Faktor Yang Berhubungan Dengan Penggunaan Metode Kontrasepsi Jangka Panjang Wanita Usia Subur.Jambura Journal of Health Sciences and Research. 1(1).
WHO (2020) World Health Statistics 2020.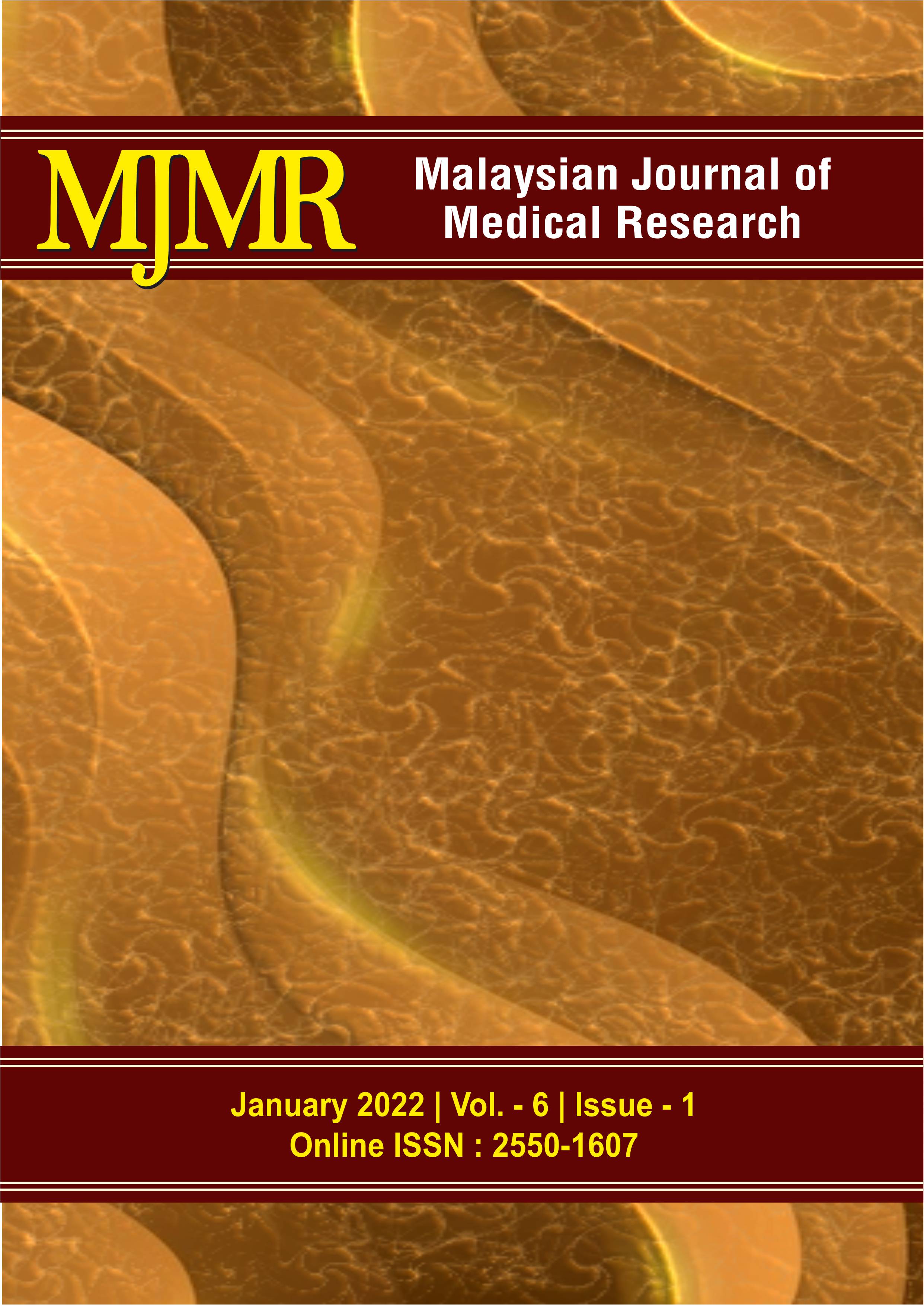 How to Cite
Merry Wijaya, Fardila Elba, Atriany Nilam Sari, Dany Hilmanto, & Sandeep Poddar. (2022). INCREASING KNOWLEDGE OF HEALTH CADRES THROUGH TRAINING ON HOW TO CHOOSE CONTRACEPTION METHODS IN SOREANG DISTRICT. Malaysian Journal of Medical Research (MJMR), 6(1), 1-4. https://doi.org/10.31674/mjmr.2022.v06i01.001
License
Copyright (c) 2022 Malaysian Journal of Medical Research (MJMR)
This work is licensed under a Creative Commons Attribution-NonCommercial-NoDerivatives 4.0 International License.