Seizure as Initial Presentation of HIV: A Case Report of Cerebral Toxoplasmosis
Abstract
This paper reports a case of a previously healthy patient who presented with a generalised tonic-clonic seizure due to cerebral edema. Investigations revealed he had human Deficiency Virus (HIV) with cerebral toxoplasmosis and was co-infected with Hepatitis C. He was immediately placed on a toxoplasmosis treatment regime which, 4 weeks later, showed improvement in his clinical condition and computed tomography (CT) brain imaging. He was then put on antiretroviral therapy (ART). This case describes the management of a patient with newly diagnosed HIV with opportunistic and co-infections.
Keywords:
Cerebral toxoplasmosis, HIV, Hepatitis C, Antiretroviral Therapy
Downloads
Download data is not yet available.
References
Bosamiya, S. S. (2011). The immune reconstitution inflammatory syndrome. Indian Journal of Dermatology, 56(5), 476. https://doi.org/10.4103/0019-5154.87114
Crabtree-Ramírez, B., Caro-Vega, Y., Shepherd, B. E., Grinsztejn, B., Wolff, M., Cortes, C. P., ... & Caribbean, Central and South America Network for HIV Epidemiology (CCASAnet), of the International Epidemiologic Databases to Evaluate AIDS (IeDEA) Program. (2016). Time to HAART initiation after diagnosis and treatment of opportunistic infections in patients with AIDS in Latin America. PLoS One, 11(6), e0153921. https://doi.org/10.1371/journal.pone.0153921
Guidelines for prevention and treatment of opportunistic infections in HIV-infected adults and adolescents: recommendations from CDC, the National Institutes of Health, and the HIV Medicine Association of the Infectious Diseases Society of America. MMWR. Recommendations and reports : Morbidity and Mortality Weekly Report. Recommendations and Reports, 58(RR-4), 1–CE4.
Koziel, M. J., & Peters, M. G. (2007). Viral hepatitis in HIV infection. New England Journal of Medicine, 356(14), 1445-1454.https://doi.org/10.1056/NEJMra065142
Rajesh T Gandhi, M. (2019). Toxoplasmosis in HIV-Infected Patients. 1–23.
Sax, P. E. (2020). When to initiate antiretroviral therapy in persons with HIV. UpToDate, 1–18.
Zolopa, A. R., Andersen, J., Komarow, L., Sanne, I., Sanchez, A., Hogg, E., ... & ACTG A5164 Study Team. (2009). Early antiretroviral therapy reduces AIDS progression/death in individuals with acute opportunistic infections: a multicenter randomized strategy trial. PloS One, 4(5), e5575. https://doi.org/https://doi.org/10.1371/journal.pone.0005575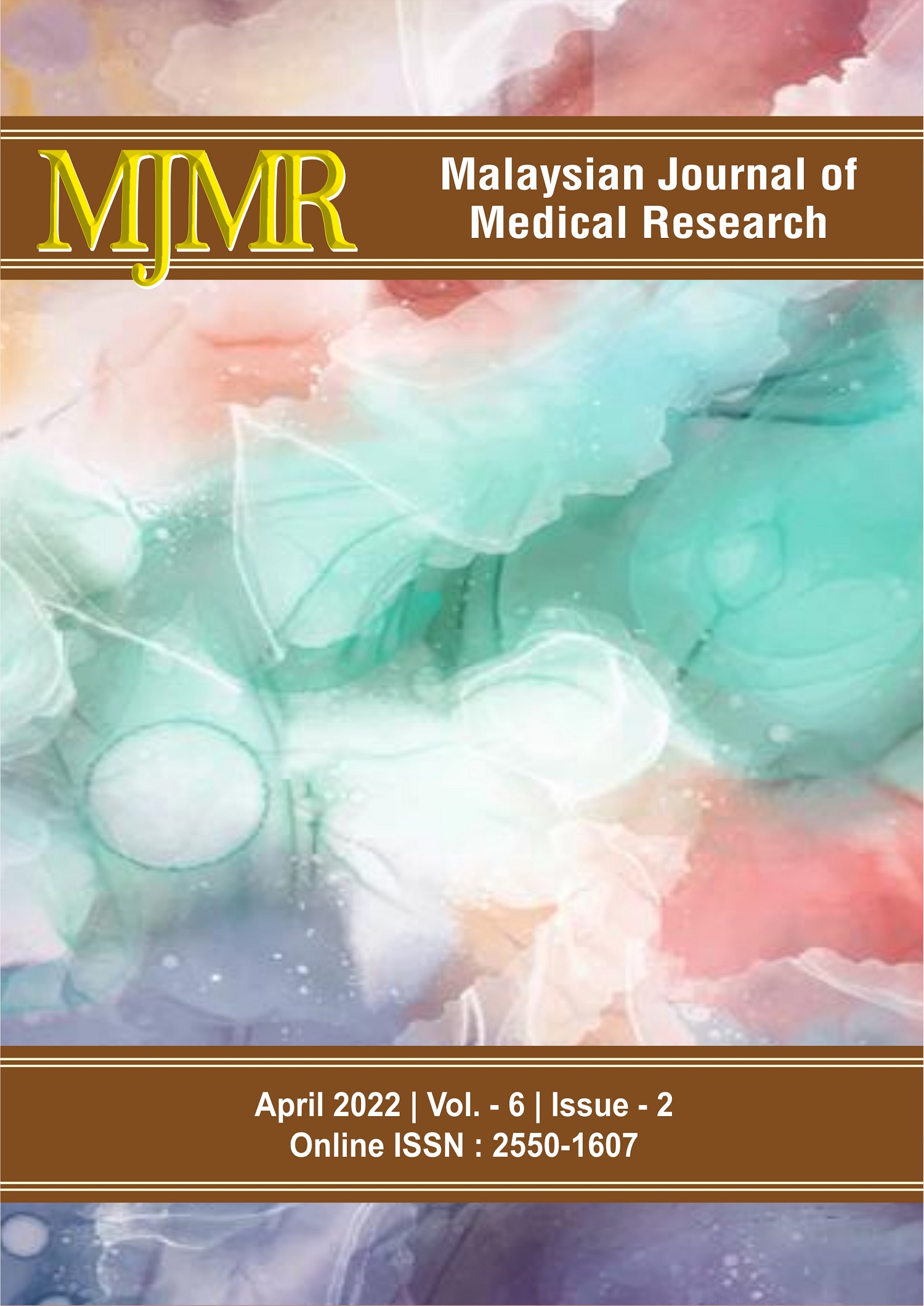 How to Cite
Siti Ruziana Roslan, & Azwanis Abdul Hadi. (2022). Seizure as Initial Presentation of HIV: A Case Report of Cerebral Toxoplasmosis. Malaysian Journal of Medical Research (MJMR), 6(2), 1-5. https://doi.org/10.31674/mjmr.2022.v06i02.001
License
Copyright (c) 2022 Malaysian Journal of Medical Research (MJMR)
This work is licensed under a Creative Commons Attribution-NonCommercial-NoDerivatives 4.0 International License.