The Relationship between Functional Status and Social, Emotional and Family Loneliness among Older Adults in Pontian
Abstract
Life at mature age is perceived to be very challenging and mostly influenced by the ageing process and negative changes that increase the risk of functional abilities. The most enormous thing to achieve is to live independently with less help from others to achieve an optimum quality of life. Methods: This is a community-based cross-sectional survey conducted among 414 community-dwelling older adults in Pontian District aiming to identify the functional status and examine the relationship between functional status and three types of loneliness. The Pfeffer Functional Activities Questionnaire was used to measure the level of functional status. Loneliness was measured with the short form of the Social and Emotional Loneliness Scale for Adults. The Statistical Package for Social Science Ver.26 for Windows was used to analyse all of the data.The results of this study show that the mean (+SD) age is 71.4 (+2.0). The majority of respondents perceived good health status and no deterioration in functional status. 8.2% of respondents experienced deterioration in functional status. Of these, 32.6% of respondents experienced social loneliness, 39.9% experienced emotional loneliness, and 9.2% experienced family loneliness. The results also revealed a significant relationship between functional status and social loneliness (p = 0.02). In conclusion, the majority of respondents are independent enough to perform functional activities, and less than half of them have experienced social, emotional, or family loneliness. Social loneliness was linked to a decline in functional ability in older adults. This research could aid in the care of older adults who live independently and freely in the community.
Keywords:
Functional Status, Loneliness, Older Adults, Elderly
Downloads
Download data is not yet available.
References
Ajayi, S.A., Adebusoye, L.A., Ogunbode, A.M., Akinyemi, J.O. & Adebayo, A.M. (2015). Profile and correlates of functional status in elderly patients presenting at a primary care clinic in Nigeria. Africa Primary Health Care Family Medicine. 7(1): 810. https://doi.org/10.4102/phcfm.v7i1.810
Baptista, F. M., Rodrigues, A.M., Gregorio, M.J, de Sousa, R. Cruz. E. & Canhao H. (2018). Functional Status and Quality of Life Determinants of a Group of Elderly People with Food Insecurity. Frontier in Nutrition. Vol 5(99). https://doi.org/10.3389/fnut.2018.00099
Burman, J., Sembiah, S., Dasgupta, A., Paul, B., Pawar, N., & Roy, A. (2019). Assessment of poor functional status and its predictors among the elderly in a rural area of West Bengal. Journal Mid-life Health. 10(3):123-30. PMCID: PMC6767957. https://doi.org/10.4103/jmh.JMH_154_18
DiTommaso E. & Spinner, B. (1993. The development and initial validation of a measure of social and emotional loneliness (SELSA). Personality and Individual Differences (14):127-134. https://doi.org/10.1016/0191-8869(93)90182-3
Guo L., An L., Luo F.P & Yu B. (2020). Social isolation, loneliness and functional disability in Chinese older women and men: a longitudinal study. Age and Ageing. 1-7. https://doi.org/10.1093/ageing/afaa271
Hacihasanog˘lu, R. & Karakurt, P.A. (2011). Loneliness in elderly individuals, level of dependence in activities of daily living (ADL) and influential factors. Archives of Gerontology & Geriatric 54(1):61-66. https://doi.org/10.1016/j.archger.2011.03.011
Parra-Rizo, M.A. & Sanchis-Soler, G. (2020). Satisfaction with Life, Subjective Well-Being and Functional Skills in Active Older Adults Based on Their Level of Physical Activity Practice. International Journal Environmental Research Public Health. 17(4):1299. https://doi.org/10.3390/ijerph17041299
Perissinotto, CM., Stijacic, C. & Kenneth, E.C. (2012). Loneliness in Older Persons: A predictor of functional decline and death. Achieves of Internal Medicines. 172(14):1078-1084. https://doi.org/10.1001/archinternmed.2012.1993
Pfeffer, R.I., Kurosaki, T.T., Harrah, C.H. Jr., Chance, J.M., & Filos, S. (1982). Measurement of functional activities in older adults in the community. Journal of Gerontology. 37(3):323-329. https://doi.org/10.1093/geronj/37.3.323
Pinto, A.H., Lange, C., Pastore, C.A., Patricia Mirapalheta Pereira de Llano, Denise, Przylynski Castro & Fernanda, dos Santos. (2016). Functional capacity to perform activities of daily living among older persons living in rural areas registered in the Family Health Strategy. Cien Saude Colet. 21(11): 3545-55. https://doi.org/10.1590/1413-812320152111.22182015
Sharma, R. (2020). Functional Status, Social Support and Quality of Life as Determinants of Successful Aging. Gerontology & Geriatrics.
Singh, N., Kumar, S., Muzammil, K., Raghav, SK., & Singh, JV. (2014). Assessment of functional status in the elderly persons in the rural area of Punjab. Indian Journal of Community Health. 26 (1):25-9.
Stessman, J., Rottenberg, Y., Shimshilashvili, I., Ein-Mor, E., & Jacobs, JM. (2014). Loneliness, health, and longevity. Journal of Gerontology A Biol Sci Med Sci. 69: 744–50. https://doi.org/10.1093/gerona/glt147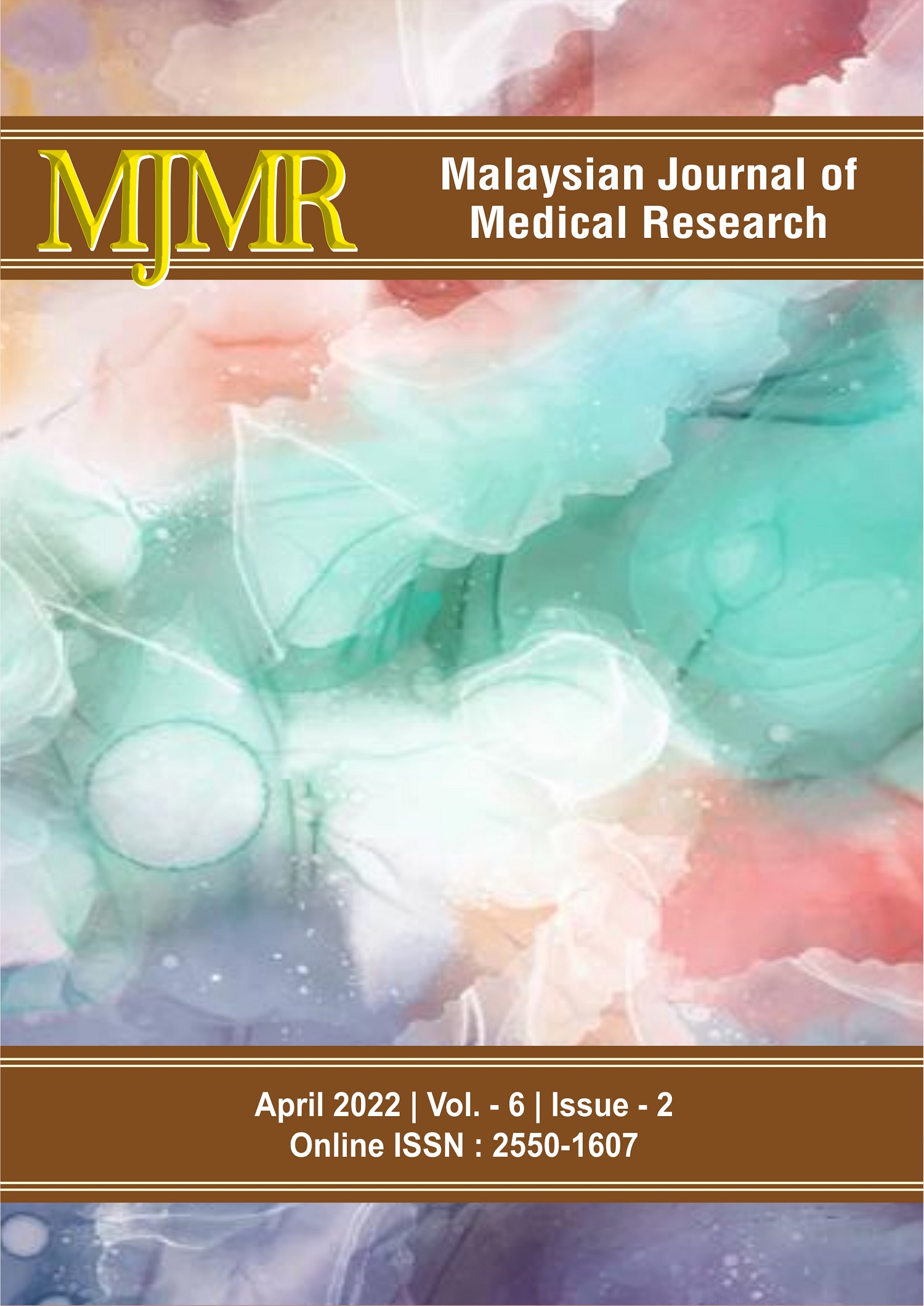 How to Cite
Siti Zuhaida Hussein, Norazilah Khalip, & Rosnita Hashim. (2022). The Relationship between Functional Status and Social, Emotional and Family Loneliness among Older Adults in Pontian. Malaysian Journal of Medical Research (MJMR), 6(2), 28-35. Retrieved from https://ejournal.lucp.net/index.php/mjmr/article/view/1551
License
Copyright (c) 2022 Malaysian Journal of Medical Research (MJMR)
This work is licensed under a Creative Commons Attribution-NonCommercial-NoDerivatives 4.0 International License.