A CASE REPORT: POSTPRANDIAL HYPOGLYCAEMIA IN INTERMITTENT FASTING DIET FOR TYPE 2 DIABETES MELLITUS PATIENT
Abstract
This report illustrates a case of a 60-year-old lady with type 2 diabetes mellitus who performs intermittent fasting (IF) diet, with the aim to lose her weight and indirectly reverse her diabetes mellitus, hypertension, and hyperlipidaemia. She managed to get the optimum blood pressure, lose 6 kg, and reduce her glycaemic control from 7.8% to 5.8% within 10 months period. However, she started to get episodes of symptomatic post prandial hypoglycaemia when she is about to achieve her target.
Keywords:
Post Prandial Hypoglycaemia, Diabetes Mellitus, Intermittent Fasting
Downloads
Download data is not yet available.
References
References
Ministry of Health Malaysia. National health and morbidity survey 2019: non-communicable diseases, healthcare demand and health literacy [Internet]. Vol. 1, Ministry of Health Malaysia. 2020. 1–392. Available from: http://www.iku.gov.my/nhms-2019
Cheng C, Villani V, Buono R, Wei M, Kumar S. Fasting-mimicking diet promotes Ngn3-driven β-cell regeneration to reverse diabetes. 2018;168(5):775–88.
Lichtash C, Fung J, Ostoich KC, Ramos M. Therapeutic use of intermittent fasting and ketogenic diet as an alternative treatment for type 2 diabetes in a normal weight woman: A 14-month case study. BMJ Case Reports. 2020;13(7).
Lean ME, Leslie WS, Barnes AC, Brosnahan N, Thom G, McCombie L, et al. Primary care-led weight management for remission of type 2 diabetes (DiRECT): an open-label, cluster-randomised trial. The Lancet [Internet]. 2018;391(10120):541–51. Available from: http://dx.doi.org/10.1016/S0140-6736(17)33102-1
Iii AGM, Leeuwenburgh C, Mattson MP. Flipping the Metabolic Switch: Understanding and Applying Health Benefits of Fasting. 2018;26(2):254–68.
Albosta M, Bakke J. Intermittent fasting : is there a role in the treatment of diabetes ? A review of the literature and guide for primary care physicians. 2021;1:1–12.
Finnell JS, Saul BC, Goldhamer AC, Myers TR. Is fasting safe? A chart review of adverse events during medically supervised, water-only fasting. BMC Complementary and Alternative Medicine. 2018;18(1):1–9.
Gerich JE. Is reduced first-phase insulin release the earliest detectable abnormality in individuals destined to develop type 2 diabetes? Diabetes. 2002;51(SUPPL.):117–21.
Lu CH, Teng SW, Wu CZ, Hsieh CH, Chang JB, Chen YL, et al. The roles of first phase, second phase insulin secretion, insulin resistance, and glucose effectiveness of having prediabetes in nonobese old Chinese women. Medicine (United States). 2020;99(12):1–6.
Nik Mohd Fakhruddin NNI, Shahar S, Abd Aziz, Nurul Atiqah Yahya HM, Rajikan R. Which Aging Group Prone to Have Inadequate Nutrient Intake ?: TUA Study. 2016;45(9):1381–91.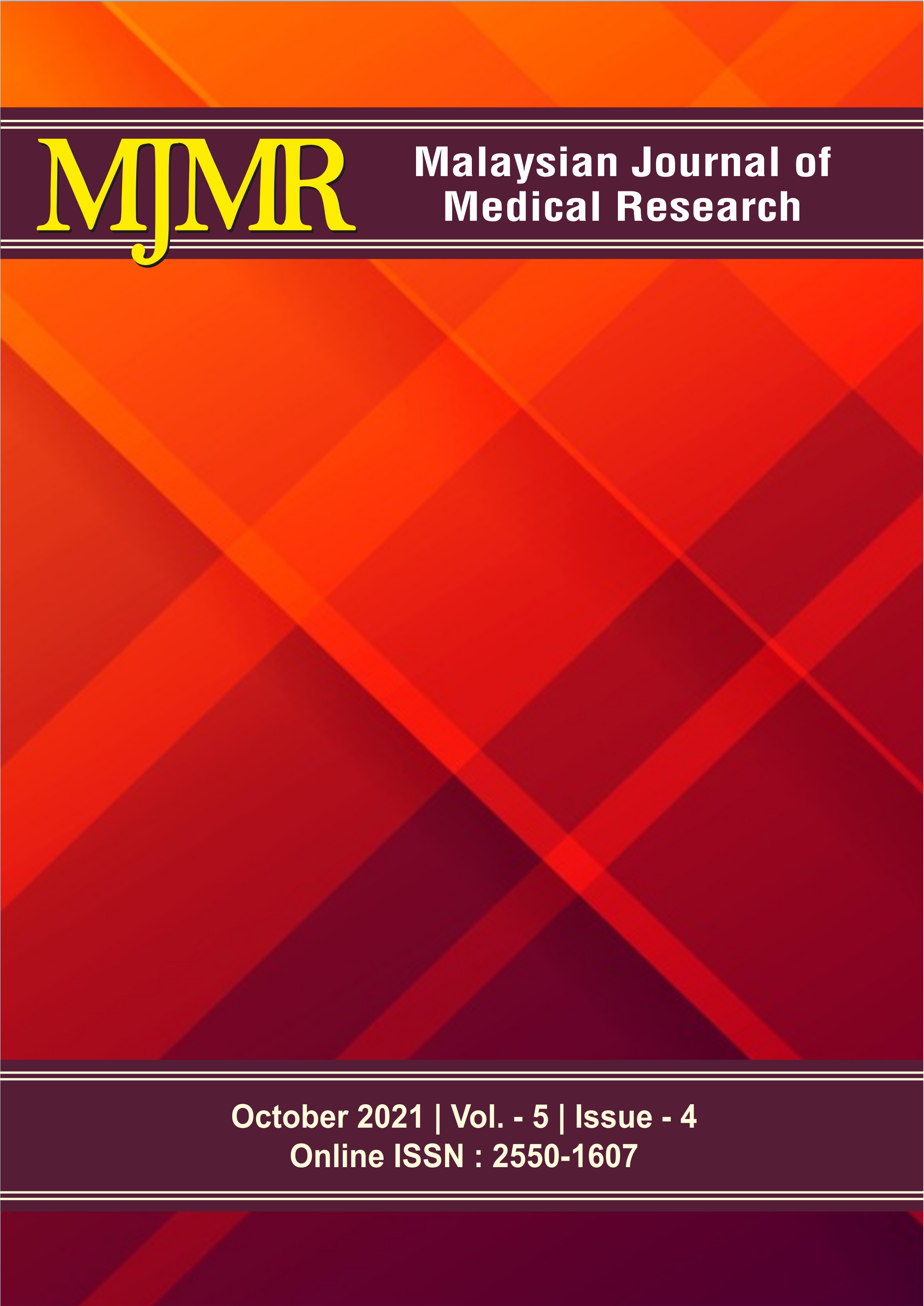 How to Cite
Zulkifli, S. A., & Md Aris, M. A. (2021). A CASE REPORT: POSTPRANDIAL HYPOGLYCAEMIA IN INTERMITTENT FASTING DIET FOR TYPE 2 DIABETES MELLITUS PATIENT. Malaysian Journal of Medical Research (MJMR), 5(4), 12-14. https://doi.org/10.31674/mjmr.2021.v05i04.003
License
Copyright (c) 2021 Malaysian Journal of Medical Research (MJMR)
This work is licensed under a Creative Commons Attribution-NonCommercial-NoDerivatives 4.0 International License.