EFFECT OF HERBAL THERAPY STEEPING SALAM LEAF TO DECREASE IN BLOOD GLUCOSE LEVELS IN ELDERLY PATIENTS WITH DIABETES MELLITUS IN THE VILLAGE OF SUKODONO SUBDISTRICT OF SIDOARJO CITY
Abstract
Introduction: Diabetes mellitus is a metabolic disease most often occurs in the elderly due to decreased function of the pancreas which produce insulin function. The number of elderly patients with DM in the village of Tell subdistrict of Sidoarjo regency Sukodono ignorance alternative ways to control blood sugar levels. The purpose of this study was to analyze the influence of herbal therapy steeping Salam leaves against a decrease in blood glucose levels in the elderly. Methods:This study design pre Experiment (One-group pre-post test design). Samples were taken using purposive sampling and obtained as many as 28 elderly Tell Rural District of Sukodono Sidoarjo. The independent variable is the herbal therapy steeping Salam leaves and the dependent variable is blood glucose levels in the elderly. Test Gluchose research instruments used for the measurement of blood sugar levels. Test data analysis using Paired T-test ρ ≤ 0.05. Results:The results showed that the steeping Salam leaves for lowering blood glucose levels in elderly people with diabetes mellitus is evidenced by the results of Test Paired t-test showed ρ = 0.000 before and after the treatment groups. Conclution:Seeing the results of this study can be concluded that the steeping Salam leaves containing astringent compounds can affect insulin sensitivity thereby stimulating the parasympathetic autonomic nerve stimulation and stimulate the release of insulin from the pancreas gland. Furthermore, the public are advised to be used as an alternative way to control blood sugar levels.
Keywords:
Salam Leaf Infusion, Blood Glucose Levels, Elderly, Diabetes Mellitu
Downloads
Download data is not yet available.
References
Adi, L.T. (2007). Terapi Herbal Berdasarkan Golongan Darah.Jakarta: AgroMedia Pustaka
Agency of Health Research and Development (Indonesia). Indonesia Basic Health Research 2018. Retrieved from: http://ghdx.healthdata.org/record/indonesia-basic-health-research-2018
American Diabetes Association (2021). No Matter Where you are in your Fight, Here's Where you Need to be. March 20. Retrieved from: https://www.diabetes.org/diabetes,
International Diabetes Federation (2020). What is Diabetes. March 26. Retrieved from: https://idf.org/aboutdiabetes/what-is-diabetes.html,
Maharani, S. (2010). Herbal sebagai obat bagi penderita penyakit mematikan. Yogyakarta: A+ PLUS BOOKS.
Matheka, D. M., & Alkizim, F. O. (2012). Complementary and alternative medicine for type 2 diabetes mellitus: Role of medicinal herbs. Journal of Diabetes and Endocrinology, 3(4), 44-56.DOI: 10.5897/ JDE12.008
Purwanto, B. (2013). Herbal Dan Keperawatan Komplementer (Teori, Praktik, Dalam Asuhan Keperawatan. Yogyakarta: Nuha Medika
Rahayu, E. O., Lestari, T., & Sayuti, N. A. (2016). Influence of Antidiabetic Herbal Medicine to a Decrease Blood Glucose Levels of Diabetes Mellitus Patients at The 'Hortus Medicus' Scientification of Jamu Clinic Tawangmangu, Karanganyar. Indonesian Journal of Clinical Pharmacy Volume, 5(1).
Rochmah, W. (2006). Textbook of Internal Medicine. 4th edition. Volume I . Jakarta.
Suharmiati, S., & Roosihermiatie, B. (2012). Studi Pemanfaatan dan Keamanan Kombinasi Metformin dengan Ekstrak Campuran Andrographis Paniculatadan Syzygium Polyanthum untuk Pengobatan Diabetes Mellitus (Preliminary Study). Buletin Penelitian Sistem Kesehatan, 15(2), 21334.
Susilo, Y., & Wulandari, A. (2011). The right way to overcome hypertension. Yogyakarta: Andi Publisher.
Widowati, W. (2018). Antioxidant and Antidiabetic Potential of Curcuma Longa and Its Compounds. une 30. Retrieved from: https://www.researchgate.net/publication/326413812_Antioxidant_and_antidiabetic_potential_of_Curcuma_longa_and_its_compounds
World Health Organization (2021). Diabetes. March 23. Retrieved from: https://www.who.int/health-topics/diabetes#tab=tab_1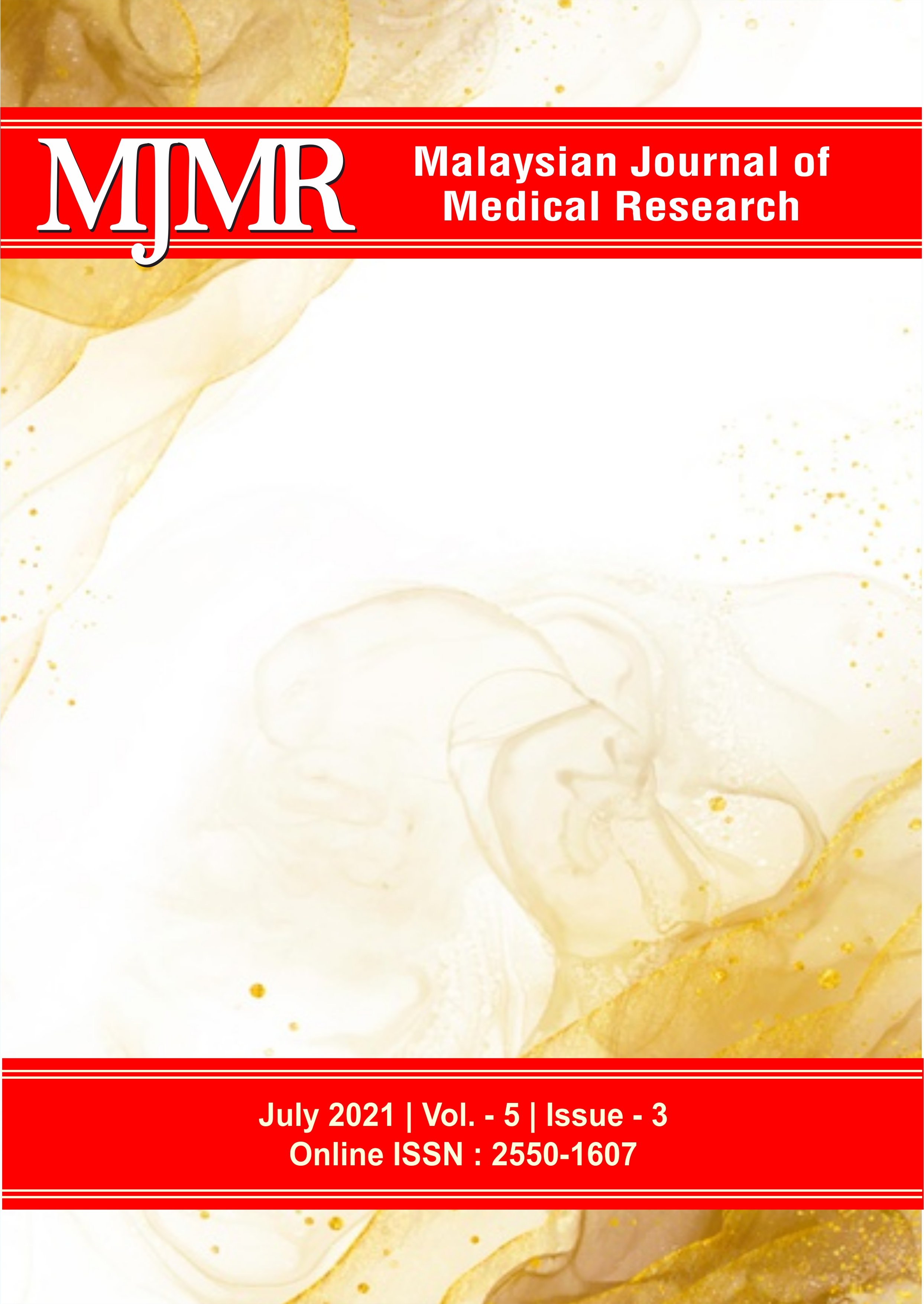 How to Cite
Hidayatus Sya'diyah, Dya Sustrami, Yoga Kertapati, & Novi Sari Anggraini. (2021). EFFECT OF HERBAL THERAPY STEEPING SALAM LEAF TO DECREASE IN BLOOD GLUCOSE LEVELS IN ELDERLY PATIENTS WITH DIABETES MELLITUS IN THE VILLAGE OF SUKODONO SUBDISTRICT OF SIDOARJO CITY . Malaysian Journal of Medical Research (MJMR), 5(3), 34-38. https://doi.org/10.31674/mjmr.2021.v05i03.006
License
Copyright (c) 2021 Malaysian Journal of Medical Research (MJMR)
This work is licensed under a Creative Commons Attribution-NonCommercial-NoDerivatives 4.0 International License.