REDUCING ANXIETY LEVELS THROUGH INTEGRATIVE INTERVENTION OF FIVE-FINGER HYPNOSIS AND AROMATHERAPY
Abstract
Anxiety is the most common mental disorder, around 3.6% of the population. Effective care and treatment for anxiety disorders are needed. This is done so that individuals who experience these disorders can return to being productive in meeting their life needs and do not depend on other people. Currently, client management is not only given psychopharmaceutical treatment but also with a psychotherapy approach. 
This study aims to determine the integrative effect of five-finger hypnosis and aromatherapy on the level of anxiety of patients at the Mental Polyclinic of dr. Soekardjo City of Tasikmalaya. The method used is research quantitative with research quasi-experimental design pre-test and post-test with control design. Bivariate analysis on the variables before and after the intervention using paired t-test, and independent t-test to see the comparison of anxiety scores after intervention in the control group and the intervention group.
The results showed 60 respondents, 30 control group respondents received Five Finger Hypnosis treatment for 4 times a week for 3 weeks, while 30 people in the intervention group received a combination of Five Finger Hypnosis and Aromatherapy for 4 times a week for 3 weeks. Before and after the intervention was carried out, the level of anxiety was measured using the Hamilton Anxiety Rating Scale (HARS). The analysis showed that there was a difference in the average score of anxiety before and after the intervention in the intervention group. Further analysis found that there was a significant difference in the average score of anxiety after the intervention between the control group and the intervention group. therapy Five finger hypnosis and aromatherapy should be used as an independent nursing intervention in dealing with anxiety problems.
Keywords:
Five Finger Hypnosis, Aroma Therapy, Anxiety
Downloads
Download data is not yet available.
References
Agency of Health Research and Development (Indonesia). (2013). Indonesia Basic Health Research 2013.
Agustin, I. M., Sumarsih, T., & Nugroho, I. (2019). Psikoterapi Individu sebagai Mediasi Ansietas pada Kegawatan Kasus Psikososial Pasien Acute Coronary Syndrome. Jurnal Keperawatan Jiwa. 7(3), pp : 311-316.
Astuti, A. D. (2017). Pengaruh Hipnosis Lima Jari Terhadap Tingkat Kecemasan Lansia dengan Hipertensi di Wilayah Kerja Puskesmas Sempor 1 Kabupaten Kebumen (Doctoral dissertation, STIKES MUHAMMADIYAH GOMBONG).
Cahyati, Y., Rosdiana, I., Elengoe, A., & Podder, S. (2020). Effect of Benson Relaxation and Aromatherapy on Blood Glucose Levels in Patients With Type II Diabetes Mellitus.
Chien, L. W., Cheng, S. L., & Liu, C. F. (2012). The effect of lavender aromatherapy on autonomic nervous system in midlife women with insomnia. Evidence-based Complementary and Alternative Medicine, 2012.
Fitriani, D., Pratiwi, R. D., Cahyaningtyas, P., & Poddar, S. (2020). Effect of classical music on blood pressure in elderly with hypertension in bina bhakti werdha elderly nursing home, Indonesia. Blood pressure, 1, 2.
Hakim, A. (2010). Hipnoterapi: Cara Tepat & Cepat Mengarasi Stres, Fobia, Trauma, dan Gangguan Mental Lainnya. VisiMedia.
Hartono, D., Somantri, I., & Februanti, S. (2019). Hipnosis Lima Jari dengan Pendekatan Spiritual Menurunkan Insomnia pada Lansia. Jurnal Kesehatan, 10(2), 187-192.
Hasmira, H., Keliat, B. A., & Hargiana, G. (2020). Application of Family Psychoeducation to Client Psychosocial Disorder Anxiety and Body Image Due. Jurnal Keperawatan Jiwa. 8(4), pp : 485–490.
Karadag, E., Samancioglu, S., Ozden, D., & Bakir, E. (2017). Effects of aromatherapy on sleep quality and anxiety of patients. Nursing in Critical Care, 22(2), 105-112.
Kristanti, E. E. (2010). Pengaruh aromaterapi lavender terhadap penurunan derajat kecemasan pada lansia di Panti Wredha St. Yoseph Kediri. Jurnal Penelitian STIKES Kediri, 3(2), 94-100.
Loriana, R. (2017). Keefektifitasan Teknik Relaksasi Hipnotik Diri Sendiri Dengan Latihan Lima Jari Terhadap Penurunan Tingkat Kecemasan Pada Klien Pre Operatif Apendektomi di Ruang Cempaka RSUD AW Sjahranie Samarinda. Husada Mahakam: Jurnal Kesehatan, 2(1), 23-33.
Marbun, A., Pardede, J. A., & Perkasa, S. I. (2019). Efektivitas Terapi Hipnotis Lima Jari terhadap Kecemasan Ibu Pre Partum di Klinik Chelsea Husada Tanjung Beringin Kabupaten Serdang Bedagai. Jurnal Keperawatan Priority, 2(2), 92-99.
Noorkasiani, B. D. (2014). Efektivitas Terapi Hipnosis Lima Jari untuk Menurunkan Tingkat Ansietas Pasien Hipertensi. Poltekkes Kemenkes Jakarta III.
Öztürk, A. B., Özenlı, Y., Öztürk, S. B., Önel, S., Söker, G., & Seydaoglu, G. (2015). The effect of psychoeducation on anxiety and pain in patients with mastalgia. Nordic Journal of Psychiatry, 69(5), 380-385.
Pardede, J. A., Sitepu, S. F. A., & Saragih, M. (2018). Pengaruh Teknik Relaksasi Nafas Dalam dengan Terapi Hipnotis Lima Jari Terhadap Kecemasan Pre Operatif. Jurnal Kesehatan Jiwa, 1(10).
Pratiwi, A. (2020). Pengaruh Hipnosis Lima Jari terhadap Tingkat Kecemasan Pasien Pre Operasi di Ruang Perawatan Bedah RSUD Pakuhaji. Jurnal Health Sains, 1(5), 320-330.
Saswati, N., Sutinah, S., & Dasuki, D. (2020). Pengaruh Penerapan Hipnosis Lima Jari untuk Penurunan Kecemasanpada Klien Diabetes Melitus. Jurnal Endurance: Kajian Ilmiah Problema Kesehatan, 5(1), 136-143.
Smeltzer, S. C., Bare, B. G., & Hinkle, J. L. (2010). Brunner & Suddarth's Textbook of medical-surgical nursing. 11 th.edition. Lippincott William & Wilkins, Philadelphia.
Subandiyo, S. (2014). Pengaruh Pijat Tengkuk Dan Hipnotis Terhadap Penurunan Tekanan Darah Pada Pasien Hipertensi. Soedirman Journal of Nursing, 9(3), 205-209.
Surya, M., Zuriati, Z., & Poddar, S. (2020). Nursing aromatherapy using lavender with rose essence oil for post-surgery pain management. Enfermería Clínica, 30, 171-174. https://doi.org/10.1016/j.enfcli.2020.02.001
Udawiyah, R., Ariani, N. K. P., & Lesmana, C. B. J. (2019). Prevalensi kecemasan pada caregiver pasien kanker di RSUP Sanglah Periode Januari 2019. Medicina, 50(3), 470-473.
Zakiyah, Z. (2014). Pengaruh dan Efektifitas Cognitive Behavioral Therapy (Cbt) Berbasis Komputer terhadap Klien Cemas dan Depresi. E-Journal Widya Kesehatan dan Lingkungan. 1(1), p. 368.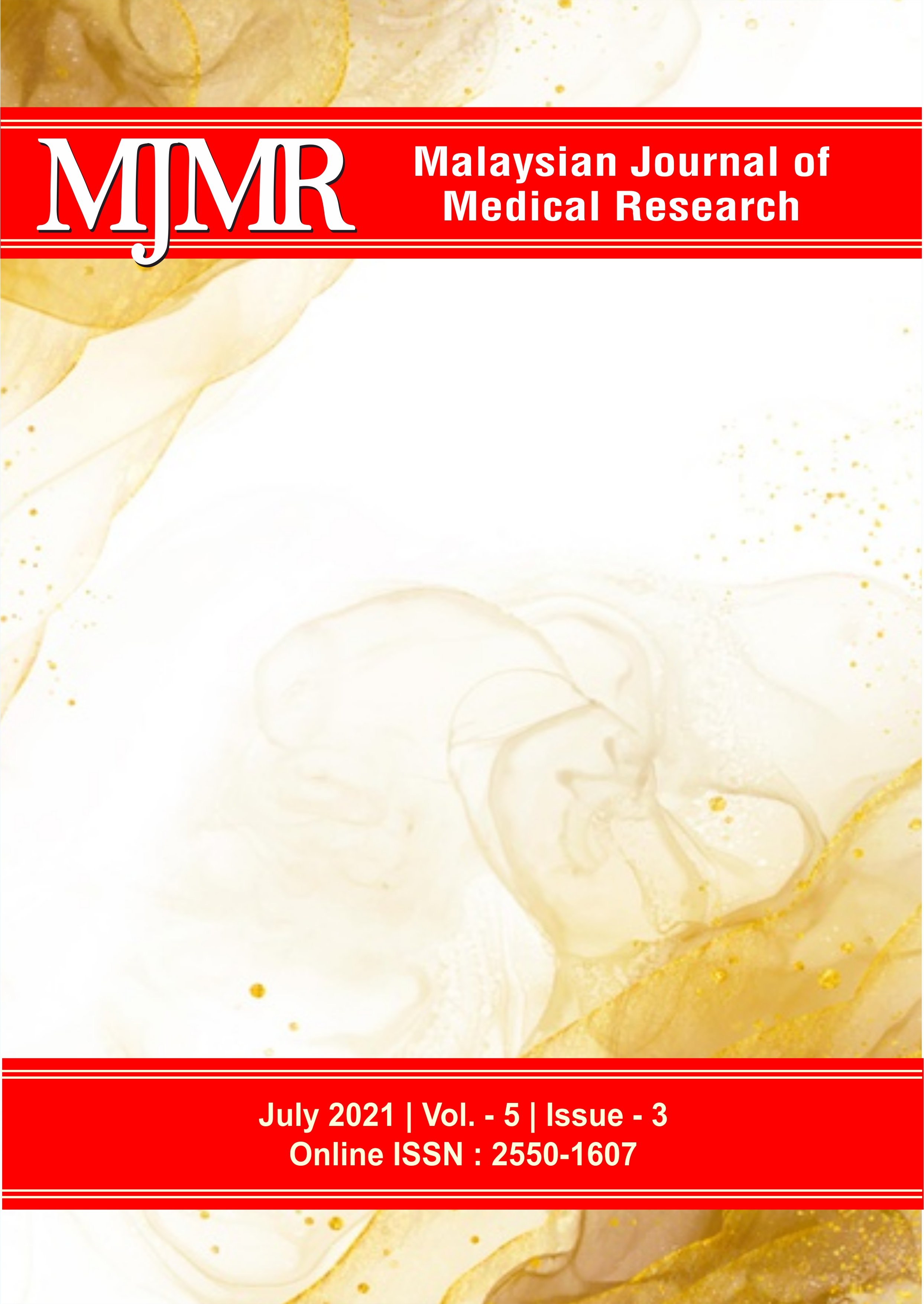 How to Cite
Dudi Hartono, Unang Arifin Hidayat, Yanti Cahyati, & Sandeep Poddar. (2021). REDUCING ANXIETY LEVELS THROUGH INTEGRATIVE INTERVENTION OF FIVE-FINGER HYPNOSIS AND AROMATHERAPY . Malaysian Journal of Medical Research (MJMR), 5(3), 5-10. https://doi.org/10.31674/mjmr.2021.v05i03.002
License
Copyright (c) 2021 Malaysian Journal of Medical Research (MJMR)
This work is licensed under a Creative Commons Attribution-NonCommercial-NoDerivatives 4.0 International License.