A CASE REPORT: PRENATAL DIAGNOSIS OF FETAL CARDIAC RHABDOMYOMA
Abstract
Fetal cardiac rhabdomyoma is a rare disease, and most of the cases are detected incidentally during the antenatal ultrasound. This is a case discovered during antenatal ultrasonography at 29 weeks of gestation. Multiple hyperechoic round shape masses were seen in the cardiac. After birth, the baby had been under a paediatric cardiologist follow-up with regular echocardiography. Management was mainly conservative at the time being as there was no sign of obstruction.
Keywords:
Cardiac Rhabdomyoma, Prenatal Diagnosis, Fetal Echocardiography
Downloads
Download data is not yet available.
References
Bassirou, B. M., Mohamed, L., Fatou, A., Alassane, N.A., Abdoulaye, C., Yaya, B.E., Djibri, B., Dela, D.S.,& Bara, D.I. (2020) 'Infant Cardiac Rhabdomyoma : About a Case', Journal of Clinical and Experimental Cardiology, 11(5).
Bejiqi, R., Retkoceri, R., & Bejiqi, H. (2017). Prenatally diagnosis and outcome of fetuses with cardiac rhabdomyoma–single centre experience. Open Access Macedonian Journal of Medical Sciences, 5(2), 193.
Chao, A. S., Chao, A., Wang, T. H., Chang, Y. C., Chang, Y. L., Hsieh, C. C., ... & Su, W. J. (2008). Outcome of antenatally diagnosed cardiac rhabdomyoma: case series and a meta‐analysis. Ultrasound in Obstetrics and Gynecology: The Official Journal of the International Society of Ultrasound in Obstetrics and Gynecology, 31(3), 289-295.
Ekmekci, E., Ozkan, B. O., Yildiz, M. S., & Kocakaya, B. (2018). Prenatal diagnosis of fetal cardiac rhabdomyoma associated with tuberous sclerosis: a case report. Case Reports in Women's Health, 19, e00070.
Suwardewa, T. G. A., Negara, I. K. S., Kusuma, A. J., Wiradnyana, A. A. P., Surya, R. M., & Tunas, I. K. (2016). Fetal cardiac rhabdomyoma: a case report. BALI MEDICAL JOURNAL, 5(3), 200-203.
Yuan, S. M. (2017). Fetal primary cardiac tumors during perinatal period. Pediatrics and Neonatology, 58(3), 205–210.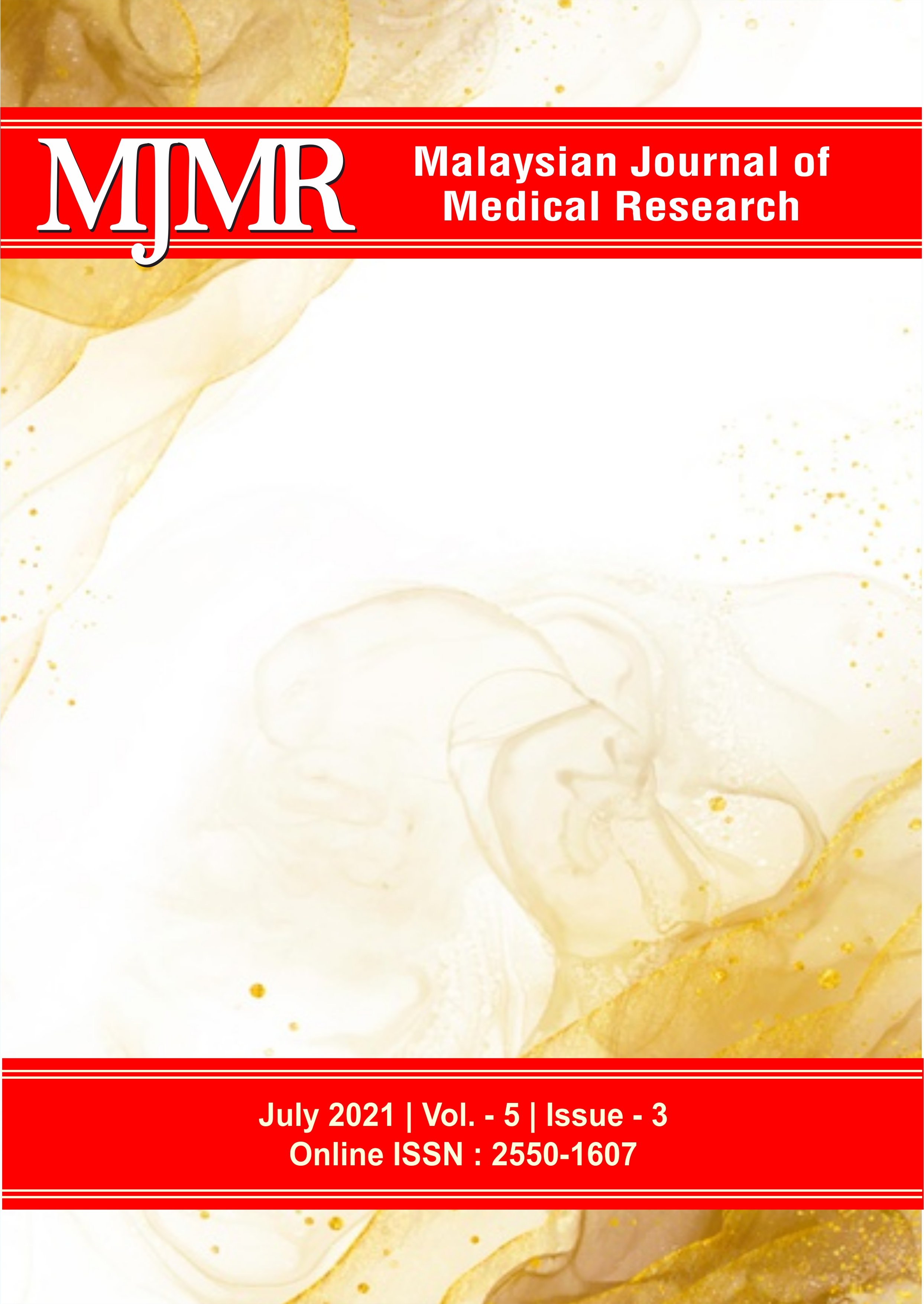 How to Cite
Tan Kui Foung, Mohd Aznan Md. Aris, & Norhayaty Sharman Khamis@Roslee. (2021). A CASE REPORT: PRENATAL DIAGNOSIS OF FETAL CARDIAC RHABDOMYOMA. Malaysian Journal of Medical Research (MJMR), 5(3), 1-4. https://doi.org/10.31674/mjmr.2021.v05i03.001
License
Copyright (c) 2021 Malaysian Journal of Medical Research (MJMR)
This work is licensed under a Creative Commons Attribution-NonCommercial-NoDerivatives 4.0 International License.