STRUCTURED ASSESSMENT, EVALUATION AND MONITORING PARAMETERS: CRITICAL CORRELATES TO THE PERCEIVED EFFECTIVENESS OF SCHOOL-BASED DEWORMING PROGRAMS
Abstract
Background: Soil-transmitted helminths are the most common cause of childhood parasitic infection particularly in developing countries. Government efforts are geared towards addressing this health concern especially among school-aged children who are most vulnerable to intestinal infections secondary to environmental exposure from play and recreation. This study examines the determinants of effectiveness of the national deworming program initiated by the Department of Health in Marawi City, Philippines.
Methods: The study used descriptive-correlational research design involving 50 parents/guardians of children who were recipients of the national deworming program. Validity and reliability-tested questionnaires were used as instrument. The data obtained was analyzed using frequency and percentage distribution, weighted mean and Chi-square correlation technique.
Results: When tested at 0.05 level of significance, the chi-square values obtained were (=108.494) and (=42.957) at p-value=0.000, revealing that assessment, evaluation and monitoring of the recipients before and after deworming interventions have a significant association to the perceived effectiveness of the program.
Conclusion: The present national school deworming drive can be improved further by creating clear-cut protocols and procedures to assess parameters that would measure assessment findings, evaluation and monitoring of children vis-à-vis effects of anti-helminthic drugs taken.
Keywords:
Assessment, Evaluation and Monitoring, School-based Deworming Program, Philippines
Downloads
Download data is not yet available.
References
Bethony, J., Brooker, S., Albonico, M., Geiger, S.M., Loukas, A., Diemert, D. & Hotez, P.J. (2006). Soil-transmitted helminth infections: ascariasis, trichuriasis, and hookworm. The Lancet, 367(9521), pp.1521-1532.
Cairncross, S. & Valdmanis, V.(2006). 'Disease Control in Developing Countries: Chapter 41 Water Supply, Sanitation and Hygiene Promotion', Disease Control in Developing Countries.
Department of Health (2018).Conducts National Deworming Month to Reinforce Prevention and Control of Soil-transmitted Helminths. Retrieved from: https://www.doh.gov.ph/node/10545 on February 12, 2019
Department of Health (2012). National Objectives for Health 2011 - 2016, Health Sector Reform Agenda Monograph No. 12.
Gadsden, V. L., Ford, M. & Breiner, H.(2016). Parenting matters: Supporting parents of children ages 0-8, Parenting Matters: Supporting Parents of Children Ages 0-8. doi: 10.17226/21868.
Hall, A., Hewitt, G., Tuffrey, V. & De Silva, N. (2008). A review and meta‐analysis of the impact of intestinal worms on child growth and nutrition. Maternal & Child Nutrition, 4, pp.118-236.
Ministry of Health (2016). Bangsamoro Autonomous Region in Muslim Mindanao Retrieved from: https://armm.doh.gov.ph/index.php/en/2-uncategorised/181-armm-deworms-thousands-of-school-children on February 24, 2019
Olds, G. R. (2013). 'Deworming the world.', Transactions of the American Clinical and Climatological Association.
Savioli, L., Albonico, M., Engels, D. & Montresor, A. (2004). Progress in the prevention and control of schistosomiasis and soil-transmitted helminthiasis. Parasitology International, 53(2), 103-113.
Sianesi, B. & Van Reenen, J.(2003). 'The returns to education: Macroeconomics', Journal of Economic Surveys. doi: 10.1111/1467-6419.00192.
Taylor‐Robinson, D. C., Maayan, N., Soares‐Weiser, K., Donegan, S. & Garner, P. (2012). Deworming drugs for soil‐transmitted intestinal worms in children: effects on nutritional indicators, haemoglobin and school performance. Cochrane Database of Systematic Reviews, (11).
World Health Organization. (2005). Strategy Development and Monitoring for Parasitic Diseases and Vector Control Team 'Deworming : the Millennium Development Goals', Geneva, Switzerland.
World Health Organization. (2012) .Helminth control in school-age children - Second Edition, World Health Organization.
World Health Organization (2012). 'Research priorities for helminth infections: technical report of the TDR disease reference group on helminth infections', World Health Organization Technical Report Series. doi: 10.1016/B0-12-386860-2/00348-8.
World Health Organization & World Bank (2003). 'WHO-World Bank Joint Statement: School Deworming at a glance', Tropical Medicine.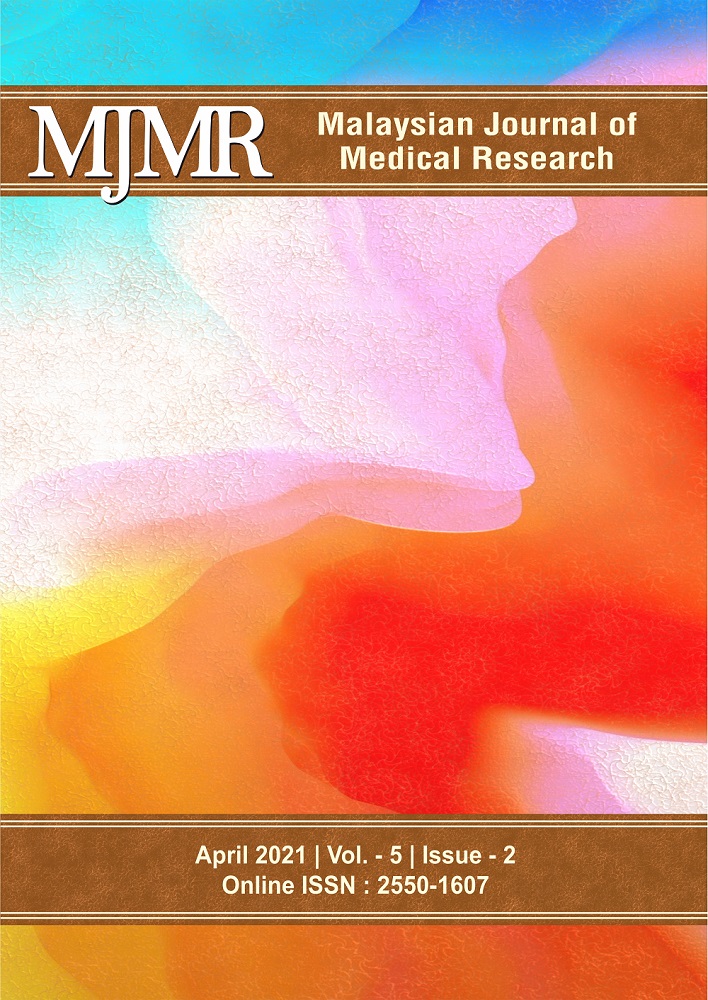 How to Cite
Randy Ian F. Gallego, & Amalhyatt M. Abdullah. (2021). STRUCTURED ASSESSMENT, EVALUATION AND MONITORING PARAMETERS: CRITICAL CORRELATES TO THE PERCEIVED EFFECTIVENESS OF SCHOOL-BASED DEWORMING PROGRAMS. Malaysian Journal of Medical Research (MJMR), 5(2), 22-28. https://doi.org/10.31674/mjmr.2021.v05i02.005
License
Copyright (c) 2021 Malaysian Journal of Medical Research (MJMR)
This work is licensed under a Creative Commons Attribution-NonCommercial-NoDerivatives 4.0 International License.