CORRECT HAND PALPATION –A PROVEN CASE TO DETECT MALIGNANCY
Abstract
Gastric tumour if large enough can be suspected from proper abdominal examination. It can easily be missed if the doctor did not perform correct examination technique. A 59-year-old man, no known illness presented with isolated symptoms of abdominal pain for three weeks. He had sought attention to two primary care clinics and was reassured to have dyspepsia. However, his symptoms did not resolve. In line with WHO approach in primary care, we proceed with thorough clinical examination. Despite subacute presentation of less than one week, surprisingly there is a palpable mass at his epigastric area with irregular margin. Without initial imaging study, we referred this case urgently to the surgical team with a high possibility of gastric malignancy. Urgent CT scan was performed in which huge mass arising from posterior wall of stomach was revealed. He was then successfully managed with total gastrectomy and esophagojejunostomies. Postoperatively, he recovers well and benefit regular surgical follow up. This case highlights the importance of clinical examination in all cases that come to our attention. It might be missed if every medical professional assumes dyspepsia as gastritis and comes into diagnosis without proper examination.
Keywords:
Gastric Cancer, Hand Palpation, Detection
Downloads
Download data is not yet available.
References
Guan, R. Y. C., Ho, K. Y. & Ng, H. S. (Eds.). (2014). Management of Common Gastroenterological Problems: A Malaysia & Singapore Perspective. MIMS Pte Limited.
Mansfield, P. F. (2011). Clinical features, diagnosis, and staging of gastric cancer. Last Literature Review: May.
Mealie, C. A., Ali, R. & Manthey, D. E. (2020). Abdominal exam. StatPearls [Internet].
Talley, N. J. & O'Connor, S. (2013). Clinical examination: a systematic guide to physical diagnosis. Elsevier Health Sciences.
Verghese, A., Charlton, B., Kassirer, J. P., Ramsey, M. & Ioannidis, J. P. (2015). Inadequacies of physical examination as a cause of medical errors and adverse events: a collection of vignettes. The American Journal of Medicine, 128(12), 1322-1324.
Yusuf, A. (2009). Chronic Pain Management Training Module for Primary Care Ministry of Health Malaysia - Management of Chronic Abdominal Pain. Ministry of Health, Malaysia.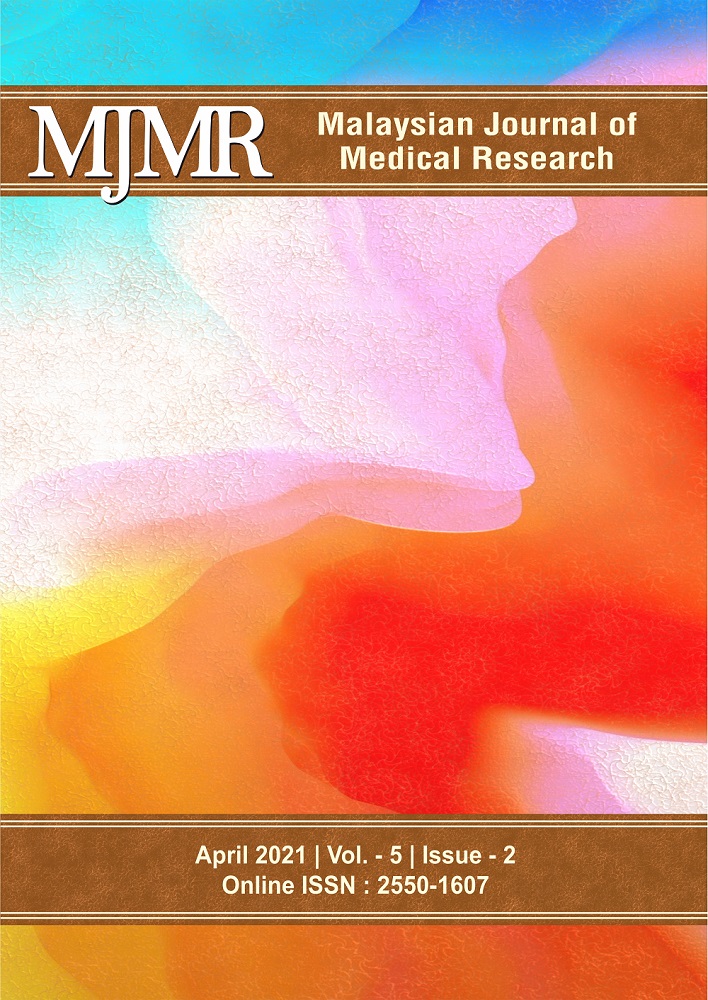 How to Cite
Zul Hazmi Zawawi, & Shaiful Ehsan Shalihin. (2021). CORRECT HAND PALPATION –A PROVEN CASE TO DETECT MALIGNANCY. Malaysian Journal of Medical Research (MJMR), 5(2), 19-21. https://doi.org/10.31674/mjmr.2021.v05i02.004
License
Copyright (c) 2021 Malaysian Journal of Medical Research (MJMR)
This work is licensed under a Creative Commons Attribution-NonCommercial-NoDerivatives 4.0 International License.