PRESCRIBING PATTERN OF INTRAVENOUS ANTIBIOTICS FOR HOSPITALIZED PATIENT IN HOSPITAL JERANTUT
Abstract
Hospitalized patients are often prescribed with antibiotics and it can be a challenge for the prescriber. This study is conducted to review the prescribing pattern of intravenous antibiotics for hospitalized patients in Jerantut Hospital in accordance to the National Antibiotic Guideline and Antimicrobial Stewardship Program.
Methods
It is a retrospective study which is conducted in Jerantut Hospital for six months. Data is collected by using hospital's IV Antibiotic Form. 377 forms are then chosen using simple random sampling method and analyzed by SPSS using Pearson Chi Square test.
Results
The most utilized antibiotic group is Penicillin (n=256, 67.9%) whereas IV Amoxicillin-Clavulanate (n=183, 48.5%) being the most frequent antibiotic used in Jerantut Hospital. Study shows prescribing pattern has high adherence towards NAG (n=349, 92.8%) but poor compliance towards 72 hours review (n=51, 13.5%). There is no significant difference in prescribing pattern between different classes of IV antibiotics (p=0.207).
Conclusion
Penicillin is the most utilized antibiotic group and IV Amoxicillin-Clavulanate is the most frequently used antibiotic in Jerantut Hospital. This study proves practices in Jerantut Hospital is highly adhered towards NAG but poor compliance towards 72 hours review Further work should be carried out to investigate some of the possible reasons for this matter. Strategies to improve prescribing pattern would need cooperation from all healthcare providers.
Keywords:
Prescribing Pattern, Intravenous Antibiotics, Antibiotic Utilization, Guideline Adherence
Downloads
Download data is not yet available.
References
Ab Rahman, N., Teng, C. L., & Sivasampu, S. (2016). Antibiotic prescribing in public and private practice: a cross-sectional study in primary care clinics in Malaysia. BMC Infectious Diseases, 16(1), 1-8.
Andrajati, R., Vlček, J., & Wahyudin, I. (2004). Assessment of antibiotics use after introducing a hospital formulary by ATC/DDD methodology. Medical Journal of Indonesia, 13(3), 173-9.
Antimicrobial Stewardship (2014) Retrieve from: https://www.pharmacy.gov.my/v2/sites/default/files/document-upload/protocol-antimicrobial-stewardship.pdf
Artoisenet, C., Ausselet, N., Delaere, B., & Spinewine, A. (2013). Evaluation of the appropriateness of intravenous amoxicillin/clavulanate prescription in a teaching hospital. Acta Clinica Belgica, 68(2), 81-86.
Benacer, D., Thong, K. L., Verasahib, K. B., Galloway, R. L., Hartskeerl, R. A., Lewis, J. W., & Mohd Zain, S. N. (2016). Human leptospirosis in Malaysia: reviewing the challenges after 8 decades (1925-2012). Asia Pacific Journal of Public Health, 28(4), 290-302.
Disease control division department of public health ministry of health malaysia (2011). Guideline for the Diagnosis, Management, Prevention and Control of Leptospirosis in Malaysia. Retrieved from: https://www.moh.gov.my/moh/resources/auto%20download%20images/589d71cb177d8.pdf
Fernandes, P. (2006). Antibacterial discovery and development—the failure of success?. Nature Biotechnology, 24(12), 1497-1503.
How, S. H., Ng, K. H., Jamalludin, A. R., Shah, A., & Rathor, Y. (2005). Melioidosis in Pahang, Malaysia. The Medical Journal of Malaysia, 60(5), 606-613.
Lim, V. K. E. (2011). Leptospirosis: a re-emerging infection. The Malaysian Journal of Pathology, 33(1), 1.
Lipsky, B. A., Berendt, A. R., Cornia, P. B., Pile, J. C., Peters, E. J., Armstrong, D. G., ... & Senneville, E. (2012). 2012 Infectious Diseases Society of America clinical practice guideline for the diagnosis and treatment of diabetic foot infections. Clinical Infectious Diseases, 54(12), e132-e173.
Masrahayu, M., Ngau, Y.Y., Thong, K.S., Sameerah, S.A.R., Jacqueline, L., & Rahela, A.K. (2006). Use of Antiinfectives. Malaysian Statistic on medicine 2006.Retrieved from: http://www.crc.gov.my/nhsi/wp-content/uploads/publications/msom2006/chapter15.pdf
Mendoza, R. L. (2010). Leptospirosis in the tropics: when prevention doesn't easily sell as a ton of cure. American Journal of Economics and Business Administration, 2(3), 307.
Nasr, Z., Paravattil, B., & Wilby, K. J. (2017). The impact of antimicrobial stewardship strategies on antibiotic appropriateness and prescribing behaviours in selected countries in the Middle East: a systematic review. Eastern Mediterranean Health Journal, 23(6).
Nathan, S., Chieng, S., Kingsley, P. V., Mohan, A., Podin, Y., Ooi, M. H., ... & How, S. H. (2018). Melioidosis in Malaysia: incidence, clinical challenges, and advances in understanding pathogenesis. Tropical Medicine and Infectious Disease, 3(1), 25.
Ozgenç, O., Genç, V. E., Ari, A. A., Sibel, E., Saçar, S., Ozunlu, H., ... & Ergonul, O. (2011). Evaluation of the therapeutic use of antibiotics in Aegean Region hospitals of Turkey: a multicentric study. Indian Journal of Medical Microbiology, 29(2), 124.
Quadranti, N. R., Popović, B., Škrobonja, I., Skočibušić, N., & Vlahović-Palčevski, V. (2015). Assessment of adherence to printed guidelines for antimicrobial drug use in a university hospital. European Journal of Hospital Pharmacy, 22(2), 113-117.
Remesh, A., Salim, S., Gayathri, A. M., Nair, U., & Retnavally, K. G. (2013). Antibiotics prescribing pattern in the in-patient departments of a tertiary care hospital. Arch Pharma Pract, 4(2), 71.
Sample size calculator. Retrieved from: http://www.raosoft.com/samplesize.html
Victoriano, A. F. B., Smythe, L. D., Gloriani-Barzaga, N., Cavinta, L. L., Kasai, T., Limpakarnjanarat, K., ... & Adler, B. (2009). Leptospirosis in the Asia Pacific region. BMC Infectious Diseases, 9(1), 1-9.
WHO (2018), Retrieved from: http://www.who.int/mediacentre/factsheets/fs194/en/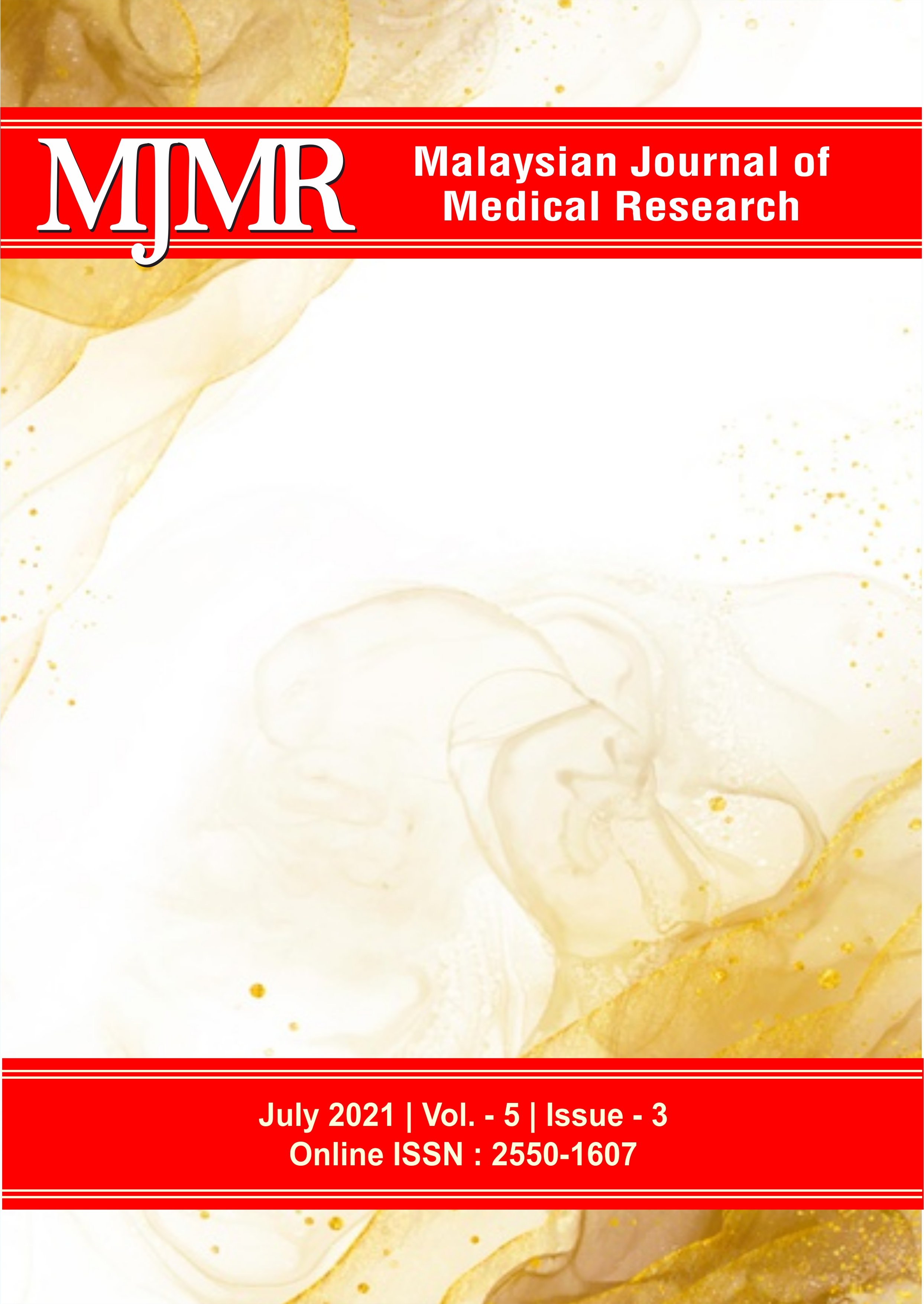 How to Cite
Yamni Vijayasamy, Erma Wany Abdul Basit, & Sumaiyah Abdul Aziz. (2021). PRESCRIBING PATTERN OF INTRAVENOUS ANTIBIOTICS FOR HOSPITALIZED PATIENT IN HOSPITAL JERANTUT. Malaysian Journal of Medical Research (MJMR), 5(3), 28-33. https://doi.org/10.31674/mjmr.2021.v05i03.005
License
Copyright (c) 2021 Malaysian Journal of Medical Research (MJMR)
This work is licensed under a Creative Commons Attribution-NonCommercial-NoDerivatives 4.0 International License.