EYES CANNOT SEE WHAT THE BRAIN DOES NOT KNOW
Abstract
Background: Intraocular foreign body (IOFB) is a common ocular trauma and is a leading cause of visual impairment. Majority of the cases reported the occurrence at the workplace and usually related to activities involving metallic objects. Hammering, drilling, explosion and usage of machining tools are among the causes of IOFB. Foreign body in the angle are frequently missed as it is not visualised directly during a routine examination. Thus, a thorough examination which includes gonioscopy and imaging must be done in all penetrating and full thickness cornea laceration cases. Purpose: We report a case of self-sealed full thickness cornea laceration with presence of metal foreign body in the angle. Method: Case Report Result: A 19 year-old boy, presented with right eye discomfort following trauma 1 week prior to presentation. Examination revealed a self-sealed full thickness cornea laceration at 1-2 o'clock with a foreign body found seated on the angle from gonioscopy. A foreign body consist of metal had successfully removed surgically with the facilitation of intraocular magnet. Conclusion: All self-sealed penetrating injury to the eye required a high index of suspicious of intraocular foreign body. An imaging and complete examination with dilated fundus examination and gonioscopy will be helpful to identify the location of foreign body. Hence, definitive treatment will prevent long term complication related to intraocular foreign body. 
Keywords:
Intraocular Foreign Body (IOFB), Foreign Body In Angle, Ocular Trauma
Downloads
Download data is not yet available.
References
Chandrakant Pujar, Narayan M, Sai Sushma, Prabhu, Padmini.' Atypical Case of Retained Intraocular Foreign Body Presenting as Secondary Glaucoma after 12 years'. Journal of Evolution of Medical and Dental Sciences 2015; Vol 4, Issue 13, Feb 12; Page: 2223-2227
Alastair K.O. Denniston, Philip I. Murray. Oxford Handbook of Ophthalmology. 4th edition.
Sameera K, Premanand C, Prabhu V. ' Penetrating Injury with Foreign Body in the Angle of the Left Eye. Nov 2018. JAMA Ophthalmology, Vol 136.
Sabah S, Jastaneiah. Long Term Complication of Retained Anterior Chamber Angle Foreign Body. Saudi Journal of Ophthalmology. 2010; issue 24, Page: 105-108.
Richard S. Davidson, Arunan Sivalingam. A Metallic Foreign Body Presenting in the Anterior Chamber Angle. The CLAO Journal 28 (1):9-11,2002
Laroche D, Ishikawa H, Greenfield D, Liebmann JM, Ritch R. Ultrasound biomicroscopic localization and evaluation of intraocular foreign bodies. Acta Ophthalmologica Scandinavica. 1998 Aug;76(4):491-495
Marlia Freitas De Moura, Ilka Hayashi, Daniel Martins Rocha, Morna Allemann. 'Evaluation of Anterior Segment Foreign Bodies with Ultrasound Biomicroscopy' Arq Bras Ophthalmology 2012.
Yan Ming Huang, Hua Yan, Jin Hong Cai, Hai Bo Li. Removal of intraocular foreign body in anterior chamber angle with prism contact lens and 23-gauge foreign body forceps. Int J Ophthalmology. 2017
Ying Zhang, MaoNian Zhang, CaiHui Jiang, Huai Yu Qiu. Intraocular Foreign Bodies in China: Clinical Characteristics, Prognostic Factors, and Visual Outcomes in 1421 Eyes. American Journal of Ophthalmology. Volume 152, Issue 1. Pages 66-73.e1, 2011.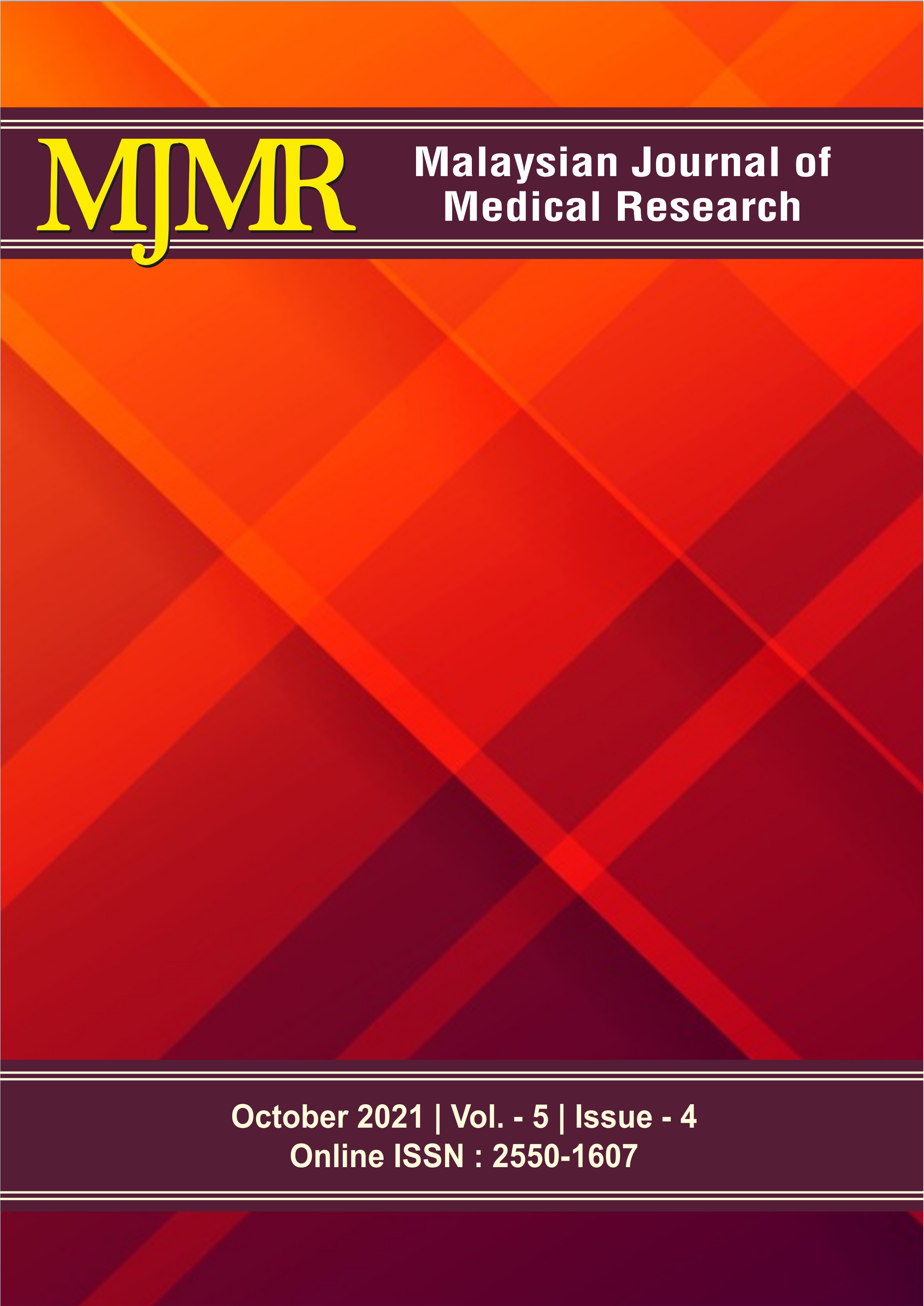 How to Cite
Aisyah Amirah binti Mohd Zahari, Sujaya Singh, & Firdaus Ujang. (2021). EYES CANNOT SEE WHAT THE BRAIN DOES NOT KNOW. Malaysian Journal of Medical Research (MJMR), 5(4), 1-3. Retrieved from https://ejournal.lucp.net/index.php/mjmr/article/view/1307
License
Copyright (c) 2021 Malaysian Journal of Medical Research (MJMR)
This work is licensed under a Creative Commons Attribution-NonCommercial-NoDerivatives 4.0 International License.